For the many Missoulians who enjoy floating the Clark Fork River in the spring and summer, plans for updated access to the river and improvements along its banks are gaining momentum.
The City Council Parks and Conservation Committee approved a professional services contract up to $245,616 with RESPEC Company LLC, a Rapid City, South Dakota-based geoscience, engineering and data company for the first phase of the Clark Fork River and Access Restoration Project. Missoula has used the company before and the relationship between the company and city regarding the Clark Fork stretches back to 2015.
Most of the work will come out of its Missoula and Bozeman offices.
RESPEC will help providing mapping, assessment, architecture and design and engineering management to the city for a stretch of the Clark Fork between Ben Hughes Park and Riverside Park. 
With the removal of the Milltown Dam in 2008 and cleanup of mine waste in the Clark Fork watershed, water quality has improved and usage of the river has spiked dramatically.
"So out of this newfound love of the river, there is a new potential threat. With the drastic increase in recreational use, particularly in the urban stretch of Missoula, there's been a lot of significant erosion problems," said Nathan McLeod, Missoula Parks & Trails design/development specialist, at the meeting.
"This erosion is threatening water quality (and) trampling vegetation and causing habitat problems ... the erosion's getting so bad that it's actually starting to threaten existing infrastructure such as the Milwaukee Trail."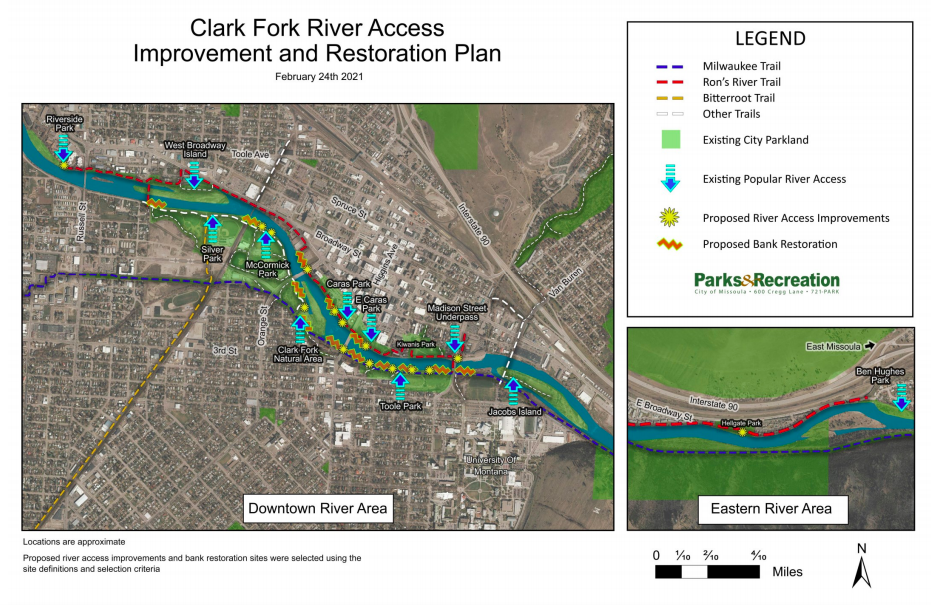 In 2018, Missoula Parks and Recreation, along with other partners, counted an average of 58 floaters per hour along the Clark Fork during several river assessment surveys, which were mostly done during warm, sunny days.
Management of the erosion issues is a critical part of the project, as large numbers of people exit the river at various places along the Clark Fork in Missoula. Unwanted trails from those exits have caused problems along the river bank. 
In 2016, 34 different sites were identified for river access and restoration treatments. Toole Park and Caras Park, both popular sites to exit the river due to ease of parking, could get small beaches and stone stairs that would lead straight to the river.
"I think that this is a great project for a lot of reasons, but I think that in an area that has such high recreational use, it's just really important to take care of that natural resource that we love and not love it to death," said Amber Sherrill, councillor and Parks and Conservation committee chair. "I think that balancing heavy, heavy recreation, water quality, bank stability, public safety — all of that is really important."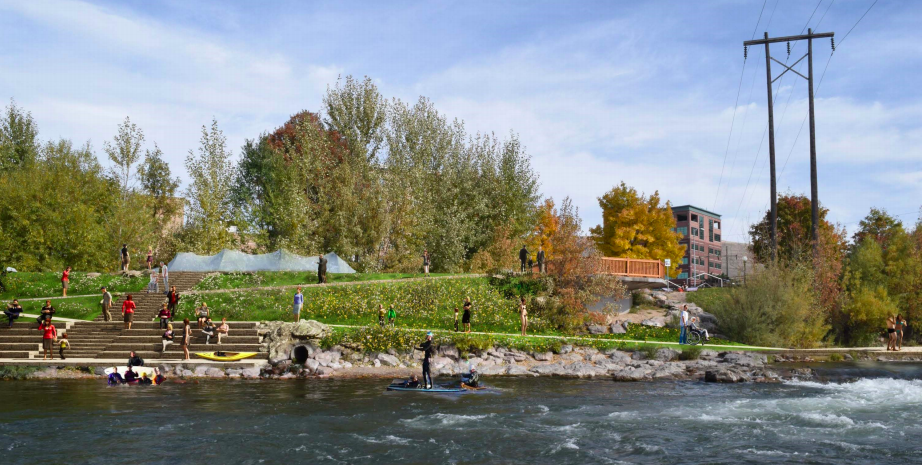 Other locations were identified for riverbank restoration or small river access paths from the trails such as the Milwaukee and Ron's River Trail. According to the plan, updates to 15 existing popular river access points along the stretch from Ben Hughes Park to Riverside Park have been proposed.
Accessibility was also mentioned and there are stipulations to allow for seniors, children and other people who currently may find the river difficult to access due to steep banks along certain parts of the Clark Fork.
Funding for the project will come from the 2018 Missoula County Open Space Bond, which included up to $1.5 million for sustainable river access and restoration efforts within the project area.
Of the nearly $250,000 contract, $198,080 is allocated for design and engineering fees. If the design is approved, the remainder of the contract would be used for construction administration and project bidding.
Assuming the project moves forward, work could start as soon as the summer of 2022. Some work would be contracted, while Parks and Recreation staff could potentially handle other pieces.
"I am an avid user of the river and I know this is one of the unique gems that Missoula provides for us, but we're definitely loving our river to death," councilor Stacie Anderson said. "Water is an important component of our lives." 
Jordan Hansen covers news and local government for the Missoulian. Contact him on Twitter @jordyhansen or via email at Jordan.Hansen@Missoulian.com