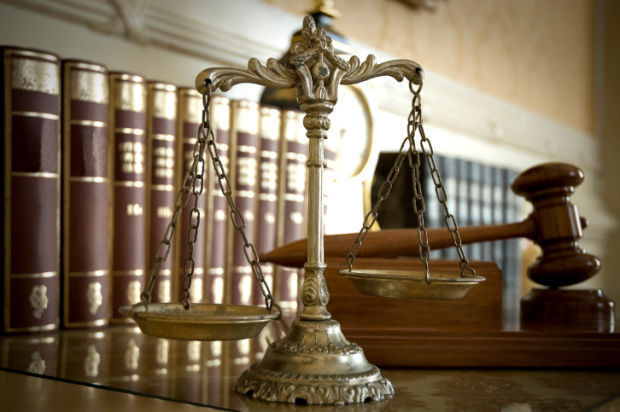 A former Missoula County jail officer has filed a lawsuit claiming a sheriff's deputy and a court clerk conspired to alter records, leading to her arrest.
Angie Smith's lawsuit, filed Aug. 24 in Missoula County District Court, names the county, as well as Capt. William Burt of the sheriff's department and Amy Blixt, a former Justice Court clerk, as defendants.
Among the allegations listed in the lawsuit filed by attorney Quentin Rhoades: that the defendants used a simulated cellphone tower device commonly known as a Stingray to intercept the text messages between Smith and former deputy Paige Pavalone to learn of their plans to meet the day of the arrest, and did so without a warrant.
Deputy county attorney Matt Jennings, who handles civil litigation, said Thursday he would not comment on the specifics of the case because the county has not been served with the lawsuit yet.
Jennings said the sheriff's office does not and has never possessed a Stingray-type device, and that while he understands that the FBI's office in Helena has one, it has only been used in a very limited number of cases in Missoula.
"Missoula County does not have one. It is not something that is routinely used by the sheriff's department and was not used in this case," he said.
Smith's lawsuit seeks an unspecified amount of damages to compensate her for a violation of her constitutional rights, emotional distress and loss of reputation and income.
In February 2015, Smith received a text message from Pavalone inviting her to meet at Lolo Peak Brewery that evening. According to the lawsuit, Burt showed up at the brewery at the same time the two women were there, then contacted Blixt requesting information from a court file regarding Smith's 2014 case for driving under the influence.
Smith had pleaded guilty to a first offense DUI, a misdemeanor, in December 2014. According to the lawsuit, the copy of the sentencing paperwork she received did not have any restrictions on consuming alcohol or being in bars, and that she was allowed to have a provisional driver's license for essential driving.
The lawsuit said Blixt, who was a Justice Court clerk at the time, used a pen to add prohibitions on drinking and being in bars to Smith's sentence before sharing it with Burt. Blixt, who served as Justice of the Peace after the retirement of John Odlin, had been the judge on Smith's DUI case.
In June 2015, Blixt, who had worked at Missoula County Justice Court since 2001, resigned.
After leaving the brewery, Smith was pulled over by a sheriff's deputy. According to the lawsuit, when she asked why she had been stopped, the deputy said "because I was told." He later called a Montana Highway Patrol trooper who administered field sobriety tests and a mobile breathalyzer on Smith, arresting her for aggravated DUI after the test showed 0.081 blood alcohol content. The limit is 0.08.
Smith was placed on leave from her job at the jail and was fired in March 2015. The aggravated DUI charge was later dropped after a subsequent blood test showed an alcohol level below the legal limit.
Smith's lawsuit says during a February 2015 internal disciplinary hearing, sheriff's office administrators asked her questions about what Pavalone had been doing at the brewery and how many drinks Pavalone had. Smith also claims she was told not to speak with anyone, including Pavalone, about what happened at the hearing.
Pavalone was fired from the sheriff's office in April 2015, with a news release from Missoula County Sheriff T.J. McDermott and County Attorney Kirsten Pabst saying she had not been truthful during an internal investigation into Smith's arrest. Pavalone, who has claimed she was let go because she backed McDermott's opponent in the 2014 election, has a pending lawsuit against the county in Lewis and Clark County District Court.
Rhoades wrote that Smith's arrest was "a means of obtaining incriminating evidence or other information to damage the reputation of Pavalone."