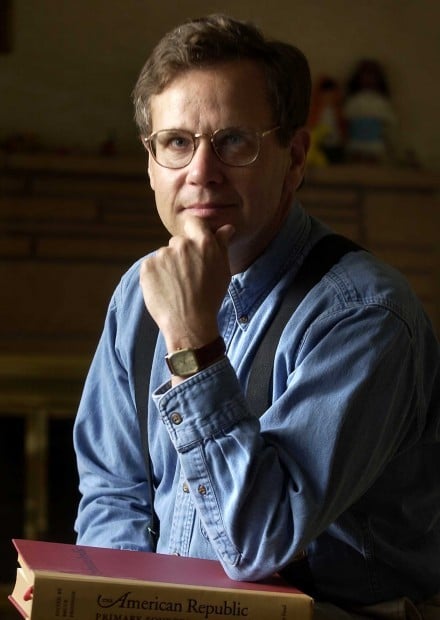 Former University of Montana law professor and outspoken conservative Rob Natelson has been denied his request for professor emeritus status, a decision he called "petty" and "inexplicable."
Natelson, who retired in May 2010 after serving 23 years as a professor in the law school to take a job as a senior fellow with the Independence Institute, was informed upon his return to Montana in June that the law school faculty had voted against granting the constitutional scholar emeritus status.
Emeritus status is granted to a retiring professor whose colleagues feel he or she is worthy of the academic recognition and prestige based on the faculty member's research, service and instruction during his teaching tenure.
"Emeritus status for retirees is pretty routine and almost always given," Natelson said. "I find the whole thing very peculiar. Even though there's a history here, this thing seems so petty, so small."
UM, however, says that retired professors are not entitled to emeritus status. It's a privilege.
Law School Dean Irma Russell says she could not speculate as to why the faculty denied Natelson's request.
"The faculty considered the standards set forth by the policy," she said. "Each faculty member has to make a judgment and vote their conscience."
Natelson, a former tenured faculty member, does not know why he was denied emeritus status despite asking for an explanation. He points to his more than two decades of service, "copious" numbers of scholarly articles published in some of the top law journals in the country and several innovative teaching projects he was a part of, he said.
Twice, Natelson received merit pay raises, financial rewards for excellence in teaching and research. Merit pay and emeritus status, Natelson said, are issued according to the same criteria.
Russell, however, disagreed, pointing out that merit pay is earned; emeritus status is a privilege.
A recent survey shows that between 2001 and 2010, the UM law faculty published 55 articles in Westlaw, a national online legal research database. Natelson said he is responsible for 20 of those.
Last year, he was highlighted in "Vision," the university's research publication, for his work trying to interpret the U.S. Constitution according to the Founding Fathers' intent.
"I was not in a position to woo anything out of this faculty, but it still comes as a bit of surprise," Natelson said. "Ultimately I was someone they gave merit pay to and highlighted in the (research) magazine. The wider university seemed to take pride in my work. I find this inexplicable."
In 2004, Natelson fought to teach constitutional law, eventually filing a complaint against the law school arguing that he was unfairly passed over for the job based on political discrimination.
Since the early 1990s, Natelson has been an outspoken advocate for the conservative movement in Montana, leading ballot initiatives, hosting radio talk shows and twice running unsuccessfully for governor.
A hearings officer in 2004 agreed that Natelson had been treated unfairly by the law school, but stopped short of addressing anything else in the complaint.
For years, Natelson said he's had to fight for a sabbatical, course assignments, reimbursement for legitimate travel expenses, and he doesn't know if he has the energy to appeal the decision regarding emeritus status to the provost, UM president or the Montana Board of Regents. The regents have an appeals process for any university employee with a grievance.
"I'm going to explore my options," he said. "I don't know what to do yet."
Granting a professor emeritus status doesn't cost the university money, Natelson said. Emeritus status is a title of courtesy, and for a retired professor who continues to perform research and publish in scholarly journals, it's helpful, he said.
Also, it allows retired professors access to scholarly databases and, in some cases, academic discounts.
But UM has already promised Natelson access to its research databases and its library.
"The process is accountable as a privilege process," Russell said. "There're some benefits and a title. And all of the support that professor Natelson might seek from this institution in terms of research is available to him."
Once a department faculty has voiced its support of emeritus status for a retired professor, both the UM president and the regents have a long history of approving the request, said associate provost Arlene Walker-Andrews.
But most of the conversations occur at the department level, she said. The provost's and president's offices are not aware of how many faculty are denied emeritus status at that level, but she said it's not automatic for a retiree to receive such recognition, she said.
UM typically nominates 10 retired professors and/or administrators for emeritus status each year to the regents. Since 2007, UM has nominated 28 faculty members, all of whom have been approved. Those individuals came from Forestry, Education, Pharmaceutical Sciences, Arts and Sciences, Applied Arts and Sciences, Business Technology, School of Business and the College of Visual and Performing Arts.