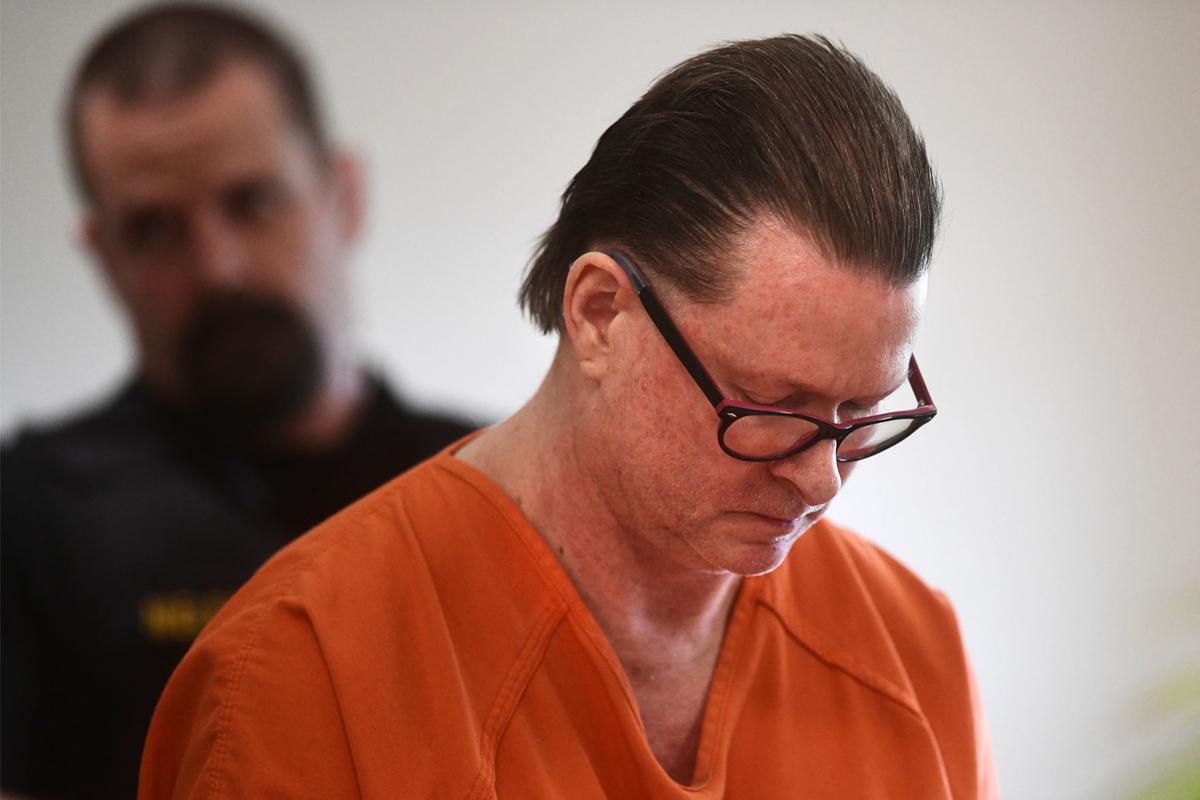 With the exception of a letter in which he compared himself to a prophet to expose the "lawlessness" of the courts, Caressa Hardy, 52, remained impassive as he was sentenced Friday to four life terms in connection with the 2013 killings of two men in Frenchtown.
Hardy can seek parole in 28 years, after crediting the two years he's served since his arrest in July 2017, said District Judge James Wheelis. Defense attorney Britt Cotter said Hardy will also seek an appeal, although he will not continue to represent Hardy through the appeal process.
In order to be eligible for parole, Wheelis prohibited Hardy from attempting to locate, contact or influence Karen Hardy or the victims' family members, either himself or through a third party.
At the sentencing, Hardy objected to the charges and maintained his innocence, in addition to objecting to prior convictions mentioned by Missoula Deputy County Attorney Brian Lowney, which he said were "lies."
Alleging trouble in the halls of justice, Hardy read a letter containing Biblical references in which he said "Surely the almighty God put me in this predicament to speak the truth regarding this lawlessness" in court.
As Hardy read, Judge Wheelis said he would not interrupt unless the defendant kept "going on and on." When Hardy later voiced an objection to Lowney's mention of a prior conviction, Wheelis quieted him.
"You have a right to babble, but wait 'til we adjourn," Wheelis said.
Judge Wheelis said he issued the sentence based on the evidence produced at the trial, which included Hardy's behavior "evidenced by the homicides of two people and attempted homicide of a third."
Evidence produced at the May trial, where a 12-person jury found Hardy guilty after hearing seven days of testimony, also included a bullet found in the room where the killings took place, multiple transactions Hardy made on Korjack's financial accounts, sudden silence in phone records of the two men who disappeared, a rank smelling bonfire neighbors recalled, bone fragments found in the fire pit on Hardy's property, and blood on a TV in Hardy's home matching Korjack's DNA.
The sentence brings some margin of certainty to the families of Korjack and Orozco, whose bodies were never officially recovered and no death certificates were ever issued.
Hardy faced two counts of deliberate homicide for shooting and killing Orozco and Korjack, who Hardy worried would cut him off financially and kick him out of a Frenchtown home that they shared with his former partner and mother of his children, Karen Hardy.
Authorities began investigating the disappearances of the two men after Karen Hardy reported the alleged murders in 2016. Investigators believe Caressa Hardy, previously known by the name Glenn Dibley, burned the bodies in a fire pit on the Frenchtown property.
Hardy was arrested in July 2017 following an investigation by the Missoula County Sheriff's Office that lasted more than a year with assistance from the Missoula Police Department and the FBI. After his arrest, inmates reported to authorities that Hardy had asked them to kill Karen Hardy.
Deputy County Attorney Lowney recommended lifetime without the possibility of parole but said he was satisfied with the sentence.
Lowney said Hardy represents a person "who will never be safe if released into the community."
"Mr. Hardy is a man who uses violence as a means to get what he wants, and it cost two people their lives in this case and could have cost a third her life if Mr. Hardy had his way," Lowney said.
"He appears unlikely to ever take any responsibility for what he's done here, the pain he's caused for these families."
Judge Wheelis said Friday that he agreed with Lowney's assessment of Hardy as someone who finds violence a "useful tool," citing past offenses.
Although some family members of the victims submitted statements to the court in the pre-sentencing investigation, there were no testimonies at the sentencing, as most of the family members live out of state or had lost touch with the descendants.
Get local news delivered to your inbox!
Subscribe to our Daily Headlines newsletter.