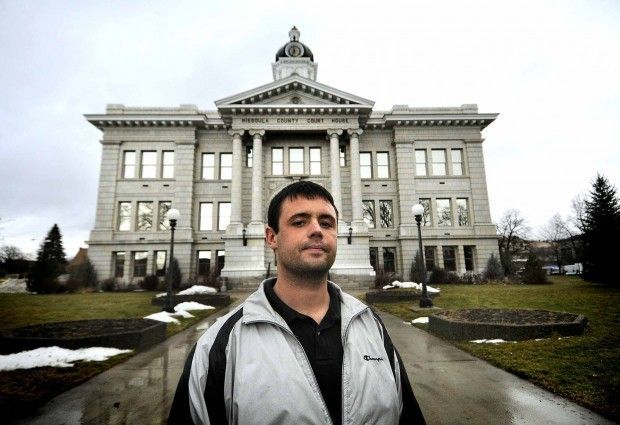 More than six months after he was released from custody, Cody Marble could soon learn if he's truly a free man.
In 2002, Marble was convicted of the rape of a 13-year-old boy while the two were in custody at the Missoula County Jail.
After several unsuccessful efforts to overturn his conviction, the Montana Supreme Court sent the case back to District Court in August 2015. The high court asked for a review of Marble's request for a new trial using a more expansive interpretation of evidence presented after his initial conviction, including the fact that witnesses have recanted their testimony against him.
The Supreme Court decision prompted Missoula County Attorney Kirsten Pabst to personally review the case against Marble.
At an April 19 news conference, she announced that she had concluded his conviction "lacked integrity" and said it was "never too late to do the right thing." She filed a motion that day requesting the case against Marble be dismissed.
Two days later retired District Court Judge Ed McLean, who is presiding over the case, ordered that Marble be released from custody. But in an unusual twist, he left Marble's conviction in place and invited Pabst's predecessor, former Missoula County Attorney Fred Van Valkenburg, to weigh in as a friend of the court.
For the past six months, Pabst, Van Valkenburg and Colin Stephens – the attorney representing Marble – have traded legal briefs, with the current prosecutor taking the side of Marble while the former prosecutor who convicted him is contending he should remain in jail.
On Friday, McLean will hear arguments from all parties, although he is unlikely to make an immediate ruling.
Pabst is asserting that multiple witnesses have recanted their testimony against Marble, and detention officers she interviewed have said they believe he was set up by other inmates.
She also is claiming that Van Valkenburg threatened Marble's accuser, who is now dead, after he recanted his accusation of rape in an interview with the Montana Innocence Project.
Pabst said Van Valkenburg told the accuser, Robert Thomas, in a deposition after he talked to the Innocence Project that he could be charged with perjury for his recantation.
"And I would advise you that if in fact I am able to establish sufficient evidence outside of what you say in this deposition, that you lied during that trial on the substance of the issue, and that is whether or not Cody Marble raped you, that I would in fact prosecute you for perjury for your actions in lying at that trial," Van Valkenburg told Thomas.
Thomas reversed himself once more during the deposition, and again said Marble had raped him.
Van Valkenburg, in his arguments to keep Marble's conviction in place, contends his words were not a threat but simply "an accurate statement of the law."
In addition, he claims that Pabst's request to throw out Marble's conviction is inappropriate for a prosecutor, especially one who had argued multiple times as an assistant prosecutor in 2011 and 2012 that Marble did not deserve a new trial.
Van Valkenburg is urging the judge to reject Pabst's request to dismiss the case and Marble's request for a new trial.
Stephens, Marble's attorney, notes in his arguments that only one thing has remained constant in the 13 years since Marble was sentenced: his "consistent assertion that he is innocent.''
Stephens and Pabst filed a joint stipulation in September reminding the judge that there is no disagreement between the two parties in the case, and that both want the conviction overturned.