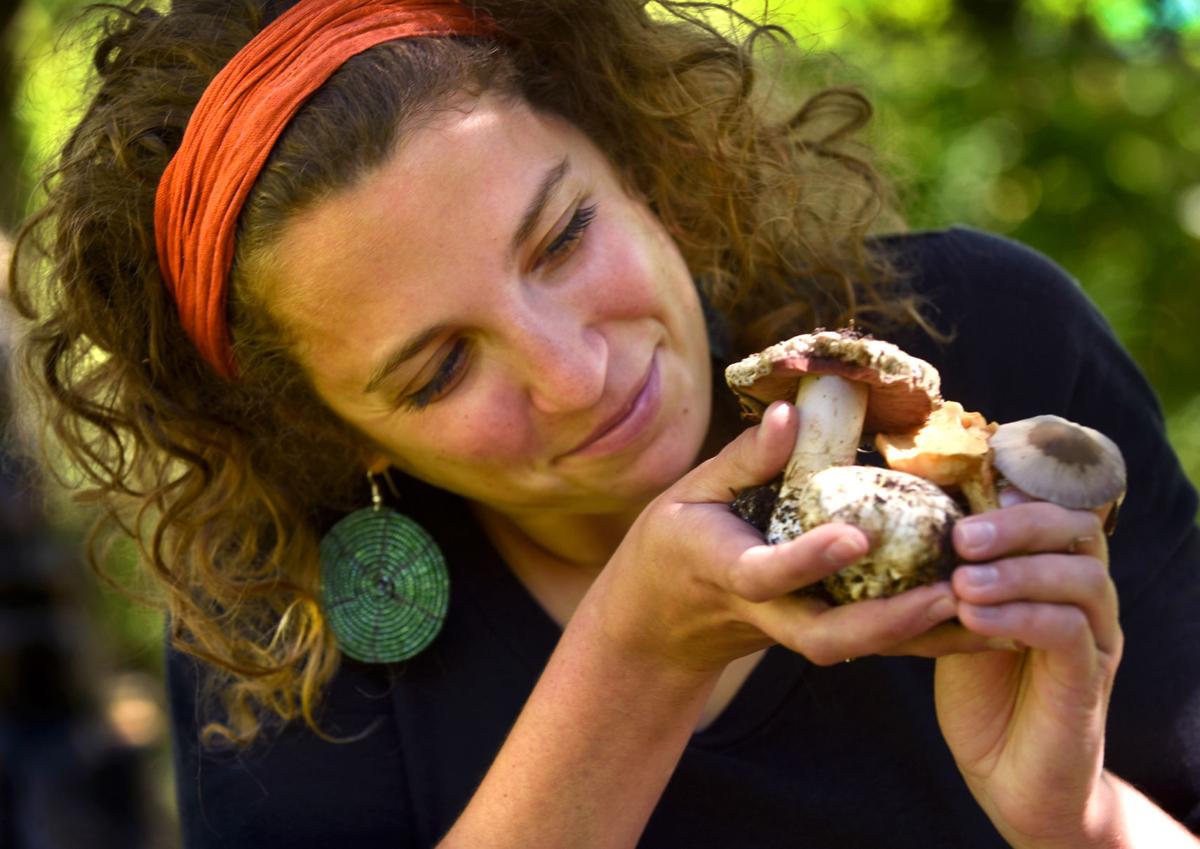 Mushrooms make hidden connections with other plants and animals. Lily Clarke has managed to link morel mushrooms between Montana and Nepal. 
Clarke grew up foraging for morels in the forest fire scars around her childhood home of Condon. As a biology student at Lewis and Clark College in Portland, Oregon, she discovered there's a scientific discipline linking mushrooms and people: Ethnomycology.
A professor there suggested if she sought a place to make a research impact, the mushrooms of the Himalayas posed a lot of unanswered questions.
"This is becoming a new frontier," Clarke said during a visit to Missoula a week before heading to Kathmandu. "Talking about plants without knowing about its mushroom associate is like talking about us without talking about our arms."
Nepal's fungi habitat extends from humid jungles 100 feet above sea level on the border with India to Himalayan tree line around 15,000 feet near the border with Tibet. It even has morels, and a Tribhuvan University professor who specializes in them – Bharat Shrestha.
A meeting with Shrestha and some time visiting villages outside Kathmandu helped Clarke earn a Fulbright fellowship – one of the top opportunities for global researchers.
Clarke's education followed an equally telescopic progression. She was introduced to science at Salmon Prairie Elementary – a one-room school with only four students enrolled when she passed eighth grade. Head (and only) teacher Holl Hubbard recalled her passion for outdoor lessons.
"Part of our routine was a daily hike," Hubbard said. "We'd do science studies, nature studies, water studies, watercolors. Going outside covered everything from science to P.E., and even some one-on-one counseling time. When Lily came back, she said that was one of the biggest things she missed – the hikes in the outdoors."
Her morel experiments landed her a presidential scholarship at Lewis and Clark. They also led her to the work of Francocis Buscot, a scientist who worked on morels in the 1980s. He helped her apply for and receive a contract scientist position at the Helmholtz Centre for Environmental Research in Germany after the 22-year-old got her bachelor's degree last year.
Morels arise every spring and summer along riverbanks and boggy areas. But they explode in certain kinds of forest fire burn zones, often providing the first new growth in a blackened landscape. The global taste for morels supports a multi-million-dollar market for commercial pickers.
That got the scientist in Clarke wondering why the same mushroom had two different habitats. As she poked at the question while pursuing her undergraduate biology degree, she found that the popular fungi had relatively little research on its lifecycle. She designed experiments revealing how morels' underground structures supply nitrogen and phosphorus nutrients to surrounding green plants, receiving carbon nutrients in return. The process is called mycorrhizal symbiosis.
Along the way, Clarke learned of a New Hampshire morel researcher studying how the fungi used a saprotrophic feeding system – decomposing dead plant material in the soil.
"We were doing the same study but getting different results," Clark said. "It was pretty exciting. It may mean morels are able to switch nutrient uptake depending on environmental conditions."
For the rest of us, it may mean rethinking how we pick morels in forest fire zones for fun or profit. If they play a crucial role in either supporting new plant growth or rebuilding soil fertility, land managers might need to monitor or restrict harvesting.
But the issue goes beyond what's on the plate in fancy restaurants. Morels and other edible mushrooms provide protein and vitamins in places where growing other kinds of food is difficult – like high-altitude Nepal. Mountain people in the Himalayas have collected mushrooms for generations, but only recently started considering cultivating them.
Mushrooms also serve as a measuring stick for forest health, reacting quickly to changes in water supply, climate pattern shifts or land-use practices. Many Nepali communities manage their surrounding forests with innovative local control groups, and mushroom vitality might grade how well different management tools work.
"I've got to devote a lot of time developing relationships," Clarke said. "I don't want to look like I'm telling people how to manage forests they've been living in for centuries."
But she also wants to get a sense of how mushroom use is changing. For example, a strong market has grown up for cordyceps fungi, sometimes called Asian Viagra. The fungus' spores infect a certain caterpillar, causing neurological changes that compel the bug to bury itself and die. The parasitic fungus then fruits out of the carcass. Foragers like to collect the whole package – underground caterpillar and above-ground growth.
"It's really in decline," Clarke said. "We don't know if it's from climate change or over-harvesting. I want to record more about how people use the mushrooms."
A big part of a Fulbright fellow's responsibility is giving back to the places that support the research. Clarke plans to learn enough Nepali language to assist local fungi experts in getting their own scientific projects funded and advanced. She also hopes to bring the hidden world of mushrooms to a wider audience.
"I want to inspire people to study the obscure," Clarke said. "We're finding that the obscure is becoming more and more important."