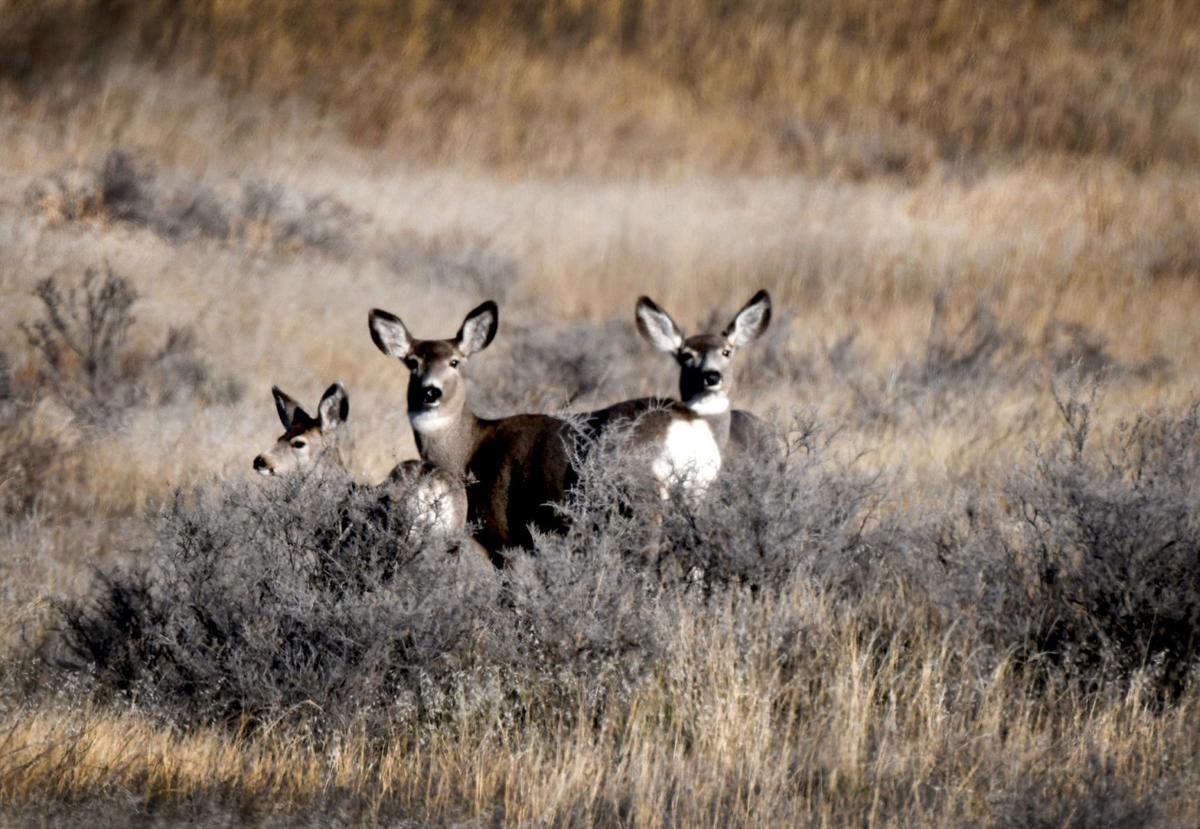 Chronic wasting disease, or CWD, is a disease caused by environmental particles called prions. It creates holes in the brains of deer, elk and moose, and is always fatal. There are no documented cases of the disease affecting humans, but the World Health Organization advises against eating meat from infected animals.
Montana Fish, Wildlife and Parks first detected the disease south of Billings in 2017. More cases have since been found around the state, and the agency has continued to increase its efforts to watch for the disease. The Montana Legislature's Environmental Quality Council interim committee reviewed its work Thursday.
From April 1, 2019, to January 8, 2020, FWP collected 6,927 samples, compared to about 2,000 the previous hunting season, Emily Almberg, a disease ecologist with Montana Fish, Wildlife and Parks, told the committee.
According to a report prepared for the committee by research analyst Hope Stockwell, of these samples, 53 mule deer, 81 white-tailed deer, one elk and one moose tested positive or were suspected to have the disease. As of mid-December, 49 of these animals had been harvested from the Libby area.
This wasn't nearly as bad as other states have seen, said Mike Miller, a veterinarian with Colorado Parks and Wildlife, who phoned into the hearing. 
"If you think things are bad in Montana now, they could be far, far worse. In Colorado ... nearly two-thirds of our deer herds are infected." In some places, he said, as many as 25 percent of harvested bucks test positive.
You have free articles remaining.
The prions that cause Chronic Wasting Disease linger in the environment and can spread through a variety of channels. To contain its spread, Fish, Wildlife and Parks has created five CWD Management Zones, from which hunters cannot remove the full carcass, head, brain or spinal column until their animal tests negative for the disease. It hired 27 seasonal staff to collect samples. Currently, samples are sent to a lab at Colorado State University for testing.
Last year, the Montana Legislature appropriated almost $400,000 — the vast majority of it from federal Pittman-Robertson funds, a tax on the sale of firearms and ammunition — for each year of the biennium for disease surveillance.
"CWD response and management is expensive and labor-intensive," said Ken McDonald, chief of FWP's Division of Wildlife. "Getting quality people for an eight-week stint in the middle of winter is a real challenge."
"Long-term funding is going to be necessary to continue the effort to date," he continued, adding that while the budget request had covered them well this season, "We'll probably be, based on lessons learned this time, bumping up this request" for funding in the next legislative session, he said.
"Our turnaround time this year was 18.6 calendar days," Almberg said. Greg Juda with the Montana Veterinary Diagnostic Laboratory said that it was working to offer testing by late spring or early summer. It's unclear, he said, how much time that would shave off testing.
Throughout the hearing, speakers, legislators and public commenters all mentioned the importance of communicating the needs and expectations surrounding this disease to hunters.
"We're still having a hard time getting through to hunters," McDonald acknowledged, saying some people at check stations hadn't heard of the ailment. The agency, he said, was "looking at working with our education and information folks at, 'How can we continue to bolster the communications?'"
"I think you're going to find local support from Libby is going to be very, very high," said Rep. Steve Gunderson, a Republican representative from the area. "As a panel, I think we need to remember that this is not a biological battle but a PR (public relations) war. Citizen support is crucial."