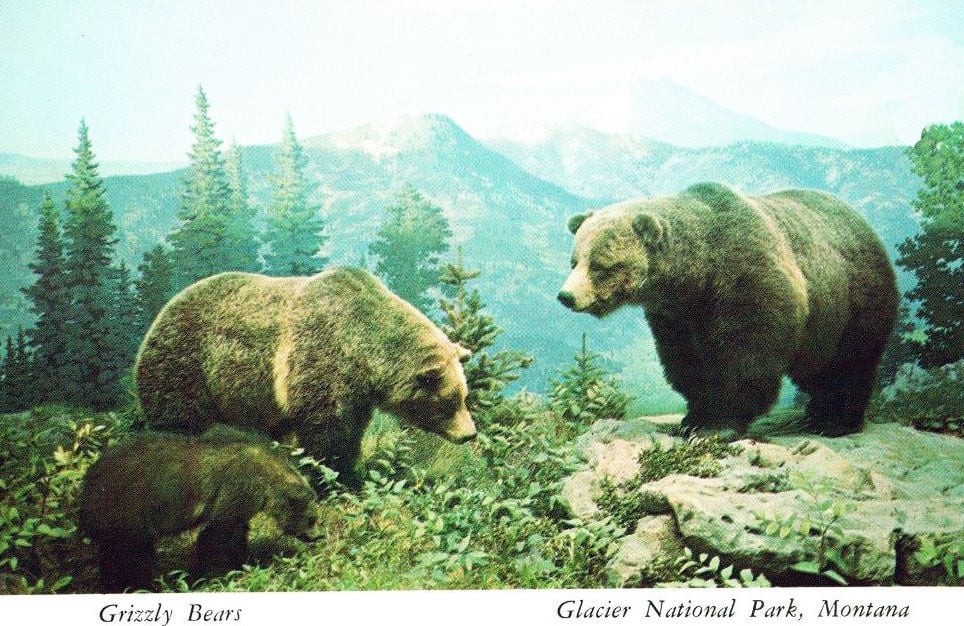 HAMILTON — While the potential for grizzly bears in the Bitterroot Mountains was a topic of discussion during last week's annual meeting of the Interagency Grizzly Bear Committee, area wildlife managers say they don't think any have established residence here — yet.
The Bitterroot National Forest and the Bitterroot-Selway Wilderness area are prime grizzly bear habitat, notes Dave Lockman, a wildlife biologist with the forest. As their population continues to increase elsewhere, they're expanding their ranges.
Lockman noted that a grizzly bear sighting was confirmed in 2016 in the upper Big Hole River area, and that one was identified on private property on Sunset Bench southeast of Stevensville in 2002. That bear is thought have crossed the Sapphire Range from the Rock Creek drainage. In addition, a black bear hunter killed a mature male grizzly in 2007 in the North Fork of Kelly Creek on the Nez Perce-Clearwater National Forest, about 60 miles north of what's considered the Bitterroot ecosystem. That bear was genetically associated with the grizzly populations in the Selkirk Mountains in northern Idaho.
"We certainly have reports from people seeing what they thought was a grizzly bear off and on, but nothing has ever been confirmed," Lockman said. "They're getting closer to here, but we haven't heard of any confirmed sightings other than the one on Sunset Bench. But it's certainly a possibility; they're showing up in places they haven't been seen in years.
"I wouldn't be surprised if one showed up here in the Bitterroot."
In 1932, the last known grizzly bear in the Selway-Bitterroot ecosystem was killed as part of an effort to protect domestic sheep and cattle, and the last tracks were observed there in 1946. A proposed reintroduction effort was discussed in the 1990s, but was killed in 2000 by the late Sen. Conrad Burns, who pulled federal funding for the work.
Still, Hilary Cooley, the Grizzly Bear Recovery coordinator for the U.S. Fish and Wildlife Service, noted that the Bitterroot ecosystem is one of five recovery zones for grizzlies. While there's no plans for them to be reintroduced, Cooley also expects them to return on their own.
"Our intention was to try to recover bears there, and we still intend to do that," she said. "But it will likely take a long, long time for them to establish a breeding core population."
Most grizzly bears are associated with one of two ecosystems:  the Northern Continental Divide Ecosystem in northwestern Montana and the Greater Yellowstone Ecosystem in the southern portion of the state. About 700 grizzlies are in the Greater Yellowstone Ecosystem, and an estimated 1,000 are in the NCDE.
A recent study noting 21 potential paths for grizzlies between the two ecosystems shows that there's a low likelihood for them to use the Sapphire Mountains as a route, and doesn't include the Bitterroots as part the potential paths. However, Cooley said that as bears migrate out of those ecosystems, they're coming closer to the Bitterroots and Sapphires.
Lockman added that in September, the USFWS added grizzlies to their list of threatened, endangered, and candidate wildlife species that may occur on the Bitterroot National Forest.
"USFWS limited the area of potential grizzly occurrence in the Bitterroot to east of Highway 93 at this point," Lockman wrote in an email. "That doesn't mean that they actually occur here currently, but recognizes that the potential for grizzlies to occur here has increased, based on the number of sightings of grizzlies in other areas outside their known distribution. The addition of grizzlies to our list means that we now have to analyze potential effects to grizzlies in our project NEPA documents for projects east of 93."