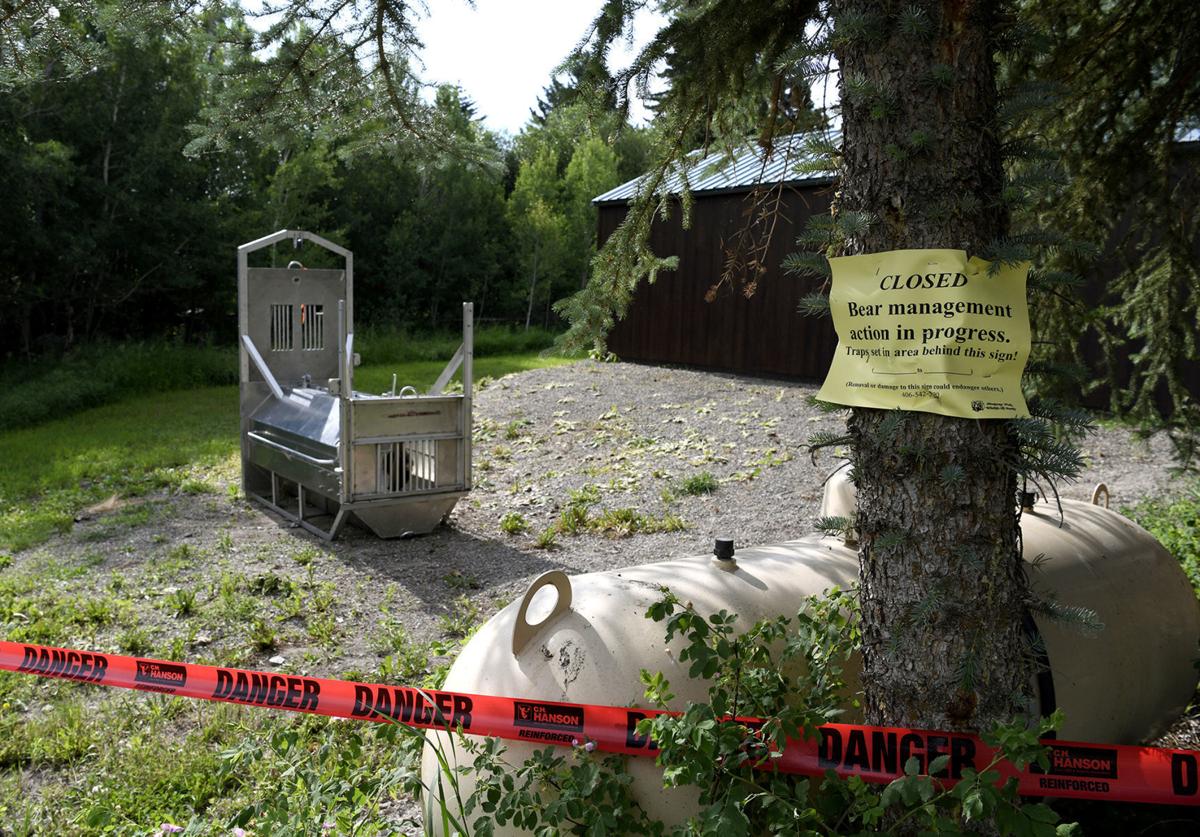 DNA from the grizzly bear killed near Ovando last week matches samples taken from the scene where a camper was killed three days earlier, according to state analysts.
The 417-pound, 4-year-old male grizzly was suspected of killing Leah Davis Lokan, 65, a bicycle camper from Chico, California on July 6. It also raided two chicken coops in the Ovando area.
Wildlife managers set a culvert trap and stationed a federal Wildlife Services agent by one of the coops about two miles away from Ovando. The bear came to the scene on July 9 and was killed.
Montana Fish, Wildlife & Parks spokesman Greg Lemon said the grizzly appeared to be in good condition. DNA samples from the bear matched a saliva sample at the attack scene as well as the two chicken coops.
Some local residents had surmised the bear may have been injured and was seeking out atypical food sources. Lemon said the necropsy didn't find evidence of that.
"Once we went through the carcass, there didn't appear to be any obvious injury," Lemon said on Wednesday. "On the video we saw, it didn't appear to be injured at all. Young bears like that can appear kind of lanky, but it had a good fat layer and had nothing physical wrong with it."
Biologists are still looking for clues to why the grizzly attacked Lokan in her tent, which was next to another occupied tent in a campground in the middle of Ovando's small Main Street area. Such behavior is very unusual, as bears generally avoid people, Lemon said.
Investigation of the scene indicated the campers had food in their tents when they went to bed that night, and the grizzly entered the camping area at least once but was scared away. It entered again about 30 minutes later and mauled Lokan before her companions could repel it with bear spray.
State and federal wildlife agents closed down most accesses into Ovando for a day last week while they searched for the bear on the ground and by helicopter. They also placed four traps in and around the attack site and a chicken coop that was also raided that night. When a second coop was raided two days later, one of the traps was placed there. The grizzly was found and killed at that second coop site.
The small ranching community along Montana Highway 200 has become a popular route for cross-country bicycle tourists, and many of the stores cater to long-distance travelers and anglers fishing the nearby Blackfoot River.
Hikers and campers are advised to always be aware of bear presence in the area and to carry bear spray. Bears are easily attracted to human food and special care must be taken to keep it secure from animals.
For more information on bear aware guidelines, go online to FWP's Bear Aware webpage.