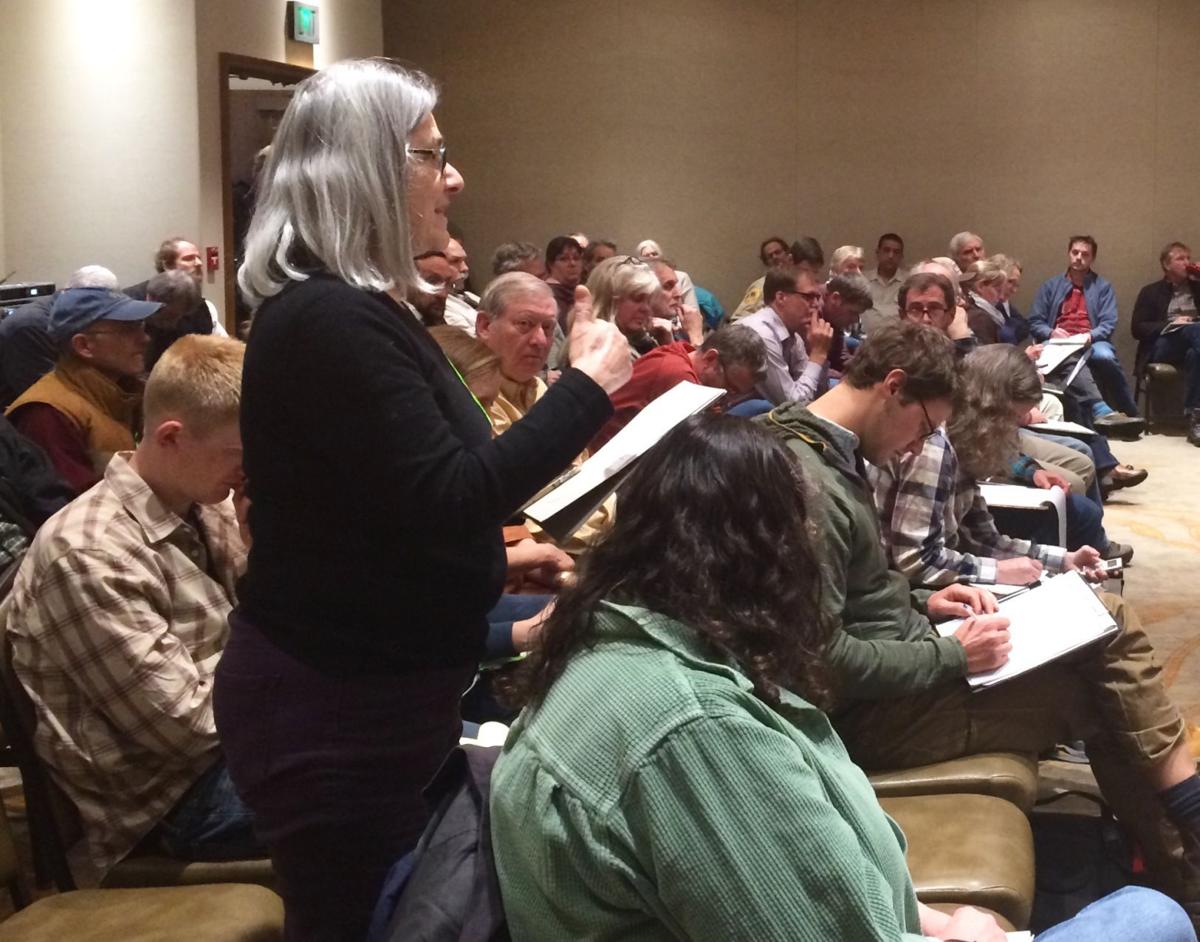 Grizzly bears like grapes.
If that sounds incongruous, consider it just one of many updates Northern Continental Divide Ecosystem (NCDE) bear managers must absorb as they work toward delisting the grizzly from federal Endangered Species Act protection.
The keystone predator on the brink of extinction in 1975 now raids vineyards in Flathead County and cornfields near Valier. And it does so from a recovery area just 1 percent or 2 percent of its original range before conflicts with American pioneers nearly wiped it off the landscape.
"We're seeing a lot more bears than normal sucked into agricultural areas," Montana Fish, Wildlife & Parks bear manager Jamie Jonkel said during the NCDE regional meeting in Missoula on Wednesday. "We had 40 grizzlies in the Ovando-Helmville area during a peak period of August when it got really dry."
And bear challenges continue to grow. Glacier National Park tourists used bear spray 11 times to defend themselves last summer. Of the 21 captured grizzlies in northwest Montana, only four were actually trapped inside the NCDE. The other 17 were outside the recovery area boundary, in places like Ferndale where a grizzly buried a road-killed deer in someone's yard.
Wednesday's gathering of bear managers aimed to finish their strategy for moving grizzlies from federal to state control by next summer. That would give the Interagency Grizzly Bear Committee the scientific and policy research it needs to propose a delisting rule to the federal government.
The move pits those who've worked for more than 30 years recovering grizzlies to a point where they can survive without federal protection against those who insist bear populations remain too fragile to be left to local control. Currently, grizzlies' federal status as a threatened species means their welfare must be considered whenever a public land manager proposes a timber sale, grazing allotment, new road or campground. It also restricts private landowners from doing things that might harm the bears, like leaving crops or food where the bears can get it.
Claudia Narcisco of the Sierra Club's Montana Chapter said her membership wanted to see grizzly populations of at least several thousand bears in the Lower 48 states before they could be considered recovered.
"The general public will not tolerate bear-free zones for a small minority who refuse to take proactive measures to protect crops and livestock," Narcisco said. "There are innovative ways to reduce conflicts that need to be more widely implemented, including by farmers on the Rocky Mountain Front."
But many of those farmers and ranchers testified they have grown tired putting up with grizzly bears that menace their towns and eat their cows.
"We're the ones that have to deal with the bears," said Trina Bradley of Marias River Livestock Association, a four-county ranching organization between Glacier Park and Great Falls. "Much of the bears' range is in private land where these people are trying to make a living. The truth of the matter is there's not enough funding or personnel to cover all the areas the bears have moved into."
The conservation strategy guides all the agencies with legal responsibility for grizzly bears in the future, NCDE subcommittee chairman Jim Williams said. That includes the U.S. Forest Service, Fish and Wildlife Service, National Park Service and Bureau of Land Management, Montana's state FWP and Department of Natural Resources and Conservation, tribal governments and others responsible for land where bears live.
"We're on a very quick timeline," Williams said. "We need this done by April."
That's because the summer meeting of the full Interagency Grizzly Bear Committee meets in June, and it will be deep into a legal fight over delisting the Greater Yellowstone Ecosystem grizzlies as it prepares to delist the NCDE bears.
That schedule drew objections from several commenters in the audience. Bethany Cotton of Wild Earth Guardians noted how many of the subcommittee's own members had retired since the draft conservation strategy was released in 2013. Lots of new science and new subdivisions had turned up since then as well.
"The Greater Yellowstone Ecosystem delisting wasn't comprehended when the NCDE strategy was authored," Cotton said. "If you move forward on the final version without public comment, that makes you exceptionally vulnerable under federal environmental laws."
Cotton added that delisting the NCDE bears would put smaller recovery areas in the Cabinet-Yaak and Selkirk mountains at risk of never reaching strong populations.
"You already have an appellate court that's made it clear you have to consider those impacts," Cotton said. "You will undo all the incredible work that's been done in the preceding years."
The Northern Continental Divide Ecosystem covers about 21,300 square miles between Glacier National Park and Missoula. It's about 70 miles from the Greater Yellowstone Ecosystem, which covers about 22,500 square miles surrounding Yellowstone National Park. An estimated 800 to 1,000 bears live in the northern recovery area, while between 700 and 900 live in the southern one. To date, no grizzlies have successfully crossed that gap and bred with bears in the other ecosystem, raising a concern of genetic isolation in the two populations.
Blackfeet Tribal member Jack Gladstone noted that California has a grizzly bear on its state flag, although it killed the last one there in 1929. He said Blackfeet tradition considered the grizzly the keeper of warmth and light in the world, taking it away when it hibernates over the winter and returning it in the spring.
"For at least 15,000 years that people have been here, bears were always a part of our ecosystem," Gladstone said. "They're part of the original palette of creation. The capacity of bears to change and adapt is impressive but not unlimited. As human beings we have the responsibility, and hopefully the wisdom, to change in wider margin than the bear can."