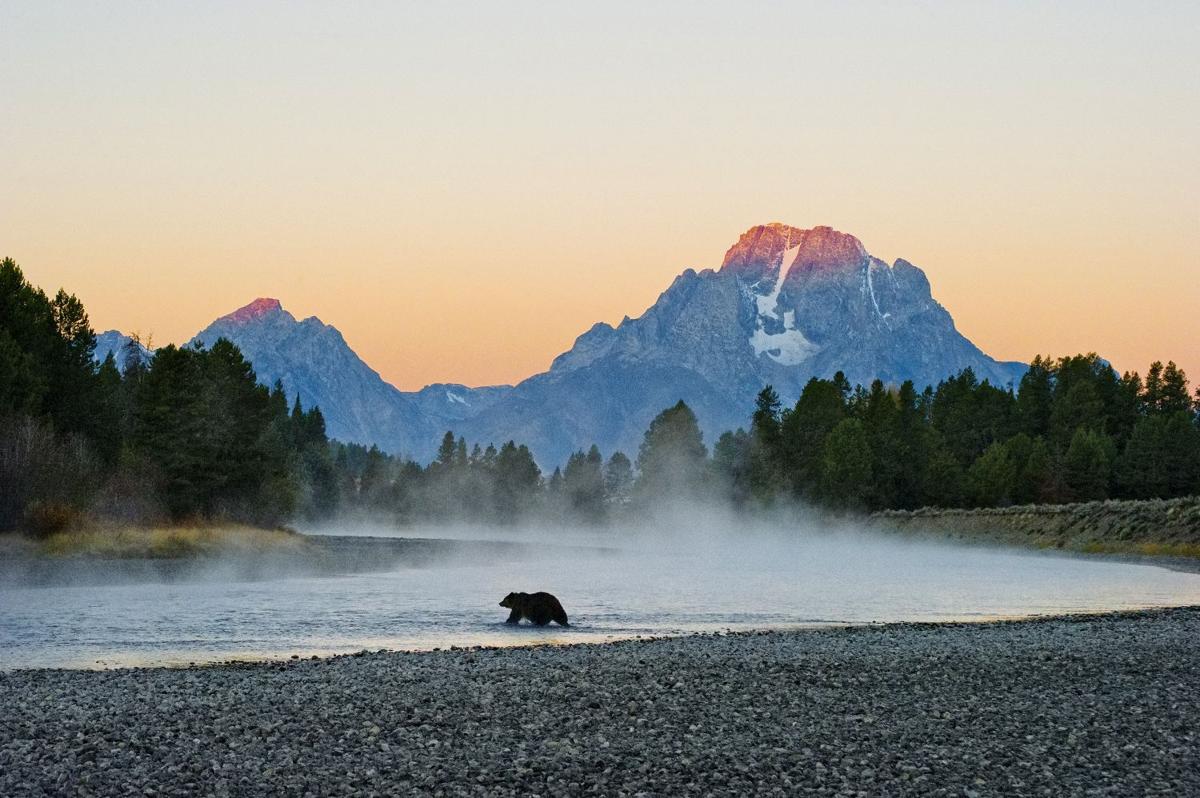 A listening session on future grizzly bear management in northwest Montana drew lots of criticism from both bear advocates and livestock proponents.
"While the (U.S. Fish and Wildlife) Service claims it will maintain bear habitat security levels that existed in 2011, it is instead lowering the goal posts on what is considered secure bear habitat," Keith Hammer of Swan View Coalition said in Missoula at Thursday's workshop. He accused FWS of "lying" about grizzly population recovery to justify removing the bear from federal Endangered Species Act protection.
From the other direction, Montana Board of Livestock member Nina Baucus said the agency wasn't doing enough to protect people from a growing population of grizzlies.
"Last year, there were 29 grizzly depredation calls," Baucus said of her communities along the Rocky Mountain Front. "By July 4 of this year, there were 39. And we're not even to the serious depredation season. The increase and difficulties on the eastern Front are astronomical."
The speakers' comments went into an official record that will shape how the Fish and Wildlife Service and U.S. Forest Service manage grizzly bears in the Northern Continental Divide Ecosystem. That's a 5-million-acre swath of mountain country extending from Glacier National Park through the Bob Marshall Wilderness Complex to Interstate 90 near Missoula.
While grizzly bears in the Rocky Mountains received Endangered Species Act protection in 1975, they are managed differently according to where their populations concentrate. The two biggest areas are the Northern Continental Divide Ecosystem, with almost 1,000 bears, and the Greater Yellowstone Ecosystem with about 700 bears.
FWS has recommended delisting Yellowstone-area bears and turning them over to state wildlife agencies to manage, and possibly hunt. That decision was blocked in federal court, and is now close to being re-issued.
The NCDE bears are on a similar but separate and slower track. A separate lawsuit required FWS to show not only that grizzlies in the NCDE had reached a strong population level, but that they had suitable habitat to find food and shelter from human activity.
Thursday's workshop was a court-ordered opportunity for the public to critique FWS' habitat conservation strategy. Most of the people at the podium argued those standards were inadequate, and almost impossible to find.
"We think it's premature to be hosting this workshop," Kelly Nokes of Wild Earth Guardians said, pointing out that FWS' habitat standards were 50 pages of a 158-page document, which referred to Forest Service plans more than a thousand pages long. She nonetheless offered several recommendations, including keeping a Forest Service planning rule known as Amendment 19 that requires the agency to prohibit road expansion in backcountry frequented by grizzly bears. She also asked the agency to provide more research on places the bears used for food and travel corridors to move between mountain ranges.
On the other hand, Maggie Nutter of the Marias River Livestock Association said her neighbors east of the Rocky Mountains were losing their enthusiasm for grizzly recovery as the big predators moved farther into the plains counties. She also recommended FWS designate all of Montana to the North Dakota border as potential grizzly management area. Otherwise, even if NCDE grizzlies were delisted, bears outside the mountains might still legally be federally protected.
FWS acting Grizzly Bear Recovery Coordinator Wayne Kasworm agreed with several speakers that the federal agency could do more work on habitat mapping and exploring the kinds of food sources NCDE bears depend on. He said both the FWS and a quartet of National Forest supervisors would be using the responses as they build new bear management rules for the next several decades.
"Part of our goal is to make these comments available to the Forest Service," Kasworm said. "A lot of those decisions are things that are being made by the Forest Service, because they manage those sorts of things."
Thursday's workshop comments and other written submissions will be compiled for review on Friday, July 22. Those who missed the public session can send comments to the Grizzly Bear Recovery Office, U.S. Fish and Wildlife Service, University Hall Room 309, Missoula, Montana 59812.
Meanwhile, both Montana and Idaho state wildlife managers are preparing their own public reviews of possible grizzly bear hunting regulations. The Montana Fish and Wildlife Commission meets to discuss plans for hunting grizzly bears in the Greater Yellowstone Ecosystem on Wednesday, July 13, starting at 8:30 a.m. at the Montana Wild Building in Helena. Its agenda can be found at http://fwp.mt.gov/doingBusiness/insideFwp/commission/meetings/agenda.html?meetingId=38170999.
And the Idaho Department of Fish and Game has opened a public comment period on seven proposed grizzly hunting rules that runs through July 27. Details on those rules are available online at https://idfg.idaho.gov/about/negotiated-rules.