Grizzly bear management has evolved from growing populations to moving them around. And a couple of new reports give mixed signals about how the keystone predators travel.
In the United States, evidence has grown that grizzlies have almost bridged the gap between the Northern Continental Divide Ecosystem north of Missoula and the Greater Yellowstone Ecosystem south of Bozeman. But a British Columbia study released this month raises doubts about the condition of its much larger bear population.
Grizzly movement matters because the rare and federally protected animals must avoid inbreeding for their populations to remain healthy.
Critics of taking Greater Yellowstone grizzlies off the endangered species list say that the recovery area lacks connectivity to other bears, and so risks genetic decay.
The U.S. Interior Department proposed turning Greater Yellowstone grizzlies over to state management in July, and is developing rules for similar delisting of the Northern Continental Divide Ecosystem population within a year.
Montana researchers Cecily Costello of Fish, Wildlife and Parks and Frank van Manen of the U.S. Geological Survey published a report on possible grizzly pathways out of the Greater Yellowstone Ecosystem in the journal Ecosphere. Their work lends hope that the genetically isolated population around Yellowstone National Park may soon get a breeding boost as northern bears shake their family tree.
"There were routes that were not obvious before we started, and a lot more alternatives than we thought initially," van Manen said.
Some bears leave the Bob Marshall Wilderness Complex via the short but precarious path around Helena through the Big Belt Mountains toward Bozeman and relative security north of Yellowstone. Others loop around Butte to approach Yellowstone from the west.
One counter-intuitive result van Manen observed was that the heavily used routes weren't necessarily the best ones.
"The concentration isn't because that's the great habitat," van Manen said. "It's because there's not a lot of great places to go. Those are pinch-points."
Knowing that allows land managers and bear advocates to do two things. One is to make sure those pinch-points don't become too hazardous for grizzlies, such as providing wildlife crossings at freeways.
The other is to protect the qualities of the more dispersed routes.
"Those (dispersed routes) have really good, secure habitat like the Beaverhead and Bitterroot mountains that are already well-protected with little human influence," van Manen said. "That might make those routes more effective in the long run. We shouldn't just focus on the ones with highest concentration."
At least 21 grizzly bears have been tracked moving between the two recovery areas. Almost all have been males. Female bears are much less likely to cross highways or human settlements, the authors noted.
"Our analyses placed much greater emphasis on potential paths following the Rattlesnake, Garnet, John Long, Flint Creek, Anaconda, Pioneer and Highland Mountains," the authors wrote. "The Tobacco Root Mountains may be a particularly pivotal stepping stone, as many different paths converged on this mountain range."
Three smaller recovery areas in the Cabinet-Yaak, Selkirk and North Cascades mountains of Montana, Idaho and Washington also depend on the movement of grizzly bears. Pathways there cross the international border between the United States and Canada, where British Columbia has a much larger grizzly population.
Last week British Columbia Auditor General Carol Bellringer warned that supply of grizzlies may be at risk as well.
The southeast corner of the province bordering Waterton-Glacier International Peace Park holds B.C.'s greatest concentration of grizzlies. That zone is also the only portion of the B.C.-U.S. border open to grizzly hunting. But three of the four zones just to the west, bordering the small Cabinet-Yaak, Selkirk and North Cascade U.S. recovery zones, were considered threatened populations by the Canadians.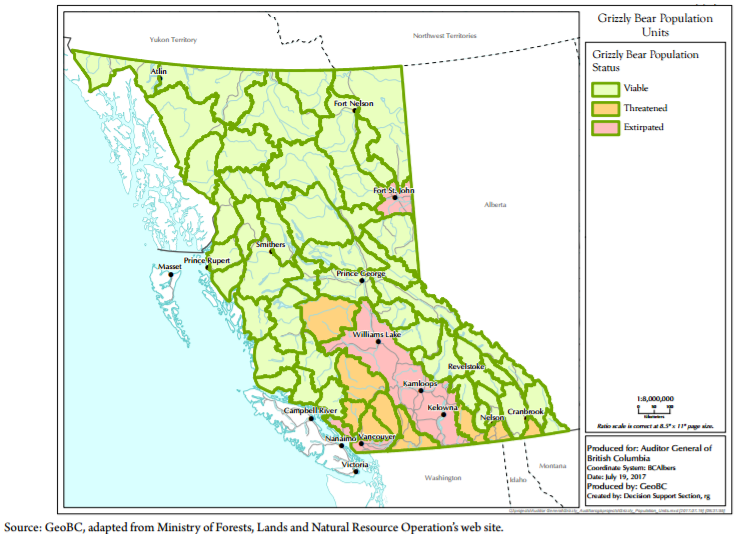 British Columbia has slightly more than twice Montana's area and more than four times its population, although about 2.6 million of the province's 4.6 million people live in the greater Vancouver area north of Seattle.
It also has more than 10 times the grizzly bears: an estimated 15,000 compared to the 1,500 to 1,800 estimated in Montana and the Greater Yellowstone Ecosystem, which includes Idaho and Wyoming. Alberta had about 580 grizzlies, including about 140 in the region between Waterton Lakes National Park and Banff.
Grizzlies can be hunted in British Columbia, but Bellringer said that was less a threat to their management than loss of habitat.
"The expansion of development in oil and gas, forestry and human settlement makes it more difficult for grizzly bears to mate, and results in food source loss, as well as more human-bear conflict," Bellringer wrote. "An increase in resource roads — 600,000 kilometers (100,000 miles) existing and more added every year — also leads to more human-bear conflict, and ultimately, grizzly bear deaths."
British Columbia charges residents $80 for a license to hunt during its grizzly season, while nonresidents pay $1,030. Grizzly hunting brings about $6 million to $7.6 million to the provincial economy. Commercial bear viewing in just one part of the province, the Great Bear Rainforest, was worth $15 million in 2012, according to the auditor's report.
While sales of resident hunting licenses have stayed steady at around 300 a year, nonresident sales have spiked. They grew from about 800 in 2000 to 1,700 in 2016. The audit did not separate Canadian and foreign purchases in the nonresident category.
The possibility of U.S. states offering grizzly hunting seasons has been a major controversy in the delisting debate. But van Manen noted that the Canadians were borrowing many of the same steps Americans have used in the Endangered Species Act recovery process to maintain their bear populations.
"We've certainly been fortunate we have a strong piece of legislation like the ESA," van Manen said. "Roads are key. Keeping road density below certain thresholds is key to effective grizzly bear conservation.
"In the Yellowstone, that's accomplished by setting standards for secure habitat that are at the same levels as 1998 or below. The same thing is happening with the NCDE (Northern Continental Divide Ecosystem) conservation strategy. That guarantees that in the core of the ecosystem, the road densities and motorized access will really not change."