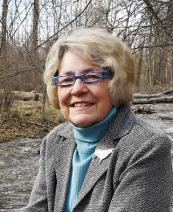 Maybe she doesn't owe it all to Butte, but Carol Williams' hometown was integral in forging the conservation ethic she's known for.
Williams was feted Tuesday in Missoula by the National Wildlife Federation and three other groups as Conservation Champion. It was the first of what his group hopes is an annual event centered around Women's History Month, said David Dittloff, regional representative for NWF.
The League of Women Voters Montana Chapter, the Montana Conservation Voters Education Fund and the Sierra Club joined in recognizing Williams, the first female minority and majority leader in the Montana Senate.
"I'm just so proud of this I can't tell you," Williams said as she received a plaque at a small gathering in Flathead Lake Brewing Co. "It's the first time anyone gave me an award that sort of married everything I am."
She grew up in an outdoors-oriented family and married Pat Williams, who sat at her side at Wednesday's luncheon ceremony. In nine terms in the U.S. House of Representatives he was known for his work on wilderness and other environmental issues.
But it was what flowed past the family home in Butte that first opened her eyes to the dangers of a degraded world.
"I grew up in a place where Copper Creek – all that bad stuff that came out of the mines – went right by my backyard," Carol Williams said.
Being a kid, she played in it. Being a mother, Celeste McCall-Griffith told her not to. Williams said her mom could always tell when she had strayed down to the creek by "the big turquoise rings around my legs" from the waste residue.
"I think part of why conservation is so important to me is having grown up like that and having lived with Pat (for) what will be 50 years in June," Williams said. "Those two experiences have made me very conscious over my lifetime of paying attention to what we do for the future of the planet."
That was directly tied to her advocacy for children and families in one term in the state House of Representatives and two, from 2004 to 2012, in the state Senate.
"Carol is a consummate leader and a dogged worker on issues related to improving the lives of Montana's children and their mothers," Dittloff said before the luncheon. "In the state Legislature she really dug into clean air issues like mercury pollution, and she always made a point of making sure women had a seat at the table on issues related to public health."
Williams received a 100 percent voting record from Montana Conservation Voters in all four of her legislative sessions. The same group recognized her as its conservation champion in 2013, and Ross Prosperi thanked her again Tuesday.
"You are basically the leadership that has stated so unequivocally that climate change is real and it's affecting us now and we need to do something about it," Prosperi said.
Bob Clark has been with the Sierra Club in Missoula for 13 years, so he was tuned into most of Williams' legislative career.
"In particular I have to commend Carol on her efforts to protect MEPA, the Montana Environmental Policy Act," he said. "I know that has been a target over the years and Sen. Williams has been a champion in protecting and returning MEPA to its original state so it can be a tool to protect the environment."
Williams wasn't shy about reminding her legislative colleagues of their responsibility to protect the right guaranteed in the 1972 Montana Constitution to a clean and healthful environment.
Dittloff said it's due to Williams' leadership in the Legislature that Montana has a renewable energy standard, energy-efficiency standards for state buildings, increased fuel standards for state-owned vehicles and state requirements that limit mercury emissions at coal-fired plants.
"She's fought the hard fight," said Sarah Bates, deputy director of the regional National Wildlife Federation. "I've always appreciated Carol primarily because she really looks out for whether women are part of the scene and kind of makes sure that a collection of people tackling conservation issues includes women."
That remains important, Williams said. She put a plug in for women lobbyists in Helena who "made me a good legislator" – people like Janet Ellis of Montana Audubon, executive director Theresa Keaveny and Sarah Cobler of Montana Conservation Voters, and Anne Hedges of the Montana Environmental Information Center.
"These women have been enormously successful in holding the line against some really bad things in the Montana Legislature – and we don't have a lot of good things happening there," said Williams.
Now an active board member of the Missoula Community Foundation, she urged others in the room to "look to the women in your organizations as even a bigger resource than you have because the fact is, if you look around the country, the lobbyists and the leadership in a lot of environmental organizations don't get too many women to break the glass ceiling."
She and Pat moved their home to Missoula in the late 1990s after his time in Congress was up, but they retain plenty of ties to Butte.
"It's still kind of home to me in many ways," Carol said. "To see them struggling now with the consequences of (the mining era) is really painful because at the time I was growing up of course we didn't know any of these health effects. Now we know, and know that it's going to take forever to keep it cleaned up at this point."