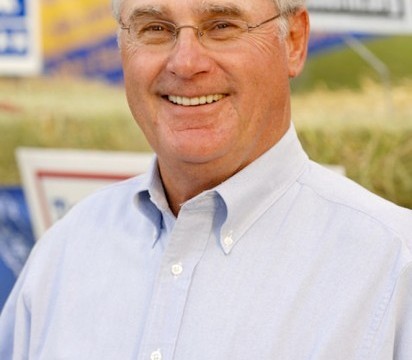 HELENA – Republican gubernatorial candidate Rick Hill on Wednesday called on the state Department of Fish, Wildlife and Parks to take some immediate steps to reduce the number of wolves in Montana.
"One of the things I've heard everywhere that I go is that the relationship today between Fish, Wildlife and Parks and landowners and sportsmen is at an all-time low," Hill said at a news conference attended by ranchers, sportsmen and some GOP legislators at the Montana Stockgrowers Association's headquarters.
"As a matter of fact, I know that the morale in Fish, Wildlife and Parks is also near, if not at, an all-time low. One of the things I hear from people is the hostility that the agency has towards the landowners in particular is how they've been managing the predator issue."
If elected, Hill pledged to bring "a change of attitude and a change of leadership" at the department. He is one of seven Republicans and two Democrats running for governor this year to succeed Democrat Brian Schweitzer, who can't run again because of term limits.
Hill, a former congressman, said the minimum wolf count in Montana at the end of 2011 was 653, a figure most experts believe is actually 10 percent to 30 percent higher, bringing the actual total to 700-850. The birth of wolf pups could add 100-400 more wolves, he said.
"Most people believe that's above the tipping point that we can reach," Hill said. "The consequences of this are going to be a really poor hunting season this year, and we're seeing the collapse of some of our elk herds already, and there is great concern among sportsmen that if we cross this tipping point, we're not going to be able to recover."
In addition, Hill said the potential impact of the added wolf numbers on livestock also could be "exceedingly severe."
He called for the department to implement these steps now to reduce wolf numbers:
• Go to a year-around, or at least an extended, hunting season for wolves.
• Drop the concept of management areas for hunting wolves because the predators move from area to area.
• Designate wolves as fur-bearing animals and allow trapping.
• Reduce the cost of out-of-state hunting licenses to Montana can attract more "skilled hunters" to help reduce wolf numbers.
• Take a much stronger response when wolves kill livestock.
• Work with county government to offer bounties when people kill wolves.
Schweitzer and Department of Fish, Wildlife and Parks declined to comment on Hill's plan.