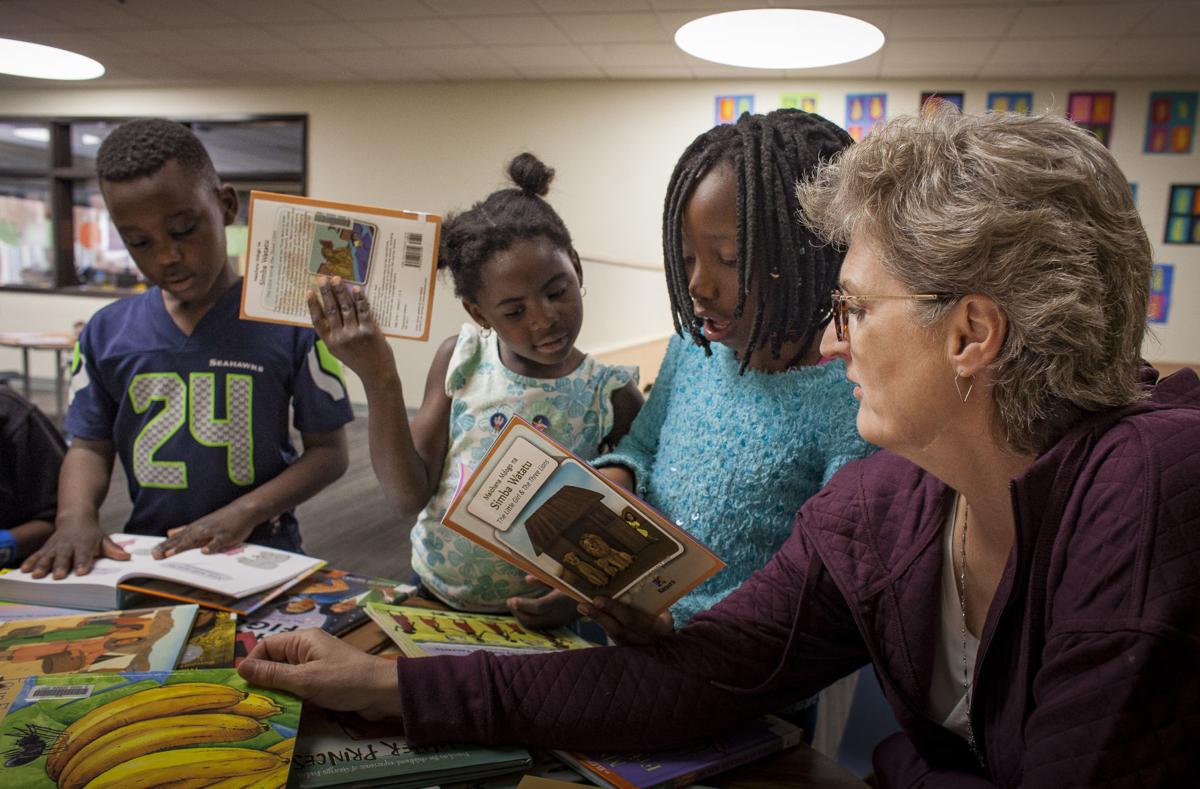 A group of five Congolese students could hardly contain their excitement as they sifted through a pile of storybooks that were delivered to Paxson Elementary School on Friday morning.
The students peered through the books with joy, reading text that alternated between English and Swahili, their native language, on the accompanying page.
"You can read that and then I can read," said Shirley Lindburg, the English language learning coordinator for MCPS.
One of the new books told a rendition of "Goldilocks and the Three Bears."
Suzana Sifa, a Congolese student, read along with Lindburg as her fellow Congolese classmate, Olivia Musehenu, listened eagerly.
"Alipokuwa amelala, simba huja nyumbani," Sifa and Lindburg read together, with Sifa correcting Lindburg on the pronunciation of "nyumbani."
The passage translated to "As she was sleeping, the lions came home."
Lindburg recently purchased the books with a $1,500 grant from the Missoula Education Foundation. She hopes the books can help both refugee students and their tutors learn to read and speak each other's language.
Missoula County Public Schools has almost 70 refugee students, who came to the district after the International Rescue Committee opened an office in Missoula in the summer of 2016. The students come from Democratic Republic of the Congo, Iraq, Syria and Eritrea, and the tutors they work with aren't usually fluent in the various languages.
The tutors teach refugee students English words and phrases by pointing, reading and observing. Jodee Zunker, a tutor at Paxson, said the younger the students are, the easier it generally is for them to learn English.
Olivia Musehenu and her brother, Christian, have been in Missoula a little less than a year but both are already fluent in English, alternating between it and Swahili with ease.
"One of the things is for them to be able to keep their own language," Lindburg said. "Some of them can read English now but they struggle with reading Swahili."
You have free articles remaining.
In addition to retaining their native language, the books help bridge students' lives back home and their lives in America.
Some of the stories are geared toward initiating conversations about students' experience in refugee camps, such as "The Banana-Leaf Ball" by Katie Smith Milway.
The book tells the story of a young East African boy in a refugee camp in Tanzania who becomes friends with other kids at the camp by playing soccer with a ball made from banana leaves.
Zunker recently read the book to the Congolese students and even made a banana leaf ball with them.
MCPS tutors work with refugee students for about an hour each day. The students spend the rest of their day in the classroom with English-speaking peers.
Lindburg said the books will also help facilitate classroom dialogues on difficult topics and foster empathy among students.
"Other kids in the classroom see these books and they understand cultural diversity better when they see, 'They're saying this in this language and this is what it actually means,'" Lindburg said.
"Something we absolutely need more in schools is books with more cultural diversity so that kids see books with people that look like them," Lindburg said.
Without prompting, students also demonstrated the books' application last week as a tool to learn English.
Patrick Hamisi, a Congolese student who's nearly fluent in English, translated one of the new books to Majambe Nhena, whose family moved to Missoula two months ago.
Sifa and Olivia Musehenu also alternated reading a book called "I'm new here" by Anne Sibley O'Brien, which tells the story of three refugee students new to American elementary schools where they encounter difficulties speaking, writing and sharing ideas in English.
Lindburg said she's waiting to find out if she received another grant she recently applied for to purchase more storybooks for classrooms so that teachers are able to read to the entire class.
"So you can teach other kids words in Swahili or Arabic or Tigrinya," which is spoken in Eritrea, Lindburg said. "It benefits everyone."