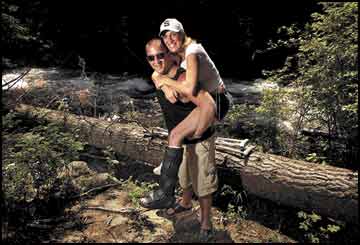 If not for a younger brother's strong back, who knows what might have happened to Shari McClenahan.
Earlier this month, Shari, 29, hiked with her family - including her mother, a sister and brother and five young children - in the Selway-Bitterroot Wilderness. They made it to the first of two waterfalls at Twin Falls - about three miles - before heading for home.
Shortly after that, the Hamilton family's troubles began. Shari's 3-year-old son had fallen earlier on the hike and skinned his knee. He was crying and saying he couldn't walk any more, said Kathie Meadow, Shari's mother.
So Shari told her son she'd carry him on her back and he could rest. A little later, Shari came to an embankment.
"It was wet,"Meadow said. "She took a little run to get up it, slipped and her left ankle turned and broke the bone. There was no way she could go any farther."
Family members used a belt to tighten a shirt around her leg, trying to create a brace of sorts.
It was Shari's brother, Matt Slabodnik, 23, who then took on carrying duties, hoisting Shari onto his back.
"If Matt hadn't done what he did, it would have taken hours to get her out of there," said Kathie Meadow.
Shari's younger sister, Kelley Taylor, also was carrying her baby on her back. She volunteered to go ahead and get help.
"Of course, there was no reception (for her cell phone when she got to her car), so she drove to the nearest farmhouse and called for help," Meadow said.
Meanwhile, McClenahan's condition was worsening.
"Shari was in pain. She didn't look good and had gotten clammy," her mother said.
Matt, who earlier had been carrying his young son, now was carrying Shari piggyback, holding her broken leg with his left arm and trying to stabilize her as best he could.
His proud mother watched with amazement.
"He put her on his back and started off the hill," she said. He went through water in a swampy area and got into terrain that was unreal. I don't know how he got her out of there, but he did."
Matt said it was difficult but he knew how important it was to get his sister off the mountain.
"Just being able to do something like that. It was hard enough carrying my son on my back, but I'd do it for anyone," he added.
By the time the group got to their vehicles, they could hear the ambulance sirens.
Shari went into shock in the ambulance on the way to Community Medical Center in Missoula. After the swelling went down, she had surgery to insert seven screws and a metal plate in her leg to hold her ankle together.
"I'm doing great right now. The surgery was awesome," she said from her home in Hamilton. Now she's in physical therapy.
When Matthew visited Shari in the hospital before her surgery, he said, "she kept thanking me for carrying her out. She couldn't believe that I had done it."
"Being carried out for three miles it was like hell," Shari recalled.
Meadow calls both Matt and Kelley's actions heroic.
"What he did and Kelley did," she said. "She walked hard to get out of there fast. She had her baby on her back and was walking as fast as she could to get help.
"To me, that was an act of heroism on both their parts."