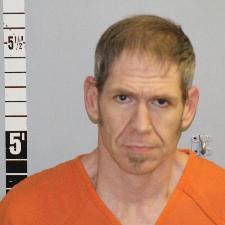 A 42-year-old Helena man has been charged with three felony counts of criminal possession with intent to distribute, criminal possession of dangerous drugs and criminal production or manufacture of drugs, as well as a misdemeanor count of criminal possession of drug paraphernalia.
Trampus Hoy was listed as a probation absconder in 2018 after failing to respond to letters and emails sent by the Montana Department of Corrections.
Hoy's probation officer was alerted on Nov. 12 that Hoy's juvenile son brought marijuana to his middle school. The child told officers he received the drugs from his father.
Child Protective Services, the probation officer and law enforcement proceeded to Hoy's Porcupine Drive residence to investigate. They found an unlocked garage housing "two round drying racks with a green leafy substance and green sticks on it," according to documents filed in court Monday by the Lewis and Clark County Attorney's Office.
While on the scene, Hoy's young son and daughter arrived from school and told officers Hoy was not home, that he comes and goes, and that they were unsure when he would return.
The CPS representative made contact with Hoy via his cellphone and informed him that they were at his home with his children, probation and law enforcement, and that he needed to meet them. Hoy refused to come home but said he would report to his probation officer the next day.
You have free articles remaining.
That did not happen, and his phone was disconnected at that time. 
As a result, law enforcement was granted a search warrant for Hoy's residence. They discovered about 30 grams of loose-leaf marijuana and about 4 milligrams of commercially packaged THC concentrate in an unlocked safe in the master bedroom in addition to dozens of marijuana seeds and Montana City Cannabis-branded containers labeled with names of strains such as "green crack," "super glue" and "blue dream."
In Hoy's garage, officers found more than 20 grams of loose-leaf marijuana, 10 dried leaf clusters from marijuana plants and a 5-gallon bucket containing nearly 4 pounds of marijuana.
Hoy was also in possession of multiple smoking devices and a homemade "assembled metal tube" commonly used to infuse the marijuana with butane to extract the THC, creating a powerful concentrate referred to as "wax" or "budder."
Police also found 15 Montana City Cannabis business cards, 11 of which had Hoy's name and cellphone number handwritten on them. According to records, Hoy is not a registered medical marijuana provider, and his medical marijuana license is expired.
Hoy has one prior conviction for distribution of dangerous drugs.
Hoy was arrested and booked into Lewis and Clark County Detention Center.
All charged are presumed innocent until proven guilty.