If Hellgate Elementary voters say yes to a $19.8 million bond levy in a couple of weeks, construction on a new middle school would start after the new year.
Ballots were mailed last week, to 7,606 in the Hellgate Elementary district. They must be returned by 8 p.m. Sept. 20.
The bond issue would fund a threefold project: a new middle school on campus, a road circling the campus, and new recreation areas.
Superintendent Doug Reisig said crews would break ground in late February or early March, and the middle school would open for the 2018-2019 school year. Construction on the entire project is estimated to take 12 to 14 months.
The middle school would house grades 7-8. The three other buildings would be reconfigured: The K-2 building would be K-1; the 3-5 building would become 2-3 (and it would get a kitchen and cafeteria); and the 6-8 building would change to 4-6.
It's an effort to alleviate congestion and reduce class sizes, Reisig said. Today, about 1,490 students attend Hellgate. Classes – and especially the lunchrooms – are crowded.
"We have the land, we just need facility space," he said.
Past Hellgate Elementary bond levies have succeeded, usually by narrow margins.
In 2007, a $13 million bond for expansion and facility renovation passed with 55 percent of the vote. That election saw 35 percent voter turnout.
The difference in that effort, Reisig said, was that it added on to existing buildings.
"We would do that this time, but then we would have mega-buildings, for goodness sake," he said.
And in 1991, a $4 million bond to build a new middle school (today the 6-8 building) also passed.
The tax bill of an example home in the district provided by the Missoula County Treasurer's Office was based on last year's levies. It had a $190,000 market value and $2,580 taxable value, with the annual tax bill coming in at $1,813.
That included the basic property taxes paid by homeowners in the entire area – on this house, $344 to schools, $515 to the county, and $370 to the countywide equalization and transportation and retirement levies.
Its owners also paid $194 to the MCPS high school district.
Because the latter payment is based on last year's figures, it does not include the $70 million MCPS high school district bond approved last fall, which will mean a $25.20 annual increase on a $200,000 assessed value home.
Hellgate homeowners will not pay taxes on the $88 million MCPS elementary bond.
The rest of this home's bill included a few add-ons specific to its district: $290 to the Missoula Rural Fire District, and water quality and special improvement district fees.
If the Hellgate Elementary bond passes this month, a $200,000 assessed value home — the value the school district used in its estimations – would see a $10.69 monthly increase. In a year, that's a $128.28 jump.
At public hearings this spring, most residents said they don't want to see the "mega-buildings" Reisig mentioned previously – even though it was a cheaper option. Adding 24 classrooms to existing buildings was estimated at $4.7 million.
The reason, they said, is because while it would add more classrooms, it would do nothing to solve the lunchroom overcrowding, and it wouldn't address the need for space outside the typical classroom, such as occupational and physical therapy.
Reisig is confident the measure will pass due to the opportunities for public input in front of the school board this year. A website set up by Friends of Hellgate Elementary, hellgatelevy.com, urges people to vote yes.
Hellgate is the largest independent elementary district in the state. It's grown by 200 students over the last eight years. And that's projected to continue, with an additional 200 kids estimated by 2023.
The bond doesn't have total support, however. A yard sign outside Vicky Bostick's house on Flynn Lane reads "200 more students, 20 million, vote no."
Bostick agrees with the projected student numbers. She also agrees Hellgate needs more space. But she's worried the district is "over-building," and that with other tax increases coming soon – the MCPS high school bond coming to tax bills this fall and the $30 million Missoula Public Library bond on the November ballot – Hellgate is asking too much.
"I think Missoulians are getting tired of raising taxes unnecessarily, but in that sign it says we need to be realistic about size," Heather Harrington, a parent of Hellgate children, said of one yard sign urging people to vote no. "I think that's ironic, because that's exactly what Hellgate is trying to do.
"I think voters need to discern whether there's a want or a need. A lot of times I feel like Missoula has a hard time determining the difference when it comes to higher taxes. In this case, I feel very strongly that it's very much a matter of need ... because of facility demand."
One option presented at a January meeting was to build a 53,900-square-foot middle school. By February, it had grown to 68,400 square feet and had a cost estimate: $14.3 million. In March, 74,500 square feet and $16.6 million.
Now, designs show an 84,000-square-foot building costing $17 million. In addition, new recreation areas are estimated at $2 million and traffic mitigation at $800,000, altogether totaling the bond levy: $19.8 million.
"I just wish we had continued to be more realistic with what size we needed and maybe have an architect look to eight years from now when we've outgrown our space, how we could easily add on to the building," Bostick said. "We don't have to have 80,000 square feet right now.
"Their campaign is, 'We need space.' Yes, we are going to need space. But I don't think people realize the enormity of what this is versus what we're going to need."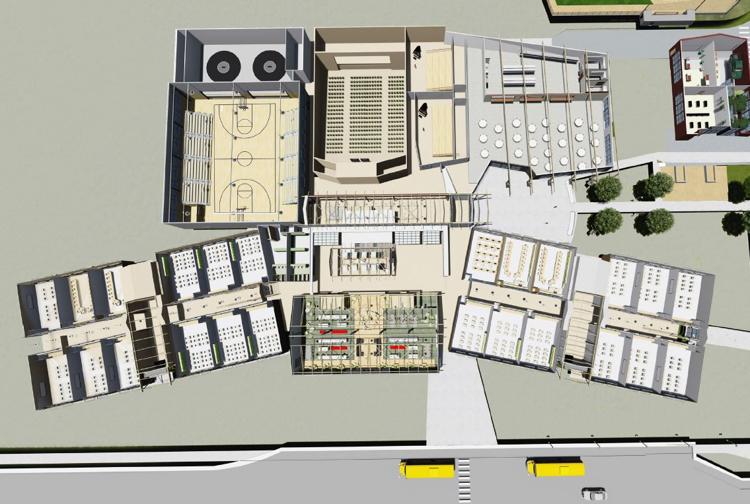 In addition to 24 classrooms, a band room, orchestra room, cafeteria, media center, gym and auditorium, the plan calls for a separate 4,750-square-foot vocational/technical education building. It would include broadcasting, alternative education, a greenhouse, shop and a fenced garden.
If voters shoot down the measure, "it would have ramifications in terms of how Hellgate continues to operate and provide educational services for our kids," Reisig said.
Typically, as you get more kids, you hire more teachers. Hellgate doesn't have anywhere to put them.
If the bond levy fails, Reisig said class sizes will continue to increase and specialized services would end up in hallways.
"We would go back to 2000, when I started, with physical therapy and occupational therapy very possibly being provided in hallways," he said. "Right now we have areas within each school facility so those services can be provided in privacy. Those would potentially go by the wayside."
Classes such as art and music could be taught by "itinerant teachers," he said, meaning they would take their classes on carts through the buildings.
"Very few" students walk or bike to school, he said, due to the safety concerns on Mullan Road and Flynn Lane.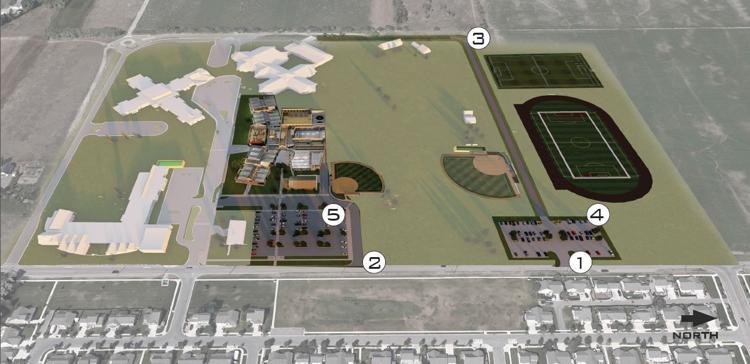 The new road would add two more entrance and exit points on Flynn Lane, the school's main road. There also would be new parking near the sports facilities on the northeast corner, and parking for the new middle school.
The school would own the two-lane asphalt road, meaning it wouldn't be subject to city standards, Reisig said. Hellgate would have to maintain the road.
The third component is moving and adding recreation space: a new grass soccer field, a new track with grass field, more playground space and a relocated T-ball field. The existing softball field would remain.
"I think ultimately people need to look down the road," Harrington said. "If it gets overcrowded, they have to get really creative about where they put kids ... and that ends up being the focus. I want good, quality education to be the focus."