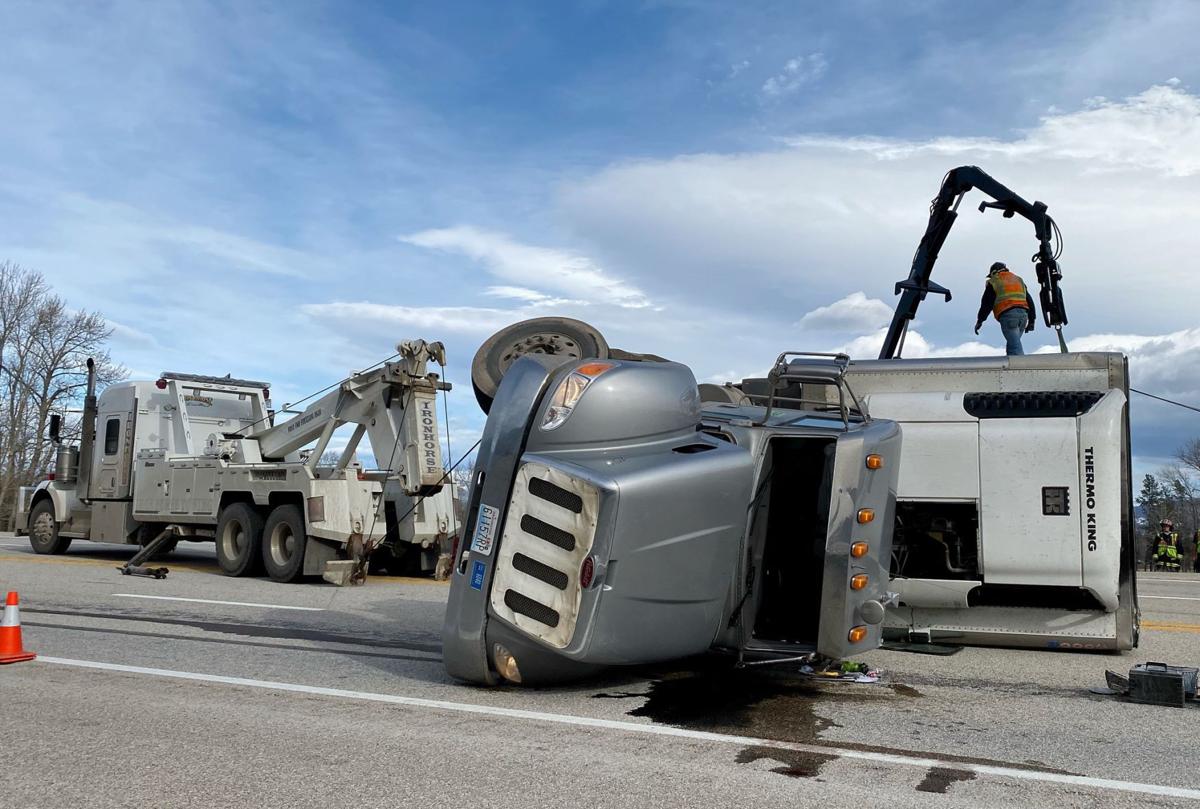 Mother Nature caused some literal whiplash across western Montana Saturday, first teasing people with spring-like record-breaking warmth, then whipping the region with winds that flipped a semi-truck and downed power-lines, leading to outages and road closures.
A 100 mph gust was recorded at Point 6 above Snowbowl, at an elevation of 7,897 feet on Saturday, while the top of Mount Sentinel saw a 96 mph gust at 1:30 p.m., said Bob Nester of the National Weather Service.
Gusts of up to 93 mph, and sustained winds at 60 mph, had all three chair lifts at Snowbowl shut down by noon. 
Snowbowl owner Brad Morris said all three will be operating tomorrow morning, so long as the weather permits it. 
In the valleys, Missoula saw peak gusts of 56 mph, while winds of 51 mph were recorded in Bonner, 55 mph in Stevensville, and 47 mph in Kalispell, Nester said.
Temperatures likewise climbed Saturday, all the way to 60 degrees in Missoula, setting a record for January and February both, Nester said.
"This will be the warmest day we've ever had this early in the year," he said. "We've never hit 60 between Jan. 1 and Feb. 1, and the same goes through the end of February. … The last time we hit 60 in February was in 2006, on the last day of the month."
But the winds made it tough to enjoy the balmy temperatures.
Deputy Jonathan Stineford with the Missoula County Sheriff's Office said crews responded to power outages and downed lines across the city. Along with downed lines, he said traffic lights malfunctioned.
"We're seeing outages across pretty much the entire south end of the city," he said Saturday afternoon. 
NorthWestern Energy posted a warning about downed power lines on its Facebook page and urged caution Saturday afternoon: "Winds are expected to get worse throughout the day, and we anticipate additional outages. If you see a downed line please stay clear and call or report online immediately."
Winds gusting up to 60 mph knocked trees into power lines throughout Flathead County, with the county sheriff's office reporting that nearly the entire area of Libby had no power as of 1 p.m.
"We have multiple transmission lines down causing large pockets of outages in Whitefish and Glacier. Crews are working on the transmission line from Hungry Horse to West Glacier as well as the one impacting the Whitefish area," said a statement posted to the Flathead Electric Cooperative's website.
The Montana Department of Transportation also reported that traffic was down to a single lane on U.S. Highway 93 some 4 miles south of Lakeside due to a downed power line Saturday afternoon.
A mile north of Stevensville, a semi-truck flipped over due to high winds at 11 a.m., blocking all four lanes.
Montana Highway Patrol Officer Scott Bennett said the truck was carrying a pallet of produce, heading south to Darby. A towing crew responded from Missoula, but was delayed due to power lines strewn across Highway 93 five miles north of the crash. The truck was righted at about 1:30 p.m.
The 52-year-old driver was transported to the hospital, authorities said.
Even as crews worked to repair downed power lines throughout the western part of the state, high winds pushing tree limbs into power lines continued to knock out power throughout the morning.
According to the Ravalli County Electric Coop's website, a power outage just south of Lolo left more than 1,300 people without power. It estimated power would return at around 3 p.m.
An outage map for Northwestern Energy showed power losses in Stevensville, Missoula and throughout Lincoln County.
Missoula Electric Cooperative's website reported that as of 1:45 p.m., more than 1,400 customers had no power.
An approaching cold front shoving warm air ahead of it accounted for the winds, said Nester. "Those peak winds should diminish" by Saturday evening, he said.