Chris Goble probably didn't realize as an 11-year-old washing the parking lot of Hoagieville on South Higgins that the business would provide him with a lifelong career.
Now, 29 years later, Goble owns the Hoagieville and is well underway with plans with business partners to transform it into a modern family-friendly restaurant, coffee joint and beer and wine taphouse called "Brewed."
It'll feature indoor seating, and outdoor upper-level patio seating with views of Pattee Canyon and Mount Sentinel. There'll be a simple menu of American classics like sandwiches, burgers and shareable appetizers.
The first thing Goble wants people to know is that he doesn't like the word "tavern" to describe the new concept, even though he has to apply for a tavern conditional use permit from the city.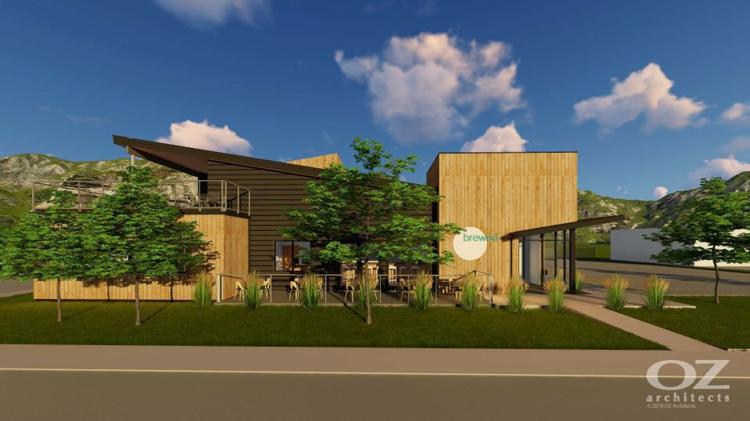 "We're not going to have gaming machines, we won't be serving liquor and we'll close at 10 p.m.," he said. "It's going to be bright and open with lots of windows and lots of greenery on the outside. It's going to be a great upgrade on that corner."
He envisions it being a "neighborhood living room" where people can get a local craft beer, a glass of wine, a salad and soup, or coffee and eggs for breakfast.
"We'll have lots of beverages for kids, so it'll be family-friendly," he said. "There's not a lot like that in this Lewis and Clark neighborhood. There's nothing like it unless you're going downtown or to Reserve Street or Brooks. It's a great location and it'll be a great place for the whole neighborhood to walk or bike to."
Goble lost one too many pairs of mittens as an 11-year-old, so his mom told him he needed to get some kind of job. Local businessman Nick Alonzo owned the drive-thru restaurant back then, and had Goble hose down the lot. Alonzo and business partner Bob Powell own the Montana Club restaurants in the state, along with other ventures like Katie O'Keefe's Bar and Casino in Missoula.
The South Higgins Hoagieville was Alonzo's first restaurant, so he cares deeply about it. But in 2003, Goble bought the Hoagieville and still manages it and flips burgers on a day-to-day basis. Recently he decided that customer attitudes have changed and he needed to modernize his business model.
Alonzo said although Goble didn't need his permission to shut down the Hoagieville, he still called to get his blessing as a sign of respect.
"Just 'cause it was his baby," Goble explained.
"He was nervous as hell when he called me to tell me," Alonzo recalled. "But he's a true small businessman. He's up against all the things a small business owner is up against. I was honestly shocked at first, but I had to agree with him when I thought about it."
You have free articles remaining.
"That was a relief, having his stamp of approval," Goble said.
Brewed will offer Missoula-made craft beers and other beverages, along with a regional selection. The name signifies how both coffee and beer are made.
"My friend likes the saying 'Keep it simple, stupid' and that's what we're going for," Goble said. "We don't want extravagant, crazy, over-the-top. The menu will be very short and simple. It'll be fun food for sitting down and sharing with a group."
Goble has learned from Alonzo that customers, especially in the summer months, come looking for locally crafted beers from places like Draught Works Brewing and KettleHouse.
"I think 95 percent of our customers in the summer order local beers or are looking for local beers," Alonzo said.
More than anything, Goble wants the place to be a neighborhood gathering spot.
"I really like the idea of what the Rattlesnake Market and The Trough and the Miller Creek Café are doing," he said. "That's really our concept."
Several neighborhood residents wrote letters in support of the business to the city's Land Use and Planning Committee.
"As a 14-year resident of lower Pattee Canyon, I am writing to you to express our family's excitement about the proposed business," wrote Dan Brasington, the general manager and chef at the Thomas Meagher Bar. "This will bring a much-needed gathering place for residents of this part of town, a place that brings the community together. I am the parent of two small children and I commute on my bike to work by this spot every day."
"Perfect for a neighborhood setting," Brasington concluded.
The Land Use and Planning Committee will consider the application at 10:10 a.m. Wednesday at the City Council chambers at 140 W. Pine Street in Missoula. Goble has no firm timeline for opening the new establishment.