The pace of development in Missoula is still robust, but the number of new construction projects has slowed considerably from the previous two years' record-breaking rate.
However, the number of residential projects has increased sharply this year and is on pace to perhaps hit an all-time high, with the number of homes permitted in the first half of the year already double the 2014 and 2015 totals.
According to Missoula's Development Services Office, through the first seven months of this year, 930 building permits were issued for projects with a total market value of construction of $119.1 million.
At that rate, there would need to be a huge surge in the final five months to surpass the record $277 million worth of project permits issued for all of 2017 or the $248.7 million issued in 2016. The 2017 numbers were boosted by many projects financed by the $158 million Smart Schools 2020 bond approved by voters.
So far this year, some of the larger projects include school bond projects, such as a $14.7 million remodel of Sentinel High School. There's also a $13.4 million Stockman Bank building going up on Brooks Street, a new $4 million Missoula Bone & Joint Ambulatory Surgery Center on Mullan Road, a $3.5 million Albertsons grocery store expansion and remodel on East Broadway, a $3.1 million Crestmont Apartment building project and a $3 million remodel of the upper floors of the Florence Building downtown.
"The total number of permits Development Services staff have issued has consistently increased over recent years with almost 8,500 permits being issued in 2017," said Mike Haynes, the city's director of Development Services.
That number includes water services permits, which the city began issuing in July 2017 for connections to the newly acquired Missoula Water municipal water system.
The number of single-family and two-family residential units permitted in the first seven months of 2018 stands at 199, compared to 270 for all of 2017, 241 for 2016, 195 for 2015 and 164 for 2014.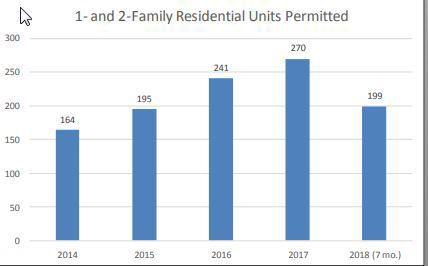 If the pace of housing projects permitted holds, the high from last year could be toppled and the city could perhaps start to see an easing of the housing affordability crunch here, where prices have risen more than 30 percent since 2010 as demand exceeded inventory.
Dwight Easton, the public affairs director for the Missoula Organization of Realtors, said the number of active listings of homes for sale in the city of Missoula hit a recent high in August 2017 at 463. In July of this year that number was down to 423. He said the lowest number of active listings recently was on Feb. 18, when there were 305.
Countywide, the number of active listings stands at 651 with a median sales price of $288,950. But that's not the median sales price for the year, which won't be calculated until January.
"It appears that there is normally an uptick of new listings that starts in March, in the spring, and then it tapers off historically," Easton explained.
Anecdotally, he said, it appears that the hot seller's market for housing in Missoula might be shifting a little bit toward the center.
"It has been a seller's market, and maybe that's cooling, but this is just anecdotal," he said. "It might be economics. Where we are seeing the price of newer homes, it's getting harder to find buyers for $400,000 homes."