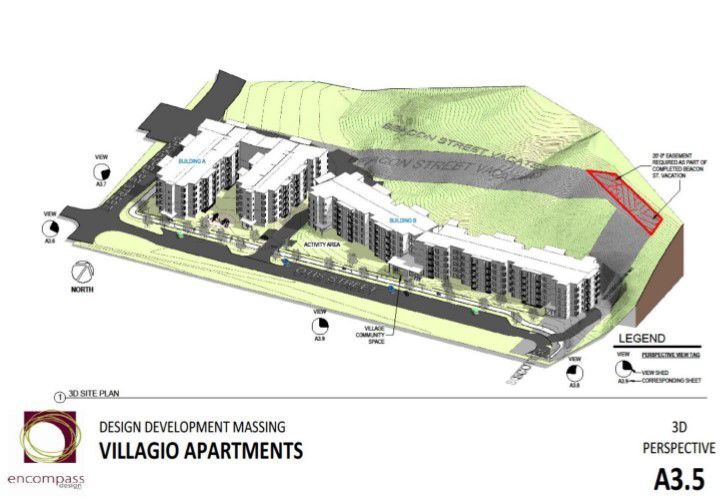 Construction on the largest single affordable housing project in Missoula and Montana history is expected to begin this fall.
When it's finished, expected in July 2022, the $54 million Villagio Apartments will have 200 units able to accommodate 769 people.
On Thursday, the Missoula Redevelopment Agency's board of directors unanimously approved using roughly $1.3 million in Tax Increment Financing to help pay for public infrastructure and a retaining wall at the site.
The Villagio will be located on Otis Street at the north end of Scott Street near Interstate 90 in Missoula's Northside neighborhood.
There have been affordable housing projects as large as 200 units built in phases in Montana before, but this project will have many more two-, three- and four-bedroom units to accommodate families. The units will be priced so they are affordable to people making at or below 60% of Area Median Income, and there will be 32 project-based vouchers to make units affordable for very low-income renters.
"As pointed out by the Office of Housing and Community Development, there is a documented critical need in Missoula for two-, three- and four-bedrooms units to accommodate these families," explained MRA assistant director Chris Behan. "Such units are too expensive for the private sector to construct to be rented to this population so it requires a complex financing package with significant public investment."
He said a purely private development would also "not have the long-term affordability obligation".
"Villagio will be the largest affordable housing project in all of Montana in recent history," he told the board.
Behan said every part of the project is as complex as the MRA has ever dealt with, from financing to ownership. The project will consist of two five-story buildings with underground parking and outdoor play space.
"This is a very big site," Behan said. "There's a lot of open space out here and it's primarily because of parking being underground."
"Furthermore, Missoula has a very tight rental market with a 2019 vacancy rate of 3.1%," Behan continued in a memo to the board. "That is functionally 0%, and the vacancy rate for affordable housing in Missoula is even lower. A market study provided to (the city) by the developer demonstrated well over 2,000 eligible households for these homes. It feels that the scale of the proposed Villagio development is a 'significant attempt to meet the enormous need in the community for affordable housing.'"
Behan said the city and the partners on the project have designed it in a way to mitigate negative effects on traffic on neighbors. He said the site is ideal because it's close to a school, parks and Partnership Health Clinic. The Missoula Housing Authority will be managing the site and there will be a complex ownership structure. Lori Davidson, the executive director of the Housing Authority, said there will be lots of oversight and regular maintenance.
"Every tenant who comes in will have to be income qualified," she said.
The project will be energy efficient, she said, but solar panels were not feasible for financial reasons.
Approximately $760,000 of the TIF is going toward a retaining wall because the site sits next to a hill.
Nate Richmond, the president and CEO of BlueLine Development, is the lead developer of the project and said he and his team are asked why they chose that site.
"If someone had a perfectly rectangular, flat 5-acre site we would jump all over that," he said. "But it would also have to be located in a qualified census tract, be appropriately zoned and have amenable landowners willing to donate the site and own an affordable housing project for the next 46 years. This is a very unique opportunity to be able to get 200 units of affordable housing using tax-exempt bond financing."
The site was owned previously by a religious organization, and the low-income vouchers mean that the project is required to be used for affordable housing for at least 46 years.
The project will include about 174 underground parking spaces and extra on-street parking.
"The family income earners in the local cohort eligible for having a home at Villagio are those that have been recently included in the term 'essential workers' such as grocery store workers," Behan continued. "Hospital staff, some public employees, warehouse and delivery workers, etc. Using an example mentioned by Lori Davidson, a single mother with two children and perhaps caring for an elderly parent, who is earning $15-$18 per hour at a grocery store, cannot find adequate and safe housing in Missoula and would qualify for Villagio."
Board member Ruth Reineking pointed out that the units break down to about $270,000 each, which she said is below the market price that it would take to build three- and four-bedroom units when considering land costs in Missoula.
"In residential projects with the target market proposed in this project, the balance between affordability and the current cost and availability of land along with materials and labor costs and construction, is very difficult to achieve," he said. "There are few funding sources meant to fully fund such housing. Therefore, creating a significant impact in Missoula's housing market for this population must include a mix of state, federal and local public investment, creative private financing, and strategic short- and long-term partnerships."