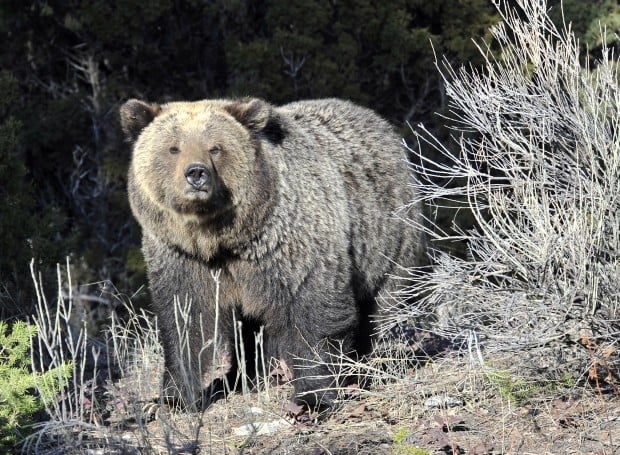 The Interagency Grizzly Bear Committee wants to tiptoe quickly toward the idea of hunting its namesake bruin.
Roughly 1,600 grizzlies live in the mountains between Glacier National Park and Yellowstone National Park. All of them currently enjoy protection as threatened animals under the federal Endangered Species Act. IGBC's mission is to get grizzly populations robust enough to shed that protection.
And with that delisting comes the potential for bear hunts.
"This topic came about because two ecosystem populations are at or approaching recovery status," IGBC committee chairman Harv Fosgren of the U.S. Forest Service said. "We need to explore what that means and how we're going to talk about that."
On Tuesday, the committee gave itself two days to craft a hunting policy statement that can start the conversation. Members spent as much of the morning talking about what the policy wouldn't say as what it would.
"We need to have a very clear message," warned Chris Servheen of the U.S. Fish and Wildlife Service. While the policy statement might be very short, he suggested several issues that needed more detail. For example, hunting won't be used to reduce grizzly populations the way Montana and Idaho are trying to reduce their wolf populations. And hunting shouldn't be considered a strategy to eliminate human-bear conflicts – those must still be addressed by education, law enforcement and other means.
Finally, even if a proposal gets finished by Thursday, the IGBC has no power to create a grizzly hunting season and no state has done so yet either. The committee only wants to explain how it sees hunting fitting into the grizzly's future, Servheen said.
"We don't want grizzlies to descend back into vermin status," said Tony Hamilton of the British Columbia Ministry of Environment. "If you can't use them, they won't have the same value to people as deer and elk. The shoot-and-shovel ethos is alive and well."
"This is a very difficult concept to communicate to folks who aren't sportsmen or rural residents," Hamilton continued. "It's hard to explain you have to shoot some to save many. Hunting can be a conservation tool."
That argument didn't fly with several people in the audience, although it also won a fair amount of public support. Livestock owners in the audience were pleased to hear the discussion, because it meant their concerns about bears killing cattle or threatening rural communities were getting attention.
But Hailee Newman of the Buffalo Field Campaign argued the effort was premature because the bears' recovery was still hypothetical.
"Before they're even delisted, we're talking about keeping their numbers down," Newman said. "Why are we brainstorming about ways to keep grizzlies from walking where they once walked?"
Brian Peck of the Natural Resources Defense Council said the public wasn't ready for treating grizzlies like other hunting species.
"Most Americans don't consider grizzlies like they do deer or elk or possum," Peck said. "They're rock stars – the charismatic megafauna. They're not like other wildlife. We need to take that into account."
But Idaho Fish and Game deputy director Jim Unsworth said managing bears like other big game had big advantages, especially for the bears. He suggested grounding the committee's statement in the North American Model for Wildlife Management – a set of principles that have guided U.S. and Canadian big-game populations since the early 20th century.
Those principles include the ideas that wildlife belong to the public, are an international resource and should be managed by best available science and law. Wildlife should not be commercially harvested (market hunting), shouldn't be killed frivolously and should be available to all. The model has proven so popular, most U.S. state wildlife management programs get the majority of their funds from the people who hunt those animals.
"It's an honest thing to do – to start talking about what a delisted population management will look like," Unsworth said. "In the wolf delisting, there were a lot of false pictures – the end of the world or the beginning of the world. It's not going to be bears four abreast walking down Broadway in Missoula. There are going to be bears on the landscape and they're going to be managed."
About 1,000 grizzlies live in the Northern Continental Divide Ecosystem north of Interstate 90 in Montana. Another 600 live in the Greater Yellowstone Ecosystem surrounding Yellowstone National Park. A few more tiny populations live in northwestern Montana, Idaho and Washington.
The U.S. 9th Circuit Court of Appeals is considering objections to a plan to delist the Greater Yellowstone Ecosystem bear population. The Northern Continental Divide population is expected to have a delisting plan ready for public review in early 2013.