LOOKOUT PASS — It's a classic 1950s postcard, available on eBay or Amazon for 10 to 15 bucks.
A smiling cowboy waves his hat from the back of a bay horse along old U.S. Highway 10. The two of them flank a brown wooden sign with the message "So Long. Come Again to Montana."
Maybe 50 feet behind them, hanging from a post planted in the roadside bank, is a white signboard that declares: "Lookout Pass. Idaho/Montana State Line. Elevation 4738 feet."
The bay and his cowboy are long gone, of course. So too are the signs and the two-lane highway, gobbled up by Interstate 90 that reshaped the pass starting in 1970.
Sometime between then and now, something else seems to have disappeared: at least 13 tax-generating acres of Montana.
It could be closer to 40, said Denley Loge, a Republican state representative of House District 14 who runs a cattle operation in St. Regis.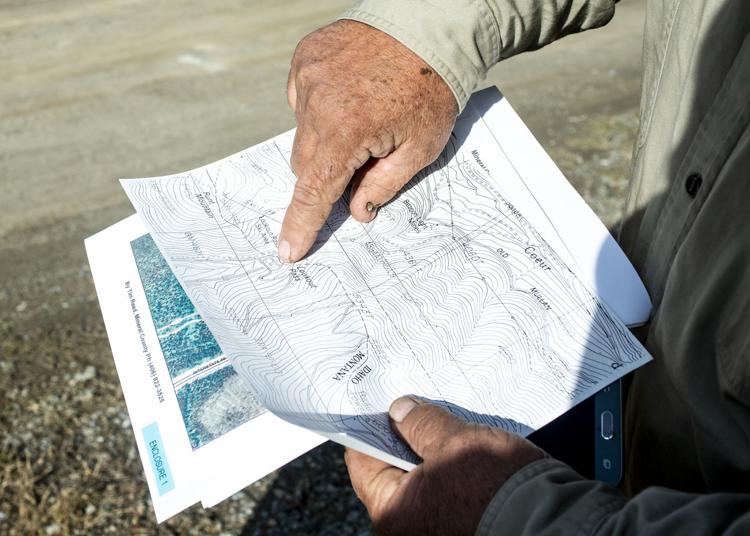 Maps show the historic state line, established in 1905 by a Government Land Office (GLO) survey, some 1,000 feet down the Idaho side of the I-90 overpass. The state of Idaho and Shoshone County use a different map for tax assessment. That map shows an irregular boundary up to the interchange's western on-off ramps.
In the minds of Loge and others, Idaho encroaches past the historic state line by some 800 feet in places. Its looping line includes all buildings at the base of Lookout Pass Ski Area, which dates back to the mid-1930s, including a lodge built in 1941.
The GLO boundary, the one Loge and others maintain is correct, is a peak-to-peak line that catches a corner of the rental shop and claims for Montana all of a two-story building that houses equipment below and offices above.
It would be no financial windfall to have them on the Montana and Mineral County tax rolls, Loge allows. But a six-year expansion is well underway at the ski resort, and the border issue will only heat up as it does.
"When they talk condos and stuff like that, all that would have to come down toward Montana because of their ski runs," Loge said. "That's why it needs to be resolved. The big new expansion on the runs is all in Montana. There's no question on that."
Unimproved national forest lands go untaxed, but Loge wonders what Mineral County is losing and stands to lose in PILT funds — payments in lieu of taxes from the federal to local governments to help offset losses in property taxes.
"There again, until the issue is straightened out we won't know," he said.
Neither side calls it a border war. But Mineral County, which can't even afford to run a jail any more, wants its land back.
Loge has been pursuing a resolution for 25 years or more. The main problem, he said, has been inertia on both sides of the pass. Roman Zylawy agreed.
"Past commissioners didn't think it was worth a big stink. It only turned out to be a loss of $267 a year or something like that," said Zylawy, who chairs the Mineral County commission in Superior. "But on the horizon are all these improvements, more trails and possibly hotels. I thought probably we should get this ironed out before it's too late."
It has been nearly two years since Zylawy, Loge and then-county planner Tim Read went to Wallace to meet with their counterparts in Shoshone County.
"We started off just letting them know about it, so they wouldn't think they were blindsided," Zylawy said. "We presented them with the idea that we'd like taxes to be assessed in the same state. You know how commissioners come and go. They weren't really sure what we were talking about. It took them awhile to warm up to what we wanted. They all thought it was right at the top."
"It's more like, are you kidding me? How can a state border not be right?" Mike Fitzgerald said last week.
Fitzgerald, Zylawy's counterpart on the Shoshone County commission, said his board is still doing its homework.
"To me and my fellow commissioners it's a new item," he said. "We didn't know the problem until the state of Montana came to us. Really what we're trying to do now is decide who's on first."
The last Zylawy heard, Shoshone County was going to Idaho transportation officials about where Idaho meets Montana on I-90.
"Before they decided to tell their tax assessor that we were right, they wanted to get Idaho Transportation Department's opinion," he said. "But we haven't heard from them in a while."
Jurisdictions get tangled on the pass.
Lookout Pass is one of just four ski resorts in America that span two states, the others being Heavenly Mountain in California and Nevada; Catamount in Massachusetts and New York, and Wilmot Mountain in, yes, Illinois and Wisconsin. Lookout Pass the only one of those four on two national forests and in two time zones.
The ski resort has long been recognized as an Idaho business. It's administered by the Idaho Panhandle National Forests and the Coeur d'Alene River Ranger District rather than the Lolo Forest and Superior Ranger District it spills into. Business, water and sanitation permits come from the Gem State.
"For my office it's procedural stuff," said Andy Short, the Mineral County planner. "If somebody's like, hey, we're going to put a bar over here, well, that's Montana sewer and water regulations, and all those apply in that spot. Or, this building's over there in Idaho but your sewer system's over here in Montana. … It would be nice to get that squared away so everybody knows."
The Superior Ranger District is monitoring a ski area logging project to build new ski/snowboard runs on the Montana side. But the Idaho forests are involved because they performed and approved the environmental study.
Brian Bressell, who took over as general manager at Lookout Pass in 2017, said he's happy to see a renewed push for resolution of the state line, but the ski area doesn't have a dog in the fight.
"I think it's a great thing you're doing," Bressell told Loge. "You're not going to see a debate from us at Lookout. We pay the taxes. If you want to divide that up with (Shoshone County) that's just fine. Where we're going to be more sensitive now is, hey, we're paying those fees, we'd better be getting services. And we're not. I can tell you that already. And it's more from the Montana side."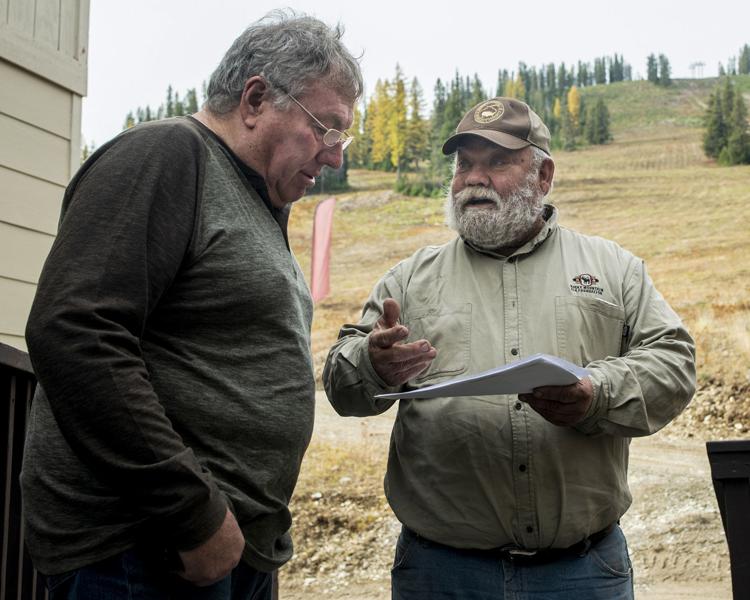 Loge stood in the lower parking lot of the ski area in mid-October and pointed to the four-lane highway below. The line separating Idaho and Montana was unmistakable.
You have free articles remaining.
Just a couple of summers ago, Idaho replaced the asphalt surface on its side with Portland cement. The federally funded project stopped at the historic state line. Where the cement ends and Montana's asphalt begins is a visible line and produces a palpable sensation inside a passing vehicle.
"So everybody knows exactly where the state line is," Loge said. "It hasn't moved since 1905."
He speculated things "got convoluted" when the ski area and the Forest Service signed a lease agreement in 1992. History and boundary line surveys notwithstanding, it was simpler for one federal agency to administer the lease. In this case it was the Coeur d'Alene River Ranger District of the Idaho Panhandle National Forests.
"Somewhere, somebody matched the Forest Service line," Zylawy said.
Loge has spent a good portion of his life up here. He skied Lookout on weekends as a youth on the old rope tow, and helped build the interstate on a union construction crew. He retired in December 2015 after 45 years with the Montana Department of Transportation, the final 7½ years as supervisor of the Lookout Pass section.
He said Montana snowplows clear the road not to the interchange at Montana Exit 0, where it's easy to turn back, but the 800 feet beyond, where it isn't.
"It's a real bad, dangerous crossing, but we have to take care of that part of the road because it's Montana's," Loge said.
There may be no one else on earth who would have noticed what Loge noticed in the early 1990s. He figures he must've been at a public meeting when a Shoshone County map caught his eye. It showed the extra loop beyond the state line he knew shouldn't be there.
"I don't know when they adopted it or when they started using it. Maybe as soon as the (interstate) highway was built," Loge said. "But it obviously took in at least 13 acres of Montana."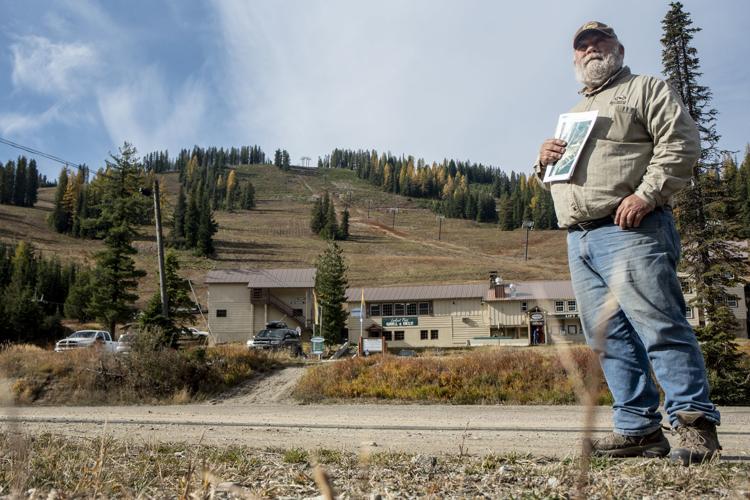 It took some astute political maneuvering by Sidney Edgerton and his allies in Congress, but when Montana Territory was created in 1864, and Abraham Lincoln appointed Edgerton its first governor, the western boundary was established not along the Continental Divide but farther west. That's a simplified explanation why the Flathead, Mission, Missoula and Bitterroot valleys aren't in Idaho.
The boundary follows the 39th meridian west from the Canadian line to a mountain peak just south of Heron on the Clark Fork River. From there it takes to the irregular summit of the Bitterroot Mountains, traversing Lookout, Lolo and Lost Trail passes.
Here at Lookout, construction of the Northern Pacific railroad, circa 1890; Highway 10 and its predecessors, and finally Interstate 90 tugged the true summit of the Bitterroots into and out of Montana.
Interstate 90 construction alone called for the blasting of 6 million cubic yards of earth and fabricating elaborate stepped slopes to prevent slides at the top. Highway officials called it "by far the most difficult and costly single project on I-90."
As early as 1899 the variability of the summit was noted by a United States Geological Survey topographer in an article for National Geographic Magazine called "The Idaho and Montana Boundary Line." 
"There is abundant evidence that the summit is what is known as a retreating or migrating divide," Richard U. Goode wrote. "In other words, the waters tributary to the Bitter Root River (now the Clark Fork) in Montana are continually capturing by erosion those of the Clearwater River in Idaho, so that the divide is slowly being shifted to the westward, thus adding to the territory of Montana and diminishing that of Idaho."
Goode wrote in defense of a preliminary USGS survey in which monuments weren't placed on the summits of the Bitterroots, in part because funding was depleted from the survey further north. Howard Carpenter's GLO survey in 1904 and 1905 finished the job, though his monuments were lost in succeeding decades in all the dishevel at the top.
In 2004, at Loge's urging, Mineral County commissioners hired Ron Warren of Rocky Mountain Surveyors in Plains to determine the location of the state line at the pass. While a county survey isn't sufficient for the BLM, it's proved his point.
"Every time they go back and re-grade that, Montana loses more and more ground," Loge told John Q. Murray of the now-defunct Clark Fork Chronicle.
"The whole thing is, how do we progress next?" Loge said. "Neither county knows quite what to do."
"We recognize the line with information we receive from the Idaho State Tax Commission," Jerry White, the Shoshone County Assessor, said in an email last week. "Where the line actually is will have to be decided by Montana and Idaho legislatures and their legal counsel. When that is decided, then the Shoshone County Assessors office will assess accordingly."
With some 14,000 properties in Shoshone County, Fitzgerald admitted the disposition of 1½ on Lookout Pass doesn't rise to the top, though it may as ski area expansion moves forward. He said he wants to straighten out the border discrepancy fairly.
"We're more interested in accuracy than we are worried about a small-dollar appropriation," he said.
It's not a federal issue yet, but it could become one.
In 2017 Mineral County commissioners and Read, the county's longtime planner, requested a formal opinion from the Montana office of the U.S. Department of Interior's Bureau of Land Management, the successor to the GLO.
In his analysis, Josh Alexander, BLM's chief cadastral surveyor for Montana, determined that two state lines indeed do exist at Lookout. He tagged them the Historic and Current lines, the latter as shown on Idaho maps.
Northern Pacific Railroad plans and the 1905 GLO survey line are "generally depicted as being near the Historic Line," Alexander wrote. The Current Line appears to be located near or on the current watershed.
"We do not believe that … man-made changes in the natural watershed would cause a change in the state line, thus even if the current watershed were to be near the Current Line, it would NOT be the state line," Alexander wrote.
In the end, though, without its own resurvey, the BLM couldn't provide an official opinion.
Loge said he's talked to Montana's congressional delegates about the state line discrepancy in the past, and he approached Brian Schweitzer when Schweitzer was governor. Though Mineral County commissioners in 2004 were interested enough in funding a county survey, Loge was frustrated that the matter didn't make any progress.
That might be changing. Zylawy and fellow commissioners Laurie Johnston and Duane Simons face a major budget crisis.
"They aren't pushing, pushing, pushing, but I think at least this time they don't want it to stall out," Loge said. "Nobody's pushing hard or mad at anybody. It's just one of those questions that needs to be resolved."