TURAH — You can't see the Clark Fork River from John Carlon's house, but occasionally it comes to visit.
"A big chunk of the dike broke off this spring because of the high water," Carlon said of the right-angle bend in the Clark Fork about 10 miles east of Missoula. "The Army Corps (of Engineers) said they were out to protect the houses, but I know they were also taking care of the fiber-optic lines and gas lines and the power lines that go through here, and the Yellowstone (oil) pipeline. The river took out a 50-, 60-foot chunk. If they hadn't fixed that, it would have made it to my house."
The 30-year flood of 2018 wasn't the only change Carlon's noticed in two decades living along this isolated reach of the Clark Fork River. The number of fly-fishermen boating by has jumped. So has the "tube hatch" of recreational floaters. Billboards along Interstate 90 advertise home-building opportunities for people who work in Missoula but want the rural lifestyle of Turah or Clinton.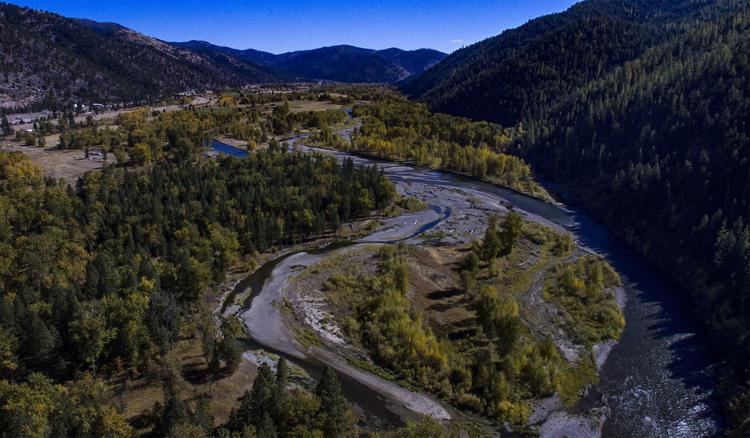 The rebirth of the Clark Fork River after a century of neglect and heavy-metal contamination presents a rare chance to think about how to live alongside it.
To focus those conversations, the Missoulian staff and local residents floated more than 60 miles of the Clark Fork, Blackfoot and Bitterroot rivers to get a sense of their distinctive characters. The raft passed ranches dating back to the Homestead Era, wildlife refuges, mansions and golf courses, man-made whitewater parks, super-secret fishing holes, ancient cliff walls and dead-end sloughs that didn't exist the summer before. It floated over the scarp where Milltown Dam once stood, and along the levy screening thousands of acres of defunct industrial cooling ponds at the old Smurfit-Stone pulp mill.
One observation that bubbled up in a series of community conversations about the future of the Clark Fork was that we've got next-door experience with the issues the river faces. Missoulians can look at two tributaries with very different characters flowing into the Clark Fork: The Bitterroot and the Blackfoot rivers. The Bitterroot shows what can happen when residential development dominates the discussion. The Blackfoot demonstrates how a determined effort to preserve rural style plays out.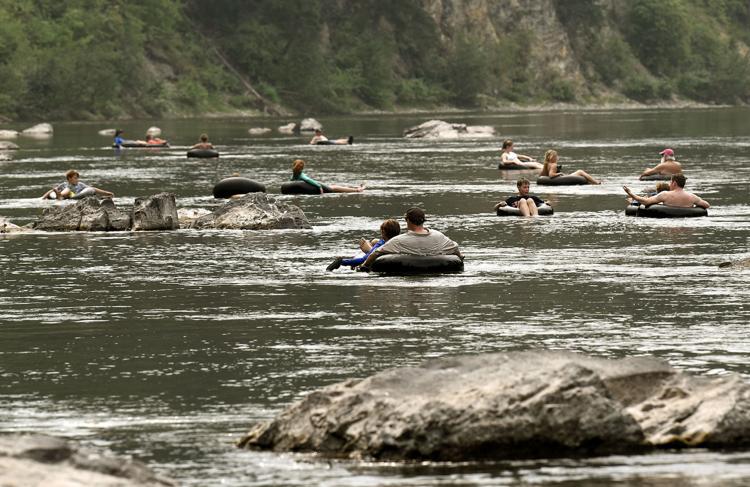 The Clark Fork River has elements of both. The Missoula urban core packs almost 3,000 people per square mile along the riverbank. Drive a few minutes east on Interstate 90 toward Carlon's house, and the density drops to 535 people per square mile. Point the car west and it falls even farther, to around 20 per square mile between Frenchtown and Huson.
The second observation is that many people are already getting together, not to confront problems, but simply to carve out a space to hear what's going on. That reflects some hard lessons learned from past attempts. Deep divides persist between urban and rural taxpayers, fishers and floaters, regulators and property-rights advocates, farmers and conservationists and people willing to gamble their life and livelihoods against a force of nature that often changes its own rules.
Karen Knudsen at the Clark Fork Coalition remembers how touchy those conversations can get.
"Rivers just flow — they move mountains to the sea," the CFC executive director said. "We love experiencing nature right outside our doorstep. That's the draw to living here. And this is the perfect period to do some intentional planning.
"But self-determination is a value we hold dear in Montana," Knudsen continued. "When we tried to talk about streamside setbacks in 2007, it totally blew up. People in Frenchtown didn't want Missoula determining how things would look."
Barely a decade ago, the Clark Fork had a dam effectively cutting it in half at Bonner, with a stagnant reservoir resting atop millions of tons of toxic waste. Other heavy-metal deposits upstream ensured more than 120 miles remained nearly devoid of fish, despite contributions from Blue Ribbon tributaries such as Rock Creek. During floods, farmers had to close their irrigation headgates to keep the red-tinged water from contaminating their fields. In 1997, the Environmental Protection Agency declared the reservoir a Superfund project.
Downstream of Missoula, the Smurfit-Stone pulp mill occupied 3,000 acres fronting two miles of riverside by Frenchtown. Shortly after it permanently closed in 2010, investigations showed it may have enough toxic waste to qualify as a federal Superfund project, as well. State and federal environmental officials are still working with the site owners on a final resolution.
Work to remove Milltown Dam and restore the river channel finished in 2012, at a cost of at least $120 million. Another $65 million in restoration funding has been put to work improving tributaries and shorelines of the upper Clark Fork, returning the river to a productive fishery.
With many of its industrial threats gone and its ecological functions restored, the Clark Fork River has a new future to contemplate. Imagine it like a brand new house. Do we want to paint all the walls different colors? Rent out the spare room? Buy traditional or trendy furniture?
And who decides who "We'' are?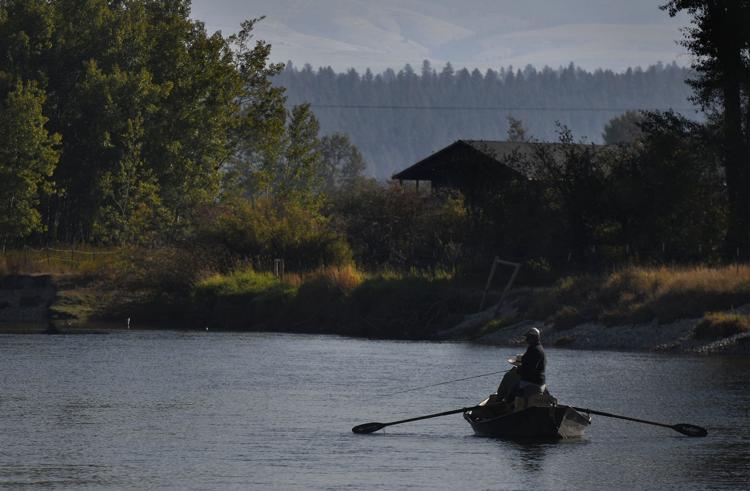 Consider the area within a 30-minute drive from Missoula. That's the typical range of a commuter with a job in the city and a home as far as Clinton or Alberton along Interstate 90, which follows the Clark Fork River. That roughly 80 miles of river crosses three counties — Powell, Missoula and Mineral — each with its own elected government and planning office. It flows past nine communities, from unincorporated places like Turah to the 100,000-plus residents of metropolitan Missoula.
From the water's perspective, riverside homeowners, anglers and floaters all want a say. On the business side, farmers and ranchers, outfitters and guides, real estate developers and outdoor gear sellers, irrigation districts and local governments all stake claims.
If someone wants to make a proposal or confront a problem on the Clark Fork, what table should they gather around?
Montana Fish Wildlife and Parks Region 2 Supervisor Randy Arnold backed into that question in his regular duties overseeing fishing and recreation along the Clark Fork. As he went in to meet with different landowner groups or agencies on various issues, he often noticed other familiar people coming out.
"We started recognizing we had a lot of the same people working on similar issues," Arnold recalled. "It got us thinking: How do you build momentum when there isn't a particular issue, but you know that regularly getting together is useful when new things come at you? How do we build a framework where we want to meet and work on issues, where we become a one-stop shop for things related to this?"
"This" gradually became the Three Rivers Collaborative. Like trout fry holding in an eddy, not yet ready to swim in the main channel, the group is still learning who wants to be involved before setting any formal tasks to tackle.
You have free articles remaining.
While many topics overlap, the contexts vary. And finding consensus won't necessarily be easy. Take inner-tube floating, for example.
For a fishing outfitter like John Herzer, the line of people at a FWP fishing access site without fishing tackle illustrates an economic inequity.
"The first thing you need to do is make everybody pay," Herzer said. "The only people paying for these sites are me and my clients. The people who have boats they can't propel, they're leaving all their trash on the rivers and they don't even have a fishing license. I pay 3 percent of my gross income before transaction fees and everything else. If you're going to utilize the resource, you have to pay. It doesn't need to be much, but somebody has to keep those places up."
Tourists spend nearly $1 billion a year in western Montana, according to the University of Montana's Institute for Tourism and Recreation Research. Much of that gets concentrated in river basins like the Clark Fork, Blackfoot and Bitterroot. The Blackfoot alone has seen 20-percent annual bumps in private boater use.
For someone like Morgan Valliant, Missoula's conservation lands manager, the question is not who is using the river but where they are getting to it.
A river-use study in 2015 estimated about 14,200 people float the Clark Fork between the Van Buren Street and California Street footbridges between June 1 and August 31. Around 60 people enjoy beaches in any given two-hour summer afternoon. On particularly hot days, a tuber a minute floats under the Madison Street Bridge.
"FWP deals with discrete sites, but our challenge is looking at two-thirds of a mile of river (in the city limits)," Valliant said. "People use multiple access points along that stretch. Floaters can get out anywhere along the riverbank. Lots of other people just go down to read a book or throw a stick for their dog at one point, and then come up at another location."
Valliant has a preliminary plan for developing some of the most popular river access points and repairing the erosion damage at others. If a $500,000 city open-space mill levy passes in this November's general election, part of the fund would pay for that work. 
Over in the Missoula County Planning Office, Director Pat O'Herran views the river in terms of clean water and dirty water. Specifically, are we ready to deal with what we flush down our toilets?
"What we're seeing is a desire for increased development in four areas," O'Herran said. "In East Missoula and Bonner-Milltown, we expect to see a wastewater treatment system in that area. But whether it's centralized and community, or individual and private, we don't know.
"Mullan Road is an area of concern for how we accommodate growth outside the Missoula area. The next is west out to the Frenchtown area where the current owners of Smurfit (the former pulp mill) want to see additional development there. We hope that will include protection of the riparian area and floodplain behind those artificial levies.
"And that takes me east of Missoula to Turah, Clinton and Rock Creek. My perspective is at some point in the not-too-distant future, those are going to become as popular as Frenchtown. Once we solve the wastewater treatment issue, it makes for relatively higher density. It's all a matter of timing."
The housing boom that made Ravalli County the seventh-fastest growing in the nation in the late 1990s collapsed with the rest of the financial world in the 2008 recession. For most of the past decade, western Montana has been holding its economic breath.
Nevertheless, estimates by Headwaters Economics show Missoula County's population has grown 47 percent from 1990 to 2016. The whole state expanded about 30 percent in the same period. Missoula County spawned one of every 10 new houses built in the same period. A visual analysis of that home construction shows much of it occurred along the Clark Fork and Blackfoot river corridors.
Not all of those are occupied. One home out of three in the Blackfoot corridor is vacant, indicating housing there gets seasonal or vacation use only. The fringe areas around Darby, Hamilton and Stevensville along the Bitterroot show similar patterns. But the Clark Fork shorelines within commuting distance of Missoula have a vacancy rate averaging 7 percent.
"The problem is people want to be on top of the water," said Casey Hackathorn, Montana Trout Unlimited's Upper Clark Fork program manager. "Once a structure is built on the floodplain, they're going to get an emergency permit to save it. No one will say 'You have to lose your house.' Protecting those places is super-expensive to engineer.''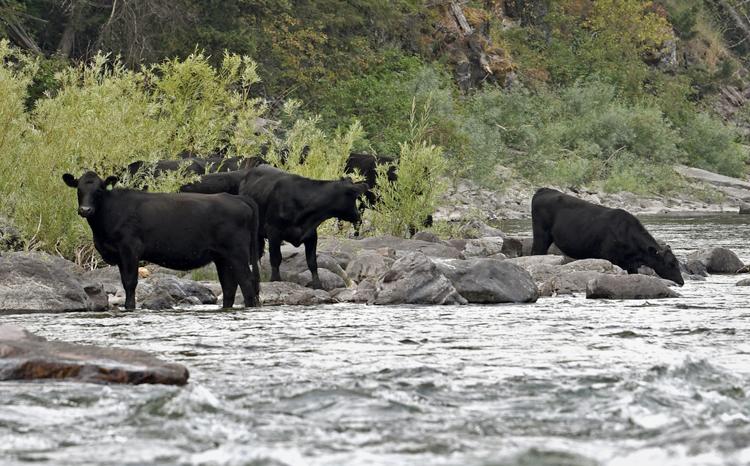 Rivers spend eons shaping their landscapes. No human assumes we can come up with a master plan to live with the Clark Fork in a summer, or even a generation. On the other hand, a good navigator knows to stay aware of the current and where the boat is headed. The same rapid that crushes some boats attracts others who make pilgrimages to play in the whitewater.
Through its watershed-wide Blackfoot Challenge organization, Blackfoot River residents have had remarkable success addressing land use, recreation and water quality issues. That's due in part to 25 years of coffee-cup conversation among a tight-knit group of neighbors.
Bitterrooters often bristle when someone suggests they adopt the same model. The Bitterroot River's larger population, heavier recreation traffic, and bigger supply of riverside real estate would overwhelm the problem-solving capacity of the smaller Blackfoot Challenge. While some economic analyses claim the Bitterroot Valley's hands-off approach to planning has hurt property values and water quality, Ravalli County residents have repeatedly voted to leave property rights decisions in the hands of property owners. 
The Clark Fork River mixes the Blackfoot's rural recreation debates and the Bitterroot's development momentum with a third factor: The gravitational force of an urban center tugging on the traditions of the rural reaches in its orbit. That's why FWP's Arnold approaches the Three Rivers Collaborative like a rafter heading into Alberton Gorge — looking ahead for a line that threads the rapids without spilling the passengers. 
"People talk about growing up in the Missoula Valley, when you didn't go to the river to play (because of pollution)," Arnold said. "Today you can go underneath one of the bridges and catch a trout that came from the river — not a planted fish but part of a robust population. And people are swimming, playing, and enjoying these rivers right through town.
"We've come so far. But we don't want to love it to death. I think we're just in time pulling everybody together. I can't help but think we're going to see a lot more interest on the river."