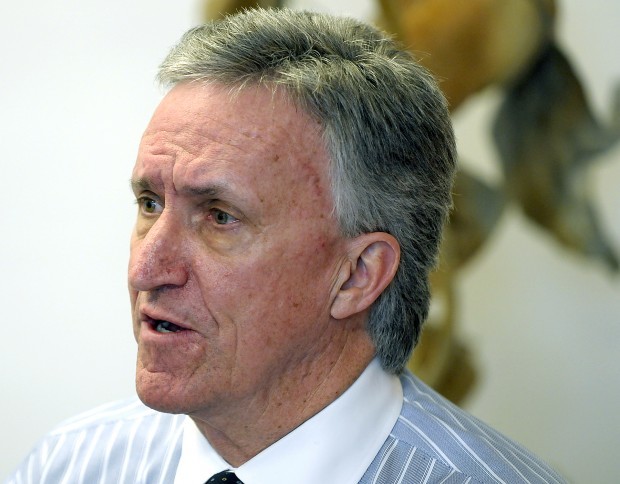 Jim Foley, who played a central and controversial role in the University of Montana's investigation into allegations of sexual assaults involving students, stepped down Tuesday as vice president for external relations. But he'll retain a campus job – and his $125,942 salary – for another year.
Foley will work in university licensing and handle federal relations dealing with research funding, according to an campuswide email sent Tuesday morning by UM President Royce Engstrom.
The arrangement takes Foley to the end of his contract with UM, Engstrom said. "Beyond that year, we don't have any plans," he said. As to whether that means Foley won't have a job after that, "we'll deal with that when we get to the end of the year," he said.
If Foley remains at UM, Engstrom must give him notice in January whether UM intends to renew his contract on June 30, 2013.
Foley's new supervisor hasn't been determined, but Engstrom said he'll likely move out of his current office, a generous space in Main Hall with a view of the Oval.
A Missoulian editorial earlier this month called on UM to investigate Foley's knowledge of and communications about the assault allegations; in April, UM's student-run Montana Kaimin called outright for Foley's firing.
Engstrom did not give a reason for the change, other than to say it's part of ongoing Cabinet-level adjustments. Foley's reassignment is the last such change, he said.
Engstrom refused Tuesday, as he has with previous UM job changes for people involved with the sexual assault investigations, to say there was any connection.
"There isn't any one event or issue associated with any of these changes. There have been discussions between individuals and myself as to what's best for them, what's best for me and what's best for the university," he said. Such discussions, he said, "are about the most difficult things we have to do."
Engstrom, who is in his second year as president, said recently that any new president wants his own Cabinet in place, but that in his case that's been delayed by the necessity during the last six months of dealing with the sexual assault allegations.
Both the federal departments of Justice and Education are investigating how UM handles sexual assault cases. The Education Department review focuses specifically on allegations involving the football team.
In January, the NCAA notified UM that its football program is under investigation for unspecified allegations. Engstrom fired football coach Robin Pflugrad and athletic director Jim O'Day in March, saying only that change was needed.
One football player, running back Beau Donaldson, has been charged with sexual intercourse without consent. The Missoula Police Department investigated rape allegations against quarterback Jordan Johnson this spring and forwarded the case to the Missoula County Attorney's Office, which has yet to decide whether Johnson will be charged.
You have free articles remaining.
The UM investigation into sexual assault allegations began in December after reports that two female students were attacked, possibly after being drugged, by several male students.
Foley's initial statement announcing the investigation described the incidents as date rapes. He later took exception, in an email to Dean of Students Charles Couture, with the media's description of them as gang rapes. In another email, he wondered if an alleged sexual assault victim had violated the Student Code of Conduct by speaking publicly about her case. That email and others were obtained in a public records request filed jointly by the Missoulian and the Wall Street Journal.
Foley also drew criticism in October for meeting two football team members at their lawyer's office on a Sunday. The players had been tased by Missoula police trying to break up a party the previous night.
UM legal counsel David Aronofsky warned in a memo in March that it was inappropriate for UM employees to involve themselves in legal representation involving students; indeed, such involvement could be seen as violating NCAA rules, he wrote.
Foley, a Helena native, came to the University of Montana in 2005 after serving as chief of staff for U.S. Sen. Max Baucus, D-Mont., and, before that, staff director for U.S. Rep. Pat Williams, also D-Mont.
He was a highly visible football fan, traveling on the team airplane to away games. But his relations with the media, which were part of his job, were often contentious.
Foley did not return a telephone call seeking comment Tuesday.
"My family and I are honored by the opportunity to serve the state and the University of Montana these last seven years. Both Julie and I believe we got far more out of the relationship with UM than we have been able to give back," he said in a statement included in Engstrom's email. "…We look forward to our next chapter."
Other recent changes at UM include last week's announcement by Bob Duringer, UM's vice president of administration and finance, that he'll retire Dec. 31.
Also last week, Engstrom announced that legal counsel Aronofsky, who like Foley was involved in the sexual assault investigations, will retire from that job Dec. 31. However, Aronofsky will continue work at UM for another 18 months in international programs.
In March, UM posted the job held by Couture, the dean of students who likewise was part of the investigations, without any official retirement announcement. Mehrdad Kia also resigned in March as associate provost for the international programs that included exchange students, and now will concentrate on teaching.
Kia's departure from international programs came two weeks after a furor over assault and rape allegations against a Saudi exchange student who fled the country after UM informed him of the accusations against him – but did not call police.
On Tuesday, Engstrom said in a statement that Foley's position, that of vice president for external relations, will be reconfigured into a standard public university communications model to be led by a vice president for integrated communications. A national search for the vice president for integrated communications will be chaired by School of Journalism Dean Peggy Kuhr.