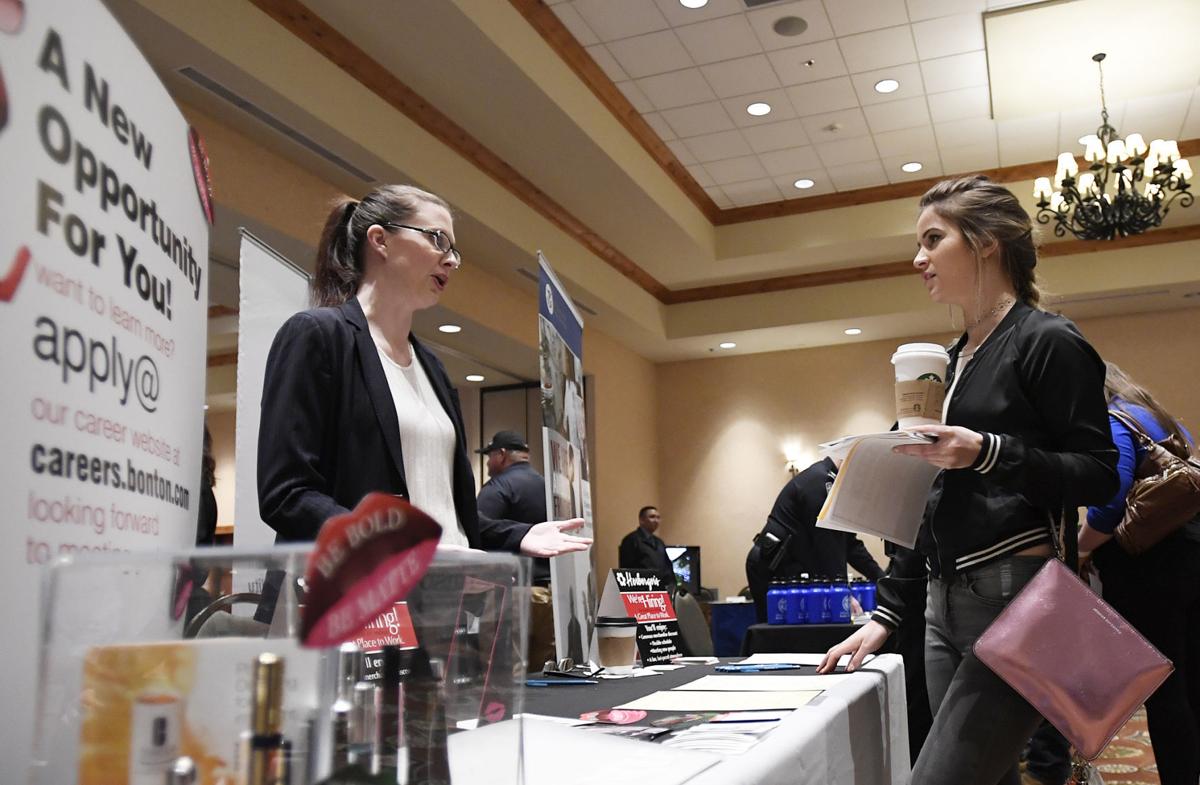 There are 1,063 open jobs on the Job Service Missoula's website right now, and the organization's annual Career Fair is slated for Tuesday afternoon, April 23.
The event will have about 100 employers who are staffing up for the summer or just trying to catch up on staffing, according to workforce consultant Chery Sabol.
"We expect hundreds of people to come looking for new jobs, better jobs, or even their first jobs," she said. "They will have access to job openings in health care, customer service, finance, labor, education, trades, government, construction and technology, to name a few industries represented at the career fair."
The Career Fair takes place from 3-6 p.m. at the Hilton Garden Inn ballroom at 3720 N. Reserve St. Veterans are admitted early at 2:30 p.m. to have the first crack at open jobs.
The jobs range from entry-level positions to professional careers, such as the medical director at Partnership Health Care in Missoula.
"This is an important event for employers who have struggled to find the applicants they need," Sabol said.
There's no charge for the public to attend because businesses like Allegiance Plan Benefit Management, Providence Healthcare, Consumer Director Care Network and other organizations sponsor the event, along with the Job Service Employers Council.
Missoula County's non-seasonally-adjusted unemployment rate was 3.8% for the month of March, which is 0.2% lower than it was last year, and lower than the statewide average of 4.1%. The city added 1,048 jobs in the last year for a total of 61,593.
Sarah Wimmer of the Missoula Job Service said the number of open jobs went over the 1,000 mark much earlier this year compared to years past.
You have free articles remaining.
"It's an employee's market," she said. "They have the opportunity to pick and choose where they want to go if they're looking for a better job, and employers are begging."
Her office's consultants tell employers that high wages are the best way to fill open positions.
"Those are conversations we're having with employers if they're posting open jobs," she said. "We ask them to consider raising wages to make themselves more competitive compared to similar enterprises out there."
The open jobs are a good mix this year, she said.
"We have a lot of open jobs in hospitality and some entry-level retail jobs, but we also have a lot of professional-level positions this year," she said.
In years past, she said the job fair has matched a lot of employees with those doing the hiring.
Statewide economists have said many areas in Montana face a labor shortage.
"We must continue to educate and train our workforce through existing programs, such as apprenticeship and traineeship, while instilling career readiness skills in the next generation of Montanans," said Gov. Steve Bullock in a press release announcing unemployment figures last week. "I also encourage businesses to look for innovative ways to recruit and retain qualified employees and advocate for policy that supports working families, such as publicly funded preschool education, equal pay legislation, and flexible scheduling."
Over the next 10 years, Montana is expected to add about 4,500 workers a year but that's not enough to cover the 5,500 new jobs that are projected to be added every year.
According to Barb Wagner, the chief economist for the Montana Department of Labor and Industry, extremely low unemployment levels of around 2% are expected in the next decade if trends continue. Under those conditions, workers can expect fast-growing wages and more opportunities for career growth, while businesses will have to spend a greater share of resources on recruitment, retention and on-the-job training.
"We've been talking about Montana's worker shortage for the last 10 years or more," Wagner said. "That is certainly something that is a concern for the Montana economy, not just in terms of the availability of workers, but in terms of passing on intergenerational knowledge to younger workers."