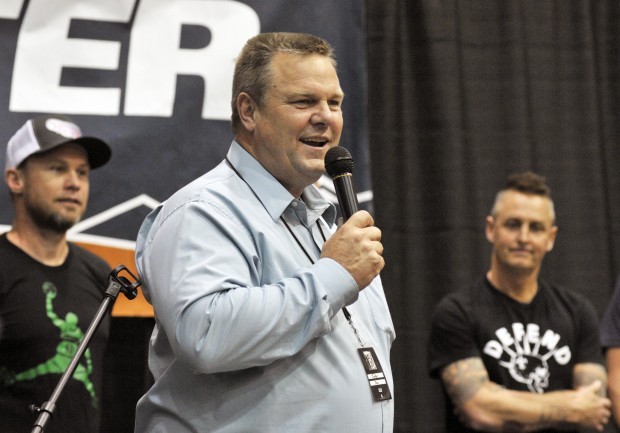 Big Sandy's most famous residents teamed up on Sunday in Missoula to encourage Montanans to exercise their right to vote.
Sen. Jon Tester, D-Montana, and Jeff Ament, bassist for the legendary rock band Pearl Jam, starred in a rally on the University of Montana campus where they shared their message to hundreds of Tester supporters and Pearl Jam fans.
The mostly middle-aged crowd came to show their support for Tester, who is locked in a too-close-to-call battle with Rep. Dennis Rehberg, R-Montana, for re-election to the U.S. Senate.
"I'm a graduate of the University of Montana, and even though I live and work in Cleveland, Ohio, this is still my home," said Melanie Weiss, who came to the rally to show her allegiance and to attend Pearl Jam's concert at UM later in the evening.
The events were all the encouragement she needed to book a flight to Missoula, where she also is visiting with her extended family.
"I'm really scared what will happen if Tester doesn't get re-elected," she said.
So committed are they to Tester and his work, Weiss's husband Rick came to the event wearing a "Property of Big Sandy Pioneers" T-shirt.
"We might live in Cleveland, but we are contributors to Tester," Rick said.
In keeping with his low-key style and belief that Montana's politicians should be accessible to the people who elected them, there were no bodyguards, no security that ushered the senator and the rock star to the stage.
The scene was different several hours later at the Adams Center south annex, where Tester had a reception with 250 paying guests and four members of the band – Ament, lead guitarist Mike McCready, drummer Mike Cameron and rhythm guitarist Stone Gossard. After some brief remarks by Ament and Tester, the musicians mingled with the crowd, signing autographs and posing for photos.
Campaign spokesman Aaron Murphy said attendees donated $250 to Tester's campaign. A few who paid $500 had dinner at Biga Pizza with Ament and Tester, Murphy said.
During his brief comments, Ament talked about his family's long ties to Tester's family and his long friendship with the man he wants to see re-elected to serve all Montanans.
Helping the people they believe in, and helping friends in particular, is what gets Pearl Jam excited after playing music together for 22 years, Ament explained.
The last time the band played in Missoula was in 2005 – that time to help Tester win the Senate seat from incumbent Republican Sen. Conrad Burns.
Ament explained it was an exciting time, and that when Tester won by 2,600 votes, "every one of us felt like we were part of the campaign," he told the crowd.
The experience was proof, Ament said, that one person, one vote can make a difference.
"Voting is very important in this country, and in this election it is going to be very important," Tester said when he took to the microphone to make a few brief remarks.
If you care about supporting women and allowing them to make their own health care decisions, Tester said, and if you care about keeping interest rates low on Pell grants and making higher education more affordable for students – this is an important election.
Among his other concerns: the so-called "Patriot Act" and the "baloney" that is the House of Representative's Homeland Security Act – and its widespread infringement on private and public land by federal agents.
With such critical issues at hand, Tester encouraged his supporters to not only vote in the November election, but to find and encourage unregistered voters to register and then vote as well.
Nici Holt-Cline, a Missoula mother and artist, came to the afternoon rally with her husband and their two young children.
"It is important to me that Tester is re-elected and it is important for me to show my support with my children here," Holt-Cline said.
"It's important to share with them our democratic process and the importance of educating ourselves about candidates," she said.
"I've been to these rallies before, and I get wonderful family values from him (Sen. Tester) and that he is invested in the unique cultural reality that Montana is today. He's been investing in Missoula and beyond with his policy decisionmaking – and he shows up."
"He is honest and he works for the people," said Tanya MecHatton, a 40-year-old UM student. "He actually cares about the people of Montana."
UM student Ben Webster explained that he likes what Tester stands for, but more to the point, Webster said he doesn't like the Tea Party agenda that has creeped into the Republican Party.
Tester, said the 20-year-old from Great Falls, "embodies farmers and average, everyday Montanans, which is hard to do, especially in Washington, D.C.
"And this is an election that will be pivotal for women's rights," he said. "If there is a Republican majority, it would not be beneficial to women or Montana."
In interviews after the rally with the Missoulian, National Public Radio and the New Republic, Tester said the election race with Rehberg is tight.
The Rehberg campaign "has tried to define me as something I'm not," Tester said. "And the ads have been less than truthful – and I'm being generous with that."
Moving forward, Tester will continue to let people know who and what he is about, he said.
In response to Tester, Rehberg campaign spokesman Chris Bond said Sunday that his congressman is focusing on the issues important to Montanans.
"What matters most to young Montanans, like everyone else, is creating jobs and getting our economy back on track. Right now, more than half of all college graduates under the age of 25 are either looking for work or stuck in jobs that don't require the bachelor's degree they've earned, and the average starting salary for a college grad has fallen by thousands of dollars over the last several years," Bond said. "Senator Tester and President Obama's failed economic policies are having real consequences, like forcing graduates to move back in with their parents, and it doesn't help that Tester has voted against student loan tax deductions.
"That's why, in addition to ensuring that programs like Pell are there to help students earn their degrees, Denny supports pro-growth economic policies that will help Montana businesses create good-paying jobs right here so young Montanans can build a secure future."
State GOP officials on Sunday reported a strong, coordinated Republican effort on college campuses statewide.