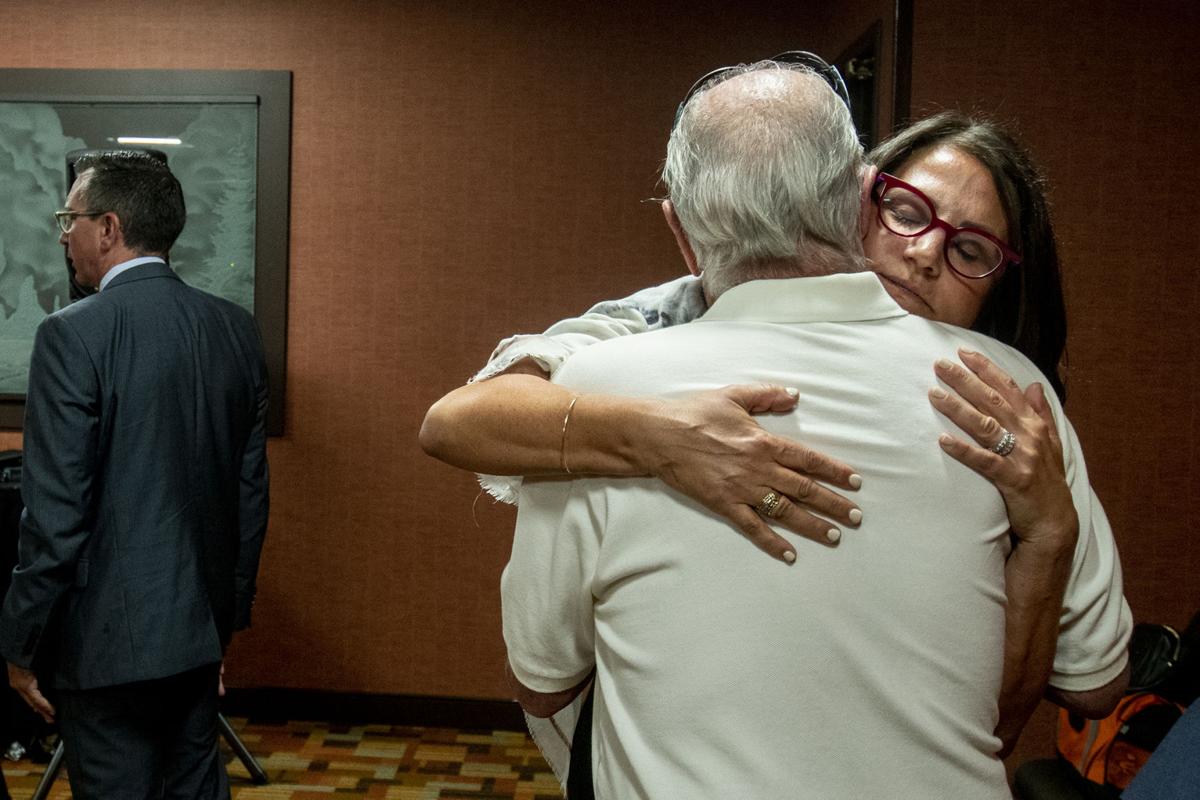 A federal judge on Monday decided more than $14 million should be awarded to a Whitefish woman who suffered a "troll storm" unleashed by a neo-Nazi website publisher in late 2016.
U.S. Magistrate Judge Jeremiah Lynch issued his decision on Monday, finding Andrew Anglin owes Tanya Gersh $10 million in punitive damages along with $4,042,438 in compensatory damages. 
The ruling comes after a daylong hearing Thursday in which Gersh, her husband, and her therapist testified to the emotional damage caused after Anglin called on his followers on the Daily Stormer to "storm" Gersh's family.
Anglin accused Gersh of trying to force the mother of white nationalist Richard Spencer to sell her building in Whitefish and posted personal information on Gersh, her husband, and their son online. A barrage of threats and anti-Semitic messages followed.
The Southern Poverty Law Center, representing Gersh, filed a lawsuit in federal court against Anglin in early 2017. In a statement released by the SPLC on Monday, Gersh said justice has been served. 
"This lawsuit has always been about stopping others from enduring the terror I continue to live through at the hands of a neo-Nazi and his followers," Gersh said. 
"I hope that the strength that I've shown — through the support of my family, community, and everyone who has sent positive messages my way — that with love and support, you can conquer the most horrible and hateful messages with positivity and that you can win."
Anglin was not present at the July 11 hearing, nor was any attorney there to represent him. He forfeited his defense in April after repeatedly refusing a judge's order to appear in the United States for a deposition, and his attorneys subsequently asked to withdraw from the case. 
"This victory is every bit as important as it would be if Andrew Anglin had showed up for trial," said John Morrison, a Helena attorney also representing Gersh. "It's also not surprising to me that somebody like Andrew Anglin who commits these acts of cowardice is afraid to actually show up and defend his position."
In a tearful testimony last week, Gersh said she had left her luggage packed for weeks after phone calls, emails, and hateful messages flowed into her family's lines of contact in December 2016. The emotional turmoil still lingers today, her therapist testified, with signs of post-traumatic stress disorder that cannot heal because the messages continue to arrive. 
Lynch noted this continuum in his Monday decision, which also found Anglin must remove any content about the Gershes from the Daily Stormer. 
"In addition, because the atrocious conduct directed at Gersh and her family has not entirely abated, the Court should issue a permanent injunction ordering Anglin to remove from his website the blog posts encouraging his readers to contact Gersh, her family and, especially, her son, including all photographs and images of the family and comment boards associated therewith," Lynch wrote.
The question of how Gersh's party will collect on that judgment is yet to be determined. U.S. Marshal for the District of Montana Rod Ostermiller told the Missoulian his office is not involved in civil matters, and because the U.S. Attorney's Office was not involved in this case, they are also not charged with collecting the judgment, a spokeswoman said late Monday.
Last month, the Associated Press reported that a federal judge in Ohio awarded a Muslim-American radio host $4.1 million in monetary damages after he successfully sued Anglin, who had falsely accused him of terrorism. Anglin never responded to the lawsuit filed by SiriusXM Radio show host Dean Obeidallah.
Anglin's whereabouts remain unclear. David Dinelli, the attorney for the Southern Poverty Law Center, told the Missoulian in a phone interview Monday that his organization will move forward with collecting the damages recommended in Lynch's findings.
"We are committed to doing whatever we can to collect whatever Andrew Anglin has that is subject to collection here in the United States, whether that's cash, assets or intellectual property," he said, declining to comment further on the potential methods for collection.
"The bigger message is that Tanya Gersh, a real estate agent in small-town Montana, was able to take on the web's most notorious neo-Nazi and win," he added.
"Andrew Anglin may stay out of the United States, and we hope that he does. … We're confident and pleased that the judge's ruling today will send a message to all those people that if they try (to do the same) they will be held accountable."
Chief Judge for the District of Montana Dana Christensen will take Lynch's findings into account and make the final ruling.