Julie Blanchard never got to see her son Casey's triumphant return home from the hospital after the March shooting that wounded them both.
Casey Blanchard, left a paraplegic in the shooting, returned Saturday evening from the Utah hospital where he'd been recuperating. Less than 48 hours later, his mother died in a hospital in Washington. 
"Just when you think you're getting ahead on something, you get another punch in the gut," said Tom Dooley, a family friend and co-worker of Casey's at Gomer's U.S. Diesel Parts.
Blanchard and her son Casey were both victims in a shooting spree in March outside Missoula that claimed one man's life on the scene and severely wounded a Montana Highway Patrol trooper.
Dooley said Tuesday that Julie Blanchard had not had a chance to see her youngest son in person since the shooting took place.
"I know they didn't get to do that yet," he said at Gomer's shop on Tuesday. 
Blanchard died Monday at a Washington hospital where she had been undergoing rehabilitation from her injuries, Chelan County Coroner Wayne Harris said Tuesday. She had been staying with family but was hospitalized over the weekend after respiratory complications, he said. She was 52.
Officials have yet to determine whether or not her death is directly attributable to the shooting; Harris will begin an investigation into Blanchard's cause of death in the coming days. Because the family wishes to have her organs donated, that process will precede the investigation, Harris said.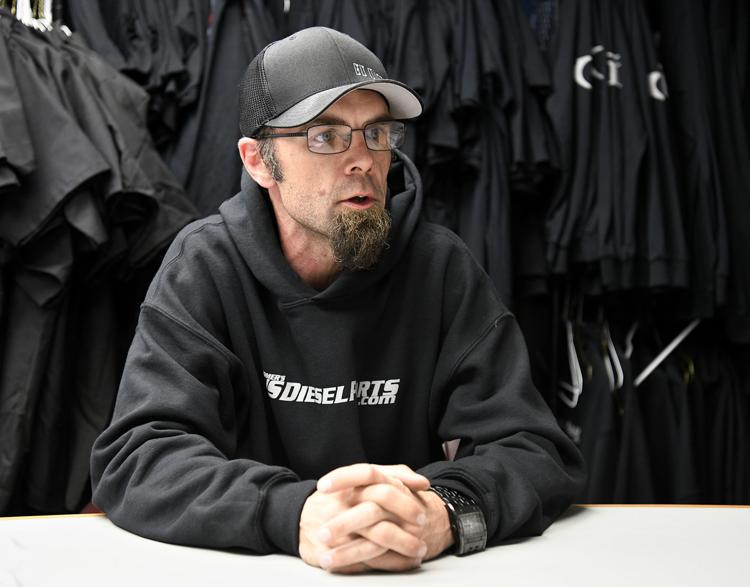 Blanchard, Dooley said, had seemingly been the least critically injured of the three gunned down on Expressway that night. She was the one who called police after the attack.
And she had always been a strong person, as Dooley described her. She had a stern undertone that was typically overwhelmed by the maternal treatment she gave anyone close to her boys, Casey and Kodi. She had come to live around the diesel truck and automotive work her sons embraced, and she embraced those around them. 
You have free articles remaining.
"If she thought you weren't doing something right she'd give you the dirty eye," Dooley said. "It's kind of a big deal. I wasn't a kid of hers but she treated me … I was friends with Casey and Kodi, she didn't see a dividing line there. She just took care of everybody she could take care of."
Tuesday, the crew at Gomer's was reeling from the roller-coaster lurching them up and down with Casey Blanchard's return and the death of his mother. 
Gomer's has been something of a common denominator to those affected by the tragedy. Casey Blanchard and Dooley worked together at Gomer's, along with Shelley Hays, 28, who was killed in the shooting, and Casey Blanchard's brother Kodi. 
Dooley could hear all the times Casey called his mother when he needed someone to watch his kids, or this or that. It never really mattered what it was, because Blanchard always come through, he said. Maybe it was helping out when needed, or maybe she took every opportunity to spend more time with her grandchildren. 
"She doted on her grandkids," Dooley said. "Those were probably her proudest things in life, her grandkids."
Casey Blanchard had called on his mom the night of the shootings. On March 14, Julie Blanchard had picked up Casey and his friend Shelley Hays at Marvin's Bar at the Wye just west of Missoula. While driving back on Expressway, a vehicle behind them flashed its headlights, prompting Julie, who was driving their vehicle, to stop, according to reports. Casey Blanchard left the vehicle and was shot eight times. Hays, 28, was dead when police arrived. Julie Blanchard, also wounded, called police at 10:53 p.m., according to charging documents.
A little over an hour later, as law enforcement spread out into the county in search of the suspect's vehicle, Montana Highway Patrol Trooper Wade Palmer located the white SUV on Highway 93 North near Evaro. As he arrived at the vehicle, he was shot three times, in the head, face and neck. The suspected gunman was apprehended nearly six hours later without further incident.
Casey Blanchard returned home to Stevensville from treatment at the University of Utah Hospital in Salt Lake City Saturday evening. His wounds left him a paraplegic. Palmer had returned from the same hospital just a week earlier, unable to verbally communicate and reliant on the use of a wheelchair.
Johnathan Bertsch, 28, is currently charged with one count of deliberate homicide and three counts of attempted deliberate homicide. While court documents do not indicate a motive for the shootings, search warrant filings do reveal two "AR-15-style" rifles and a handgun were found in his white SUV after he was taken into custody. Bertsch, of Arlee, is in the Missoula County jail on $2 million bond. He has pleaded not guilty to the charges.
Missoula Chief Deputy County Attorney Jason Marks said prosecutors are in the process of gathering information, including updated medical records, to evaluate whether new charges will be filed against Bertsch.