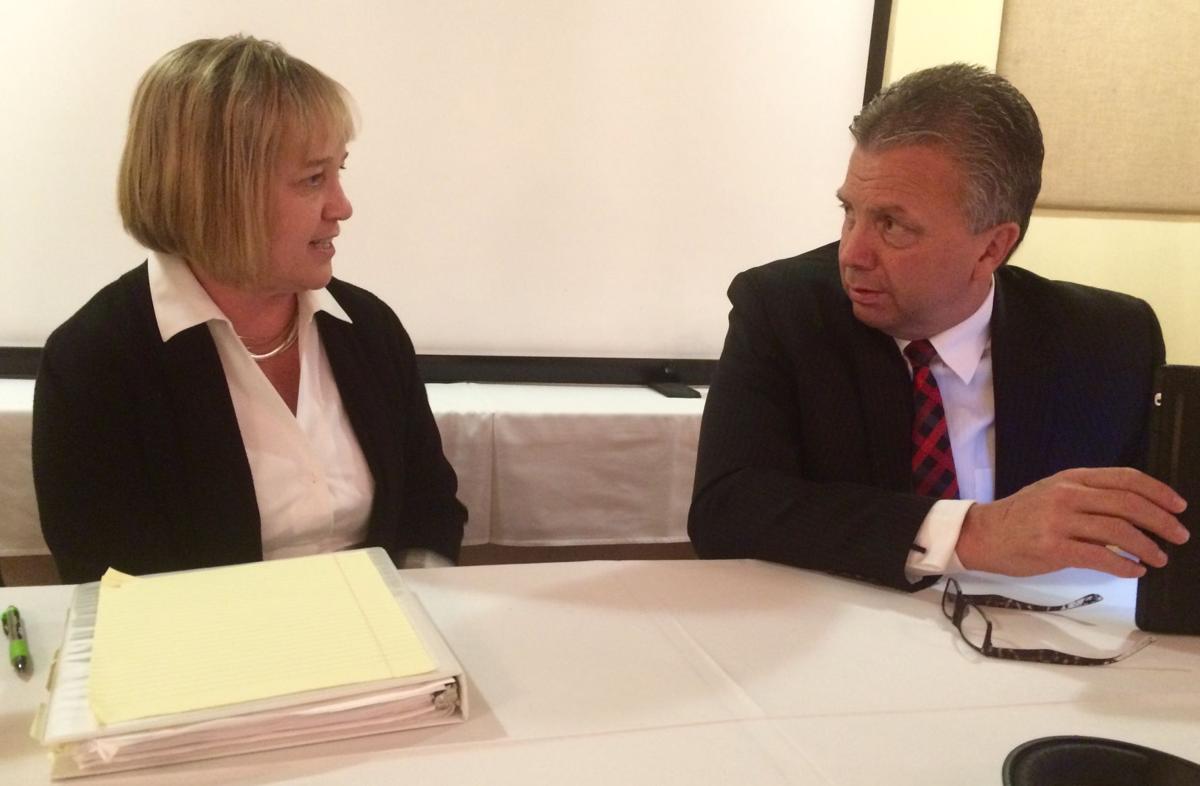 Although she faced a hometown crowd, Montana Supreme Court justice candidate Kristen Juras got much tougher questioning from Western Montana Bar Association members than her opponent, Dirk Sandefur.
About 70 Missoula-area lawyers, clerks and judges listened to University of Montana law professor Juras and Cascade County District Judge Sandefur at an election forum Thursday in Missoula. Supreme Court justice races are nonpartisan.
In her introduction, Juras said her experience working with farmers, ranchers and small-business owners would benefit a high court already well stocked with prosecutors and judges. She argued that a lack of business experience among the current justices and a history of unpredictable decisions and reversals made it hard for Montana citizens to know what rules of law they would be governed by.
Sandefur used his introduction to criticize Juras' lack of courtroom experience and her "evidence of bias" against Montana's stream-access laws. He also claimed greater support from the state's legal community, including endorsements from 10 retired Supreme Court justices.
Although Juras noted she had a number of former law school students in the audience, most of the questions were aimed at her past positions and qualifications. Both candidates were allowed to respond to all questions.
Juras acknowledged the difficulty of being the chief legal counsel for Crop Growers Insurance when its leaders were under investigation for money laundering and illegal campaign contributions, a case in which she was called to testify before a grand jury. Juras said she resigned from that corporation and learned an important ethical lesson about the difference between defending a corporation and defending corporate officers who may have broken the law.
Missoula attorney Tim Bechtold asked Juras about a law review article she'd written where she appeared to call Montana's stream access laws both a "monumental erosion of property rights" and "settled law."
Montana differs from many states in allowing the public to fish and boat on all streams below the high-water marks, although they may not trespass on the adjacent private land. Some states consider the stream bed part of the private property and limit recreational access.
Juras replied she did consider the 1985 stream access law a settled matter, but added that many issues remain at loose ends. For examples, she said the stream bed ownership of non-navigable waterways might be private, and bridge-access policies might depend on whether the bridge is privately or publicly owned.
Sandefur charged that Juras was hinting she was ready to pick away at the stream access laws and showing a bias that was improper on the bench.
"I have opinions," Juras replied. "That doesn't mean you bring a bias to the courtroom. Ask my students who are in the room. I don't bring a philosophical agenda to breaking down statutes or opinions of law."
Attorney David Paoli asked Juras about comments on her website and from talk-radio interviews about how her decision-making was driven by Judeo-Christian values, and how that might relate to her consideration of federal acceptance of same-sex marriage.
"I am a Christian," Juras replied. "The application will not be driven by personal values or religion. It's driven by law."
She added she did believe issues will arise regarding same-sex marriage and the free expression of religious beliefs. She said she expected the Legislature should get involved in addressing exemptions for "the cake bakers and photographers" who might object to working for a same-sex marriage client.
Sandefur accused Juras of using the issue "to inflame the Christian community" against him. Juras responded that Sandefur had referred to her supporters as "haters and bigots."
"I hope this country does not come to a time when Christians cannot serve in public office because of their beliefs," Juras said.
"I'm a Christian myself," Sandefur responded. "But this isn't about whether Christians should be on the court. I said (at a Great Falls LGBT parade) my opponent believes you do not have the right to marry. My opponent believes you are all sinners. My opponent believes bigots and haters have the right to discriminate against you. And the only thing that stands between my opponent's beliefs and your rights is me in this election."
Western Montana Bar Association President Hanna Stone said the group does not take positions on or endorse Supreme Court candidates.