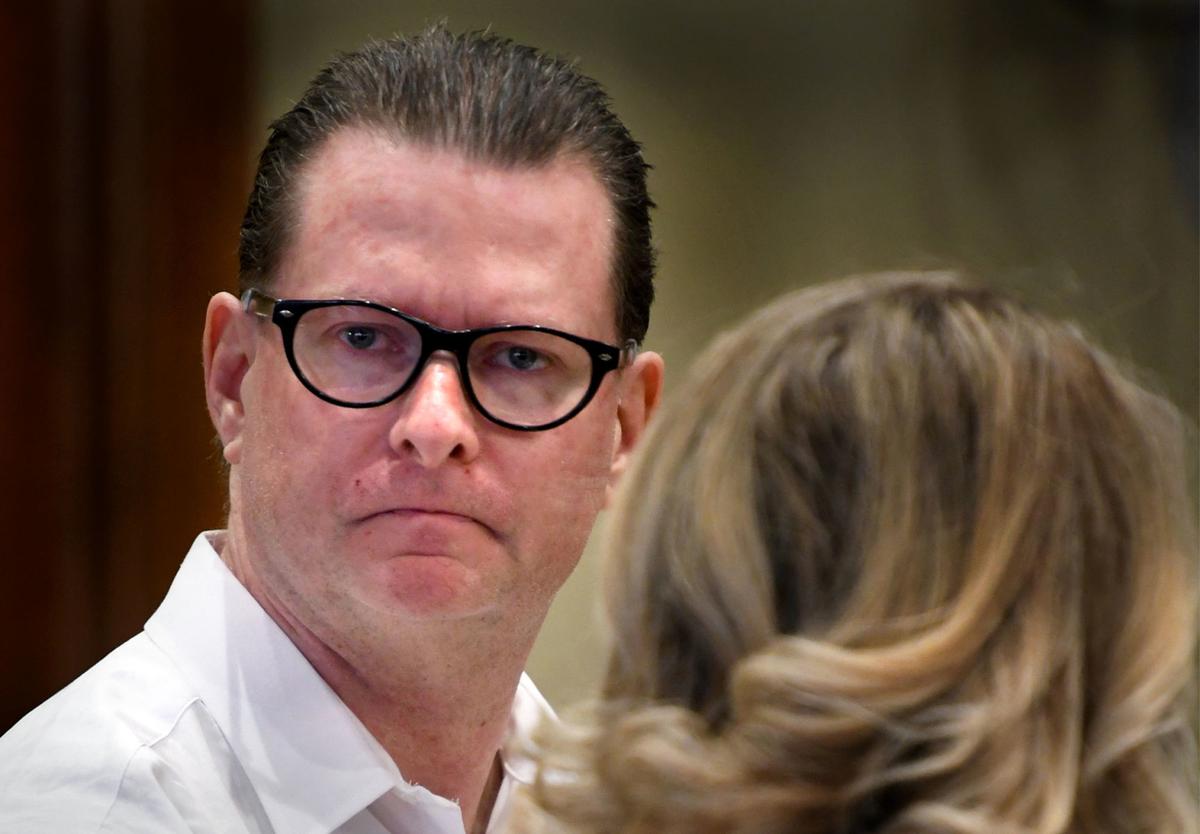 A Missoula County District Court jury took a single day to find Caressa Hardy guilty in the killings of two men outside Frenchtown in 2013.
As he had through most of the trial, Hardy remained impassive as the verdict was read at 5:30 Thursday evening. The jury had gone into deliberations six hours earlier following seven days of testimony. 
Hardy's attorneys declined to comment immediately after the verdict. Prosecutors also declined comment. 
The conviction brings some margin of certainty to the families of Thomas Korjack, 62, and Robert Orozco, 37. The bodies of the two men were never officially recovered and no death certificates were ever issued.
But Missoula Deputy County Attorney Brian Lowney told jurors in closing arguments Thursday morning that the case against Hardy was still sound, considering the sudden silence in phone records among the former housemates; Korjack's wealth, which he had broken the law to protect, left behind; the .45-caliber bullet found in the room where the alleged killings took place; the rank smell neighbors recalled shortly after the two men disappeared; the bone fragments found in the fire pit on Hardy's property and the trace of blood on a TV in the home found to match Korjack's DNA.
"Just like anyone they had lives, people that loved them, people that hoped to see them again," Lowney said. "The defendant not only killed these men, he tried to erase them from the face of the earth."
Hardy faced two counts of deliberate homicide for allegedly shooting Orozco and Korjack, who Hardy worried would cut him off financially from the life they shared in Frenchtown after moving there from Wyoming in 2012. Investigators believe he burned the bodies in the fire pit and held captive the only person who claimed witnessing the murders: Karen Hardy, his former partner and mother of his children.
Hardy's defense presented at trial is that the two men weren't killed or torched but simply fled, perhaps to Costa Rica; Korjack to avoid a second tax evasion prosecution and Orozco to escape unpaid child support obligations.
No one reported either man killed, let alone missing, until Karen Hardy walked into an eastern Montana police station more than three years later to tell her story. Korjack's family had largely abandoned him after his first stint of incarceration and most of those who testified about Orozco weren't particularly interested in hearing from a walk-out father, anyway.
"They were flawed people," Lowney told the jury. "But they were people just like anybody else."
Britt Cotter, Hardy's lead defense attorney, said those flaws highlighted the motives the two men had to leave and get off the grid. Karen Hardy, he recalled, couldn't testify as to what years her children were born, or what year the alleged killings took place.
He spent considerable time in closing arguments highlighting the witnesses, or lack thereof, related to the solicitation charges. Two inmates who testified had been convicted of lying to the police before, and it's plausible either one was looking for a better deal in their own cases, he said.
"That's not good enough," Cotter said. "That's not proof beyond a reasonable doubt."
Hardy, once known as Glenn Dibley, was transitioning to a woman when he was arrested in July 2017. Attorneys and witnesses used the pronouns "he" and "him" when referring to Hardy throughout the trial.
The trial was a rendering of the four lives in a home in the hills outside Frenchtown from Wyoming, where they had formed something of a non-traditional family after converging from wildly different backgrounds. Karen Hardy first met the defendant in California in the 1990s after her then-husband left her on the side of the highway as a result of an argument. They quickly fell in love, had three children and eventually moved to Wyoming around the same time Hardy began transitioning to a woman. 
Hardy didn't just transition to a different gender identity, but began taking on Karen Hardy's own identity, she surmised in testimony last week. His makeup, his hair, his clothes all soon mirrored her own. When Glenn Dibley changed his name to Caressa Karen Jill Hardy, it wasn't far from her full name, Karen Jill Hardy. 
In Wyoming the pair met up with Korjack, a wealthy engineer who Karen Hardy considered a father figure and like a grandfather to her children. They also met Orozco, who Karen Hardy said she fell in love with "at first sight." 
In 2012, Korjack fronted the money to purchase the home on Pond Road, although Caressa Hardy, on paper and in person, maintained the appearance as its owner. Neighbors testified last week that they saw the group coming and going from the house in early 2013. After March of that year, however, Hardy was the only presence around the property.
The dissolution seemed to stem from an incident after Korjack, Orozco and Karen Hardy came back to the Pond Road home to find Hardy in his bedroom with another man. Hardy's being transgender hadn't bothered Korjack, Karen Hardy testified, but "he was against (Hardy) being homosexual," she said. "It made him very angry, and it changed the way he treated him."
The halt of activity on the victims' phone and bank records presented at trial suggest the killings took place on March 27, 2013. Karen Hardy said she was holding her 4-month-old son in the basement bedroom while she, Korjack and Orozco were talking about looking for another property in North Dakota and changing the name on the deed of the Frenchtown property.
"He must have been listening at the door," she said of Hardy. 
Hardy entered and briefly argued with Korjack, Karen Hardy said, before pulling a pistol from his pink bathrobe and firing upon Korjack, then Orozco, putting one round in the drywall and another through the window in the process.
Huddled in the corner clutching her baby, Karen Hardy said she pleaded for her life. 
"I was cowering and he was punching me and kicking me and calling me a slut and a whore," she said. "He was telling me it was my fault. …  I begged him, 'Please don't kill me or the kill the children,' and it's like he snapped out of something. His demeanor just changed. And he said, 'I would never kill the children.'"
Each of their children has been taken into state custody, either in Montana, Wyoming or California.
A sentencing date was not set Thursday evening after the verdict was read. 
Get local news delivered to your inbox!
Subscribe to our Daily Headlines newsletter.