A Missoula man has broken a nine-year-old world record for most vertical skiing in a 24-hour period by taking 60 nonstop uphill laps at Whitefish Mountain Resort over the weekend.
An accomplished ultra-distance trail runner and sponsored North Face athlete, Mike Foote started at 9 a.m. Saturday skinning up the snowy slope. By the time the Earth had made a full rotation on its axis at 9 a.m. Sunday, he had skied an almost unthinkable 61,200 vertical feet. That's the equivalent of going from sea level to the summit of Mount Everest and a little more — twice (of course without dealing with the lack of oxygen at high altitudes and dangerous terrain and weather, but you get the idea).
"I can safely say I've never seen a more impressive display of mental and physical toughness," said Andy Burbine, a member of Foote's support team. "He's a beast."
According to the website Gear Junkie, which tracks extreme sports records, the old record of 60,000 feet was set in 2009 by the Austrian ski-mountaineering racer Eckhardt Dolshlag and nobody could beat that number until now.
Foote, nursing his blistered feet on Monday, said the most "vert" he'd ever knocked out in a single day while ski mountaineering before this weekend was 20,000 feet.
"It was a total unknown," he said. "I just thought it'd be interesting to see, physically, what my limits were. I think having done a lot of ultramarathon running — I had been training for a 100-mile race — I was interested to see a similar effort on skis."
Even with his long list of endurance sport feats, Foote said this one feels like the top physical accomplishment of his life.
He didn't do it alone, however. He had the help of a whole cadre of people cheering him on and support personnel, including pacers who skied with him for portions to make sure he was on track to break the record.
"Having a community of awesome people in Whitefish that I know, it made Whitefish the obvious choice, really," he said.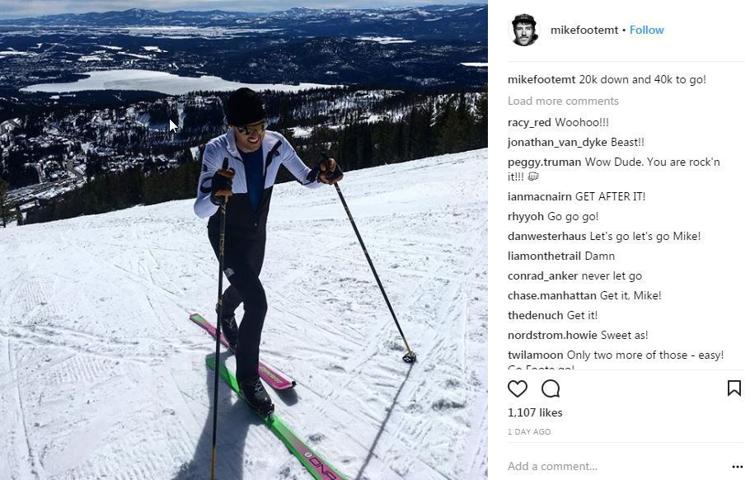 A crew of machine groomers kept Foote's track free of ice, and he changed his skins (special one-way sticky attachments on the bottoms of skis for ascending, designed to be removed for downhill travel) several times. Anyone who's worn hard ski boots for a full day can understand how Foote's feet felt after 24 nonstop hours in them.
"I literally had a friend carry me to the car after it was over," he said. "My girlfriend had to drive me to the condo we were staying in. I was sweating in my boots at the beginning, so my feet were wet the whole time. They're pretty haggard right now, lots of blisters and red spots. So I'm going to be wearing only flip-flops for the next few days."
You have free articles remaining.
At 55,000 vertical feet in the dark of night, Foote's support crew captured an Instagram photo of him touching the sign that marks Whitefish Mountain Resort's designated uphill trail, called the "Benny Up! Trail." It's so named for Whitefish firefighter Ben Parsons, a good friend of Foote's who was killed in an avalanche in January 2017 while backcountry skiing in Glacier National Park.
Foote said that thinking of Parsons, who was known for his enthusiastic approach to outdoor recreation, gave him a mental boost to keep going.
"Absolutely," he said. "One of the reasons I wanted to do it in Whitefish was because of Ben. Ben was such an inspiration to me in general and also to the sport of ski mountaineering racing. He was on my mind a lot. Ben's wife and son were there cheering and supporting me so it was really inspirational."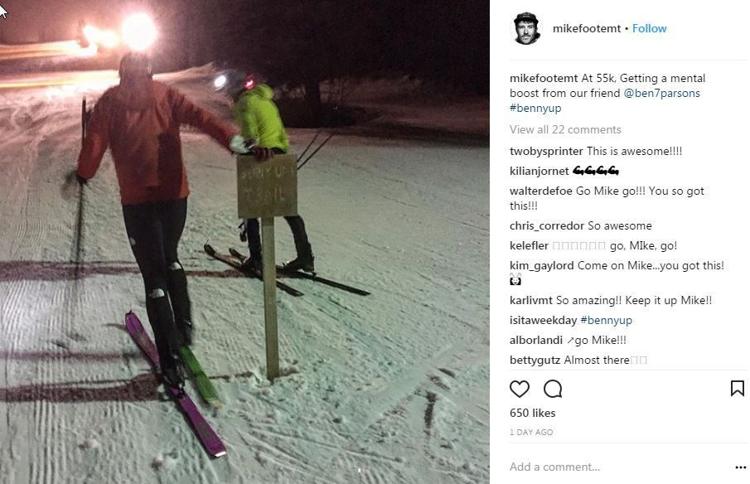 He estimates he burned 10,000 calories, eating things like sweet potato and bacon rice balls and maple syrup water (his girlfriend's dad owns a maple syrup company). On his final lap, 20 of his friends joined him and he went from about 25 minutes on his 59th lap to 21 minutes on the last trip.
"It was a huge energy boost having them all there with me," he said.
This isn't the first epic feat Foote has accomplished. Back in the fall of 2015, he and a couple friends completed a 600-mile Crown of the Continent traverse, running from Mount Jumbo all the way to Banff, Alberta, across all kinds of rugged terrain for 24 days.
In 2011, he picked up a prestigious sponsorship from the gear brand North Face after finishing as the top American at the 100-mile Ultra-Trail du Mont-Blanc through the Alps. He's run several 100-mile mountain races since.
Foote said the world record for vertical skiing is a "pretty esoteric thing" and he's not sure how many other people have attempted the record since 2009. 
"The guy in Austria that did it in 2007 and reset it in 2009 is one of the best ski mountaineer racers in the world," Foote said.
So when he topped the mountain for his 60th and final lap on Sunday, Foote said it was a sweet feeling.
"When we finished we still had a few minutes on the clock and I stopped and there were a lot of people there cheering for me," he said. "They had a bottle of Champagne and I finally took my boots off. I had really incredible friends supporting me."