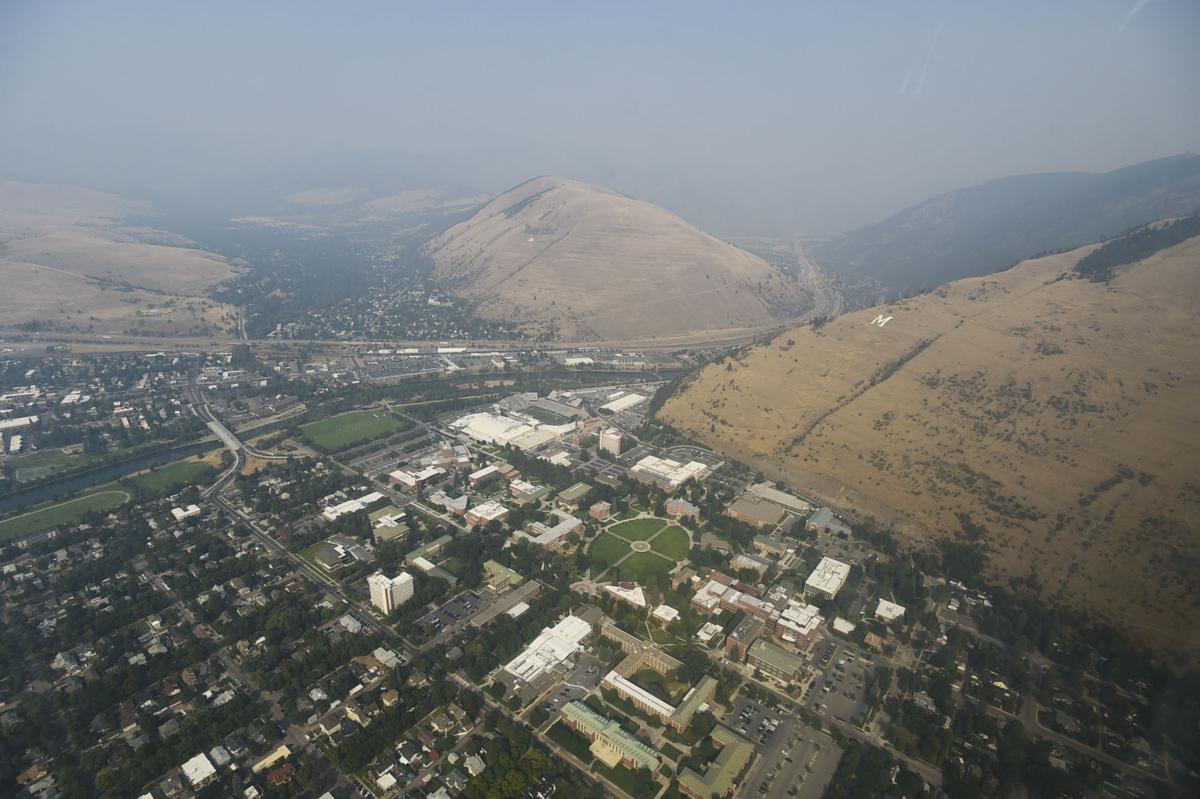 The latest draft of the Climate Ready Missoula Plan adds several new strategies for adapting the region for climate change — and says a reliable stream of public and private dollars will be needed to pay for them.
The Climate Ready Missoula Plan has been drafted over the past two years by local city, county and nonprofit employees. Missoula County's climate has already started warming, and scientists project a temperature increase of 4 to 5 degrees Fahrenheit by midcentury. The first draft of the plan, unveiled at a City Club meeting last month, offered 29 goals for adapting to these changes, and 67 strategies to reach those goals.
The project's leaders — Diana Maneta, Amy Cilimburg, Caroline Lauer and Chase Jones — released the plan for an initial round of public comments. Since then, they said, they received about 75 comments through an online form, and more at in-person town halls, and completed a revised version Friday. 
Diana Maneta, energy conservation and sustainability coordinator for Missoula County Community and Planning Services, said that one of the main categories of feedback was "people really wanting to know more about what implementation phase looks like."
"We got comments like 'How much is it going to cost?', wanting to know those details. That will be determined in the implementation phase. …This plan can't get to that level of detail, it wasn't intended to, but I think we did do a better job of explaining what that implementation will look like."
The "Next Steps" section at the end of the revised version explains that a task force will be needed to guide implementation of the plan, and predicts that "successful implementation will require new and durable funding sources, for example advocating for a local options sales tax that can be allocated in part for adaptation strategies, pursuing grant opportunities, and prioritizing this work within the budgets of local government and businesses."
"We're just trying to offer some examples so that people realize there could be new opportunities we don't have today" for funding said Cilimburg, executive director of Climate Smart Missoula. "The costs and how we fund it … could look really different in a couple of years."
Another category of commenters, Maneta said, focused on the plan's goals and strategies. In response, she and her colleagues added nine new strategies, four of which fell under a new goal: "ensure sustainable transportation options are part of land use planning." Others included creating an economic innovation hub to identify climate change-related business opportunities and educating the public on "xeriscaping," landscaping that eliminates the need for irrigation.
While the plan focuses on adapting to the effects of climate change, Maneta said that several commenters sought more focus on mitigating the effects of climate change by reducing greenhouse gas emissions. "We really reframed the introduction of the plan to better articulate that distinction (and) referred to a number of efforts that the city, the county, the community have underway that are about climate mitigation."
From here, the group aims for the City and County of Missoula to adopt the plan as an amendment to their growth policies. As the first step in that process — which could well change the plan further — the Consolidated Planning Board will host a hearing on the plan on March 3. 
In the meantime, climate change remains a hot topic of discussion for Missoulians. On Wednesday night Climate Smart Missoula, the city and county and other local organizations hosted "The Big Climate Change Event" that drew about 300 spectators to the Wilma to hear physicist and science communicator Rob Davies discuss the topic.
Before diving into the science, he gave a nod to the Garden City's efforts. "You certainly are preparing," he said.
To view the updated plan, visit climatereadymissoula.org. The Planning Board's hearing will take place at 7 p.m. on March 3 in the City Council chambers.
Get local news delivered to your inbox!
Subscribe to our Daily Headlines newsletter.