As rents skyrocket at a rate that far exceeds wage growth, an estimated 9.1% of renters in Missoula County are behind on their rent.
That's according to Montana James, the city's community development director, who gave a presentation on Missoula's housing crisis along with other industry experts to the city council's Committee of the Whole on Wednesday.
"Of that group of renting households in the county, they owe an average of $2,685 in back rent," James explained, citing U.S. Census data.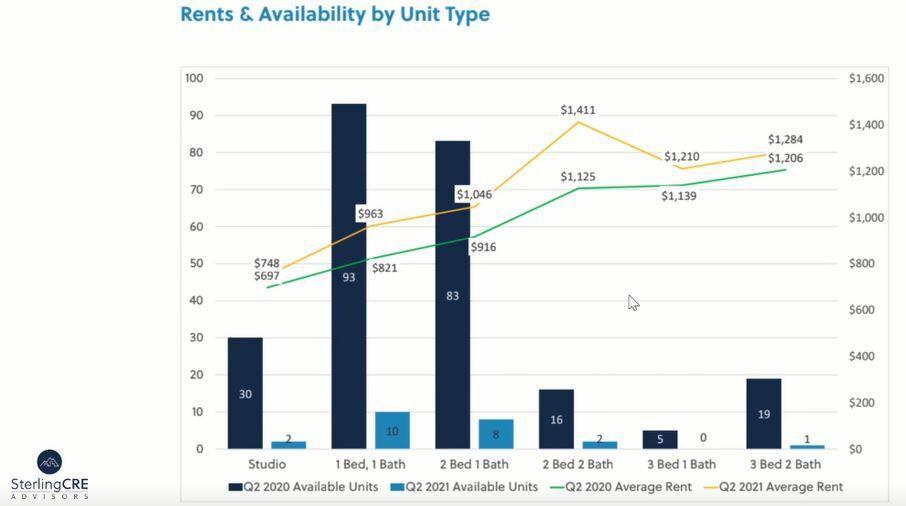 The National Eviction Moratorium expired on July 31, which meant landlords could evict tenants for any legal reason. Then on Aug. 3, the Biden administration implemented another moratorium for counties with high rates of COVID transmission, which covers 90% of Montana counties, including Missoula.
However, landlords have been able to evict tenants even during the moratorium via a very simple method —  letting a lease expire. Many tenants are on one-year or month-to-month leases.
It's an issue that's top-of-mind across the state right now.
"Clearly we are hearing from residents that challenges around eviction and making rent are paramount," said Missoula mayor John Engen. "And (it's) certainly a concern for both folks who are potentially facing eviction and for property owners and landlords as well."
In Missoula, the vacancy rate for apartment complexes of five units or more is only at .38%, according to data from Sterling Commercial Real Estate Advisors.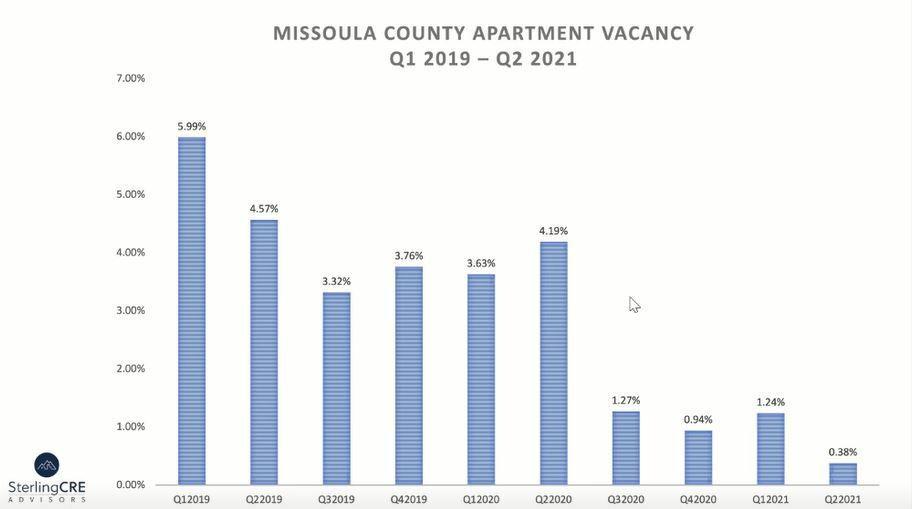 "The vacancy rate had been dangerously low for several months now," said James, who convened a panel of experts to give a presentation on renting in Missoula.
Matt Mellot, with Sterling, said a vacancy rate of between 4-5% is considered healthy.
"It's very difficult for a renter if you're competing for those very few available properties," he said.
Average rents have gone up 16% in Missoula in the last year, he said, and in the first quarter of 2021 there were only 23 apartments available out of 6,000 units in multiplexes with five or more units. Mellot's company isn't able to track the market on single-family home rentals and smaller apartment buildings.
There was only about a 5% increase in wage growth in Missoula in 2021, according to the American Community Survey conducted by the federal government.
"Rising rents are driving people out to the Bitterroot and Frenchtown and surrounding areas," Mellot said. "If you're a local business looking for staff, you're in a very difficult position because there are very few people that are able to be close to their job."
Missoula hasn't built enough housing units to keep up with population growth since 2016 and 2017, he said. In those years, when there was a building boom, home price increases were relatively modest.
Andrea Davis, the executive director of the nonprofit housing organization Homeword, said since 2001 the median home sales price in Missoula has gone up by 155%.
"There are nine homes for sale under $300,000 in the entire Missoula market," she said. "It's very challenging for graduates to find a home they can purchase, particularly because they are competing with people who have little or no need for financing."
Buyers are snapping up homes without even getting home inspections, she noted.
The waiting list for the limited local quantity of federal Housing Choice vouchers, which help low-income families buy or lease housing, has increased from 1,707 last year to 1,926 this year.
Davis said the median renter income is $27,456, but the income needed to afford a median-priced two-bedroom apartment in Missoula is $39,160.
"There's a real disparity in wages for both renters and homeowners when it comes to having enough money to afford a home," she said.
Aaron Gingerelli, the owner of Summit Property Management in Missoula, said his company manages around 1,000 units.
"I have never seen anything like the conditions we're seeing right now with a sub-1% vacancy margin, and neither have my colleagues," he said. "Missoula historically had low vacancy margins. It's the nature of our market, but right now is just a unique moment and unique challenge."
Gingerelli and other property managers have not noticed a huge swarm of eviction demands from the property owners they work for, he said.
"Among market-rate property managers, we are not seeing a higher level than normal rate of non-payment or evictions," he said. "We really have not seen a substantial change in non-payments and late payments. There's been a very low instance of evictions. It's essentially nonexistent. It's been rather surprising to all of us."
When asked by a city council member how they determine when to raise rents, Gingerelli said it's almost always at the discretion of the property owner.
"We try to take the best reasonable and ethical considerations we can with our clients (the property owners) and try to convince them to not dramatically increase rents," he said. "We've had good success with bringing them to the ground when they want to see a big increase."
There were very few civil eviction complaints filed in Missoula County Justice Court this week, with only one residential complaint filed over alleged illegal drug use.
Cheryl Cohen, the housing division administrator with the Montana Department of Commerce, said Montana has been allocated a total of $352.4 million in federal dollars to help with emergency rental assistance and utility payments. People who are struggling to pay bills and who make 80% or less of the area median income can apply for assistance of up to $2,200 a month for rent and $300 a month for utilities.
Since April 5, the state has given out $2.8 million in rental assistance to Missoula County, second only to Yellowstone County.
"We haven't seen a huge uptick in evictions or applications following the three-day suspension of the eviction moratorium," Cohen said on Wednesday.
City council member Bryan von Lossberg said the goal now is to help people who are struggling with rent to find the assistance they need.
"Those 9.1% of folks in Missoula County who are in arrears, we have the resources in the state to help these people out with that rental and utility burden," he said. "We need to connect those resources with the people who need them."
For more information on the Montana Emergency Rental Assistance program, visit online at housing.mt.gov.