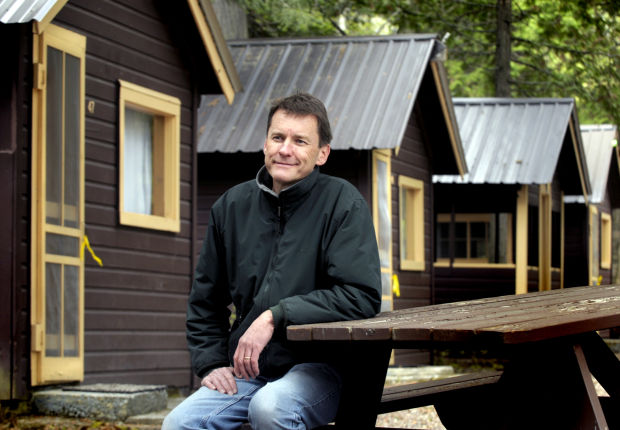 WEST GLACIER – Most of the business district of this iconic entrance to Glacier National Park – and undeveloped acreage in and around the little village of about 225 people – has been sold to Glacier Park Inc., a subsidiary of Viad Corp. of Arizona.
Bill Lundgren, whose family has owned the West Glacier Mercantile Company since 1946, and Paul Dyststra, chairman, president and CEO of Viad, weren't returning phone messages Monday or Tuesday, as rumors of a possible sale mounted.
But GPI president Cindy Ognjanov confirmed Wednesday morning in a news release that a deal had been struck to purchase almost 200 acres of land from the Lundgrens at the park's west entrance. Included in the sale are the West Glacier Mercantile (which sells everything from food to fishing tackle), the West Glacier Gift Shop, the West Glacier Shirt Company, the West Glacier Motel and Cabins, the West Glacier Bar (known locally as Freda's) and the West Glacier Restaurant.
Another 3.8 acres inside the park, at Apgar, are also part of the sale, and include the Apgar Village Lodge and Cedar Tree gift shop.
"This addition perfectly complements our existing operations in and around Glacier National Park," Ognjanov said. "The Lundgren family has a remarkable history in West Glacier and we look forward to carrying on their traditions in this historic town."
Some residents weren't happy that some parties were allegedly precluded from bidding on the property, and many are worried what GPI might have in store for more than 150 undeveloped acres included in the sale.
"It has become very evident that the way that this real estate process, and sale, was handled was in an extremely secretive and non-disclosing manner," said Gail Pauley, whose family has lived in the town for 25 years. "I am not opposed to someone selling their property, but I am outraged and upset by the secretive manner that it was conducted."
In recent days, as the rumors of a pending sale grew, people began social media campaigns to "Save West Glacier," but the deal was completed quickly after those started.
The Missoulian first reported the sale in its online edition Tuesday evening, and in Wednesday morning's print edition, after West Glacier resident Jim Clarke, a retired University of Arizona professor, told the paper Bill Lundgren had confirmed the sale to him Tuesday morning.
"I was walking back from the post office when I ran into Bill," Clarke said. "I've known him and Rob (Lundgren) for years. He confirmed to me that the sale had gone through."
The West Glacier Mercantile Co. also reportedly leased out property where a photo shop, the Glacier Raft Company and the Alberta Tourist Information Centre have locations. That's pretty much every business there is to stop at, save for the 18-hole Glacier View Golf Club about a mile from town, once visitors travel under a railroad overpass en route to the park's west entrance.
It's the undeveloped acreage that concerns many people here.
"It's very disturbing, when you think what could happen there," Clarke said. "That's habitat for deer, elk, black bear, the occasional grizzly, and lots of smaller mammals. What are they going to do with that?"
"I don't know if you've been to other towns outside entrances to national parks," said Nancy Hildebrandt, who lives two miles south of West Glacier. "But some of them look like Disneyland."
The GPI press release did not address what, if anything, it might be considering for undeveloped property in and around what some refer to as West Glacier Village.
"We have great respect for what the Lundgren family has built in West Glacier," GPI vice president and general manager Ron Cadrette said in the release. "We will strive as a company to preserve and honor what they have created, including their reputation for offering great hospitality to guests and an engaging work environment for staff."
Glacier Park Inc. last year lost its long-standing contract with the National Park Service that let it operate famed lodges and other concessions inside Glacier's borders. The National Park Service instead awarded the contract to the larger Xanterra Parks and Resorts.
GPI continues to operate hotels located just outside the park, such as Glacier Park Lodge and St. Mary Lodge and Resort, Motel Lake McDonald inside the park, plus Grouse Mountain Lodge in Whitefish and the Prince of Wales Hotel in Canada's Waterton Lakes National Park.
Several of the log buildings housing businesses in West Glacier were constructed in 1938. Lundgren family history holds that Dan Lundgren Sr., and his sons Con, Ev and Dan, were lured from eastern Montana after seeing a newspaper advertisement for West Glacier shortly after World War II ended. They and a business partner, Dave Thompson, purchased what was then called Belton Mercantile and changed the name to West Glacier Mercantile.
When Ev, the last of the four original Lundgren investors, died in 2012 at the age of 95, Clarke said the rumors began that their heirs would sell.
"Everybody said it was going to happen now," said Clarke, who has owned a home in West Glacier for nearly 30 years.
Bill Lundgren denied those rumors two years ago, and it remained in the family.
"All three brothers had always been very insistent that the town retain its original integrity," Clarke said of Con, Dan and Ev. "It was kept small and profitable."
In 1987, the U.S. Department of Interior awarded the West Glacier Mercantile Company a special commendation for "sheltering and protecting the West Entrance of Glacier National Park from inappropriate development and for maintaining the village's historic character."
That continued to be a priority in 2002, Bill Lundgren told reporter Judith Graham of the Chicago Tribune, who was writing a story comparing West Glacier to more commercialized communities outside national parks, such as Pigeon Forge and Gatlinburg, Tennessee, and Montana's own West Yellowstone.
"People are moving out here to try to possess the West," Lundgren told Graham. "If enough of us do that, we'll spoil what we love. We have a different approach. We feel we are the caretakers of this place, most of all."
And that's how the family has largely been seen for most of the 68 years they've owned most of West Glacier Village, people here say.
"It's a beautiful, quaint place," said Hildebrandt, the contract postal officer at Lake McDonald. "The Lundgrens have kept it as a nice entrance to Glacier for years and years."
Hildebrandt said locals contacted the Lundgren family after Ev's death and indicated they could put together a group that would pay "fair market value" for the company if the family decided to sell, but never heard anything.
"Up to a week ago the family said no, no, it's not happening," Hildebrandt said. "It's all been hush-hush. What I can't believe is this family has been such great stewards. To then, instead of taking money from people who want to preserve it and do this … I don't know why they did the 180."
Hildebrandt, Clarke and others say residents are concerned that a large hotel, dormitories for seasonal workers or housing developments could occur on the undeveloped land.
"I am both shocked and outraged to hear that the 'founding family' of West Glacier, who had carefully protected and maintained our town for generations, was selling out to 'Corporate America,' " Pauley wrote. "Especially when there are others who would have purchased the businesses and land, and guaranteed that it would be preserved and protected for generations to come."
In recent days a group called Save West Glacier started a petition drive at change.org to ask Montana's Congressional delegation to help get the village placed on the National Register of Historic Places (it had gathered 528 signatures, or more than twice the population of West Glacier, as of Wednesday morning), and a Facebook page, "Save Historic West Glacier Village, Montana" (since June 23, it had gathered more than 850 "likes").
But Tuesday afternoon, the petition drive had posted this update:
"Yesterday, June 30, the GPI machine moved into West Glacier to take inventory. With their matching polos and clipboards in hand, they started the takeover. By midnight, the West Glacier Bar was closed and the only cars in the parking lot were (GPI) fleet vehicles."