BLACKFOOT RIVER — From its start in the untouched wilderness at Rogers Pass on to its meeting with the Clark Fork, the Blackfoot River has spent the past century carrying lumber, fishermen, rafters and Norman Maclean's prose.
The glacial melt and spring water open up their bounty of trout during a brief time for fly-fishers to launch from 21 points that dot the river. Annually, the river that threads around Montana Highway 200 attracts 40,000 angler days.
Carter Polanchek didn't go fishing Tuesday, though. He stood 30 feet above the river with six of his friends on the edge of a sheet of rock. The sun cooked the sand and rocks so hot it scorched bare feet.
The Blackfoot, blue and languid below, rolled by without much commotion.
The cliff belonged to flies, wasps and ants.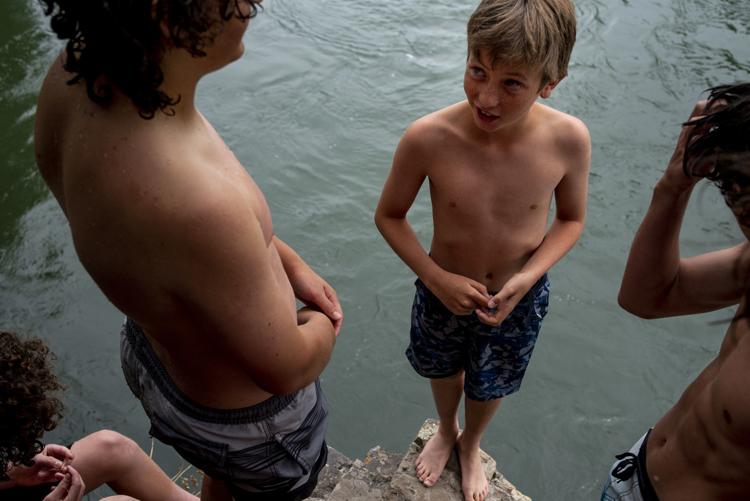 As they huddled a few steps from plummeting into the river, Carter's friends had no sympathy for his reservations about jumping.
"Everyone here has already done it five times," said Elijah Schwartz, who spent most of the day perfecting his front flip off an outcropping.
The seven 13- and 14-year-olds wasted no time taking to the 60-degree water from the beach at one of the first access points along the Johnsrud Corridor. They risked busted toes, skinned knees and a few mosquito bites scaling the natural stone stairway that led to several ideal jumping spots.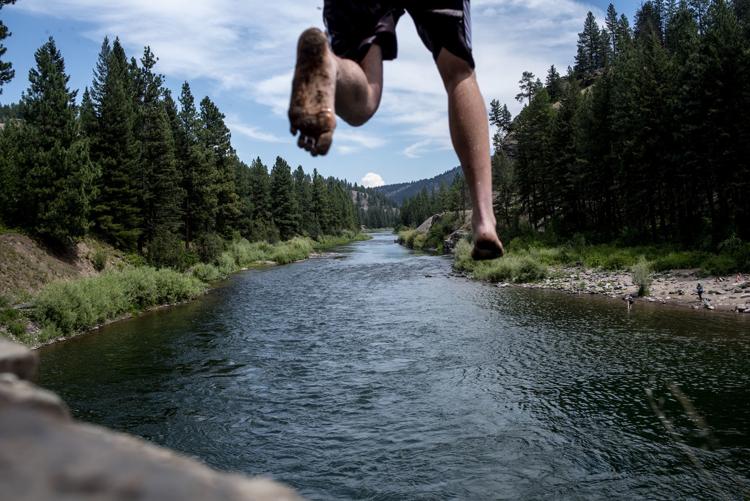 In years past, the Blackfoot has taken lives, but on this day, on this stretch, it offered only sustenance.
Across the river, parents waded into the water to watch the stunt show, their kids flipping and cannonballing into the river.
Ash Kingsley tried to convince her dog, Aslan, to follow her off one of the shorter plunges after he crossed the river with her. Aslan shook the water from his blonde mane and considered it for a moment. With a whine, he backed away from the edge and took the longer way back to the water.
"I've lived here 13 years, and this is my first day coming here," Kingsley said. "It's a lot nicer in person than the Instagram photos I've seen."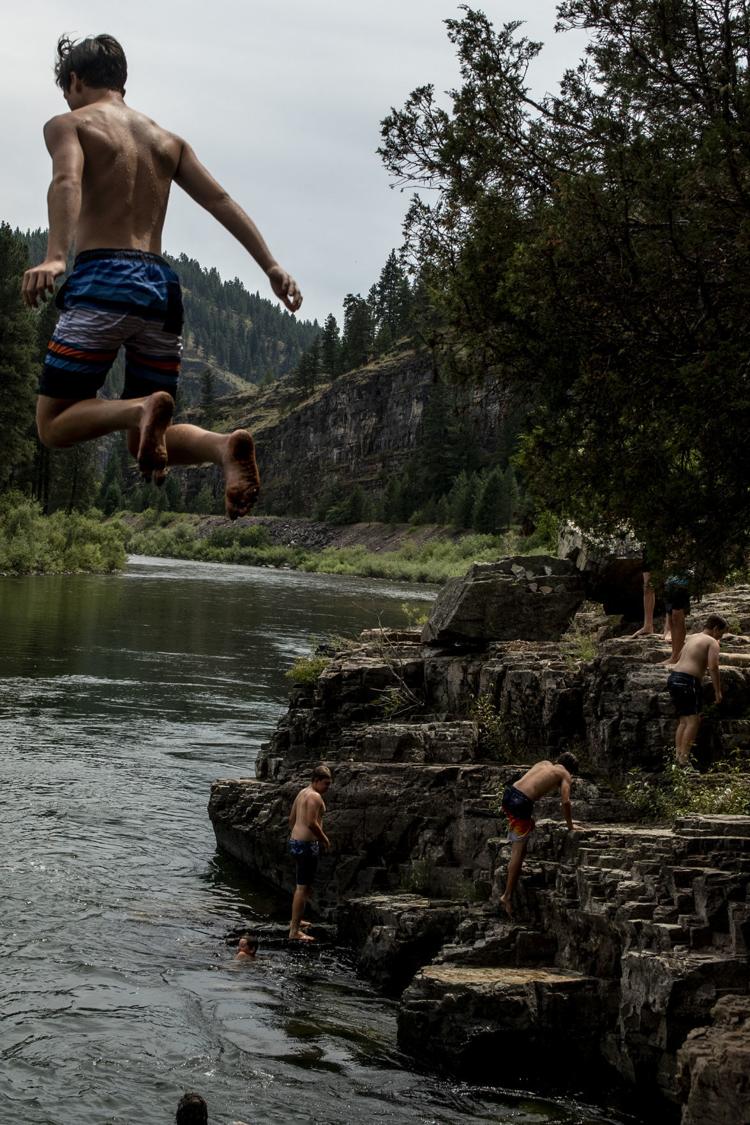 Kingsley, like a lot of people on the river, gets a relief from civilization for the few hours that she spends outside of cellphone reception. 
A drift raft floated past jumpers, its passengers adding to the audience. The rafters put away their fly rods to avoid hooking an eighth-grader. A couple, married a year, sat at either end of the raft while their guide angled them around the jagged bend of rock.
They started their day three hours earlier and a few miles up the river at the Whitaker Bridge.
"This is kind of our honeymoon," said Erik Hansen, as their guide backed their raft into the launch.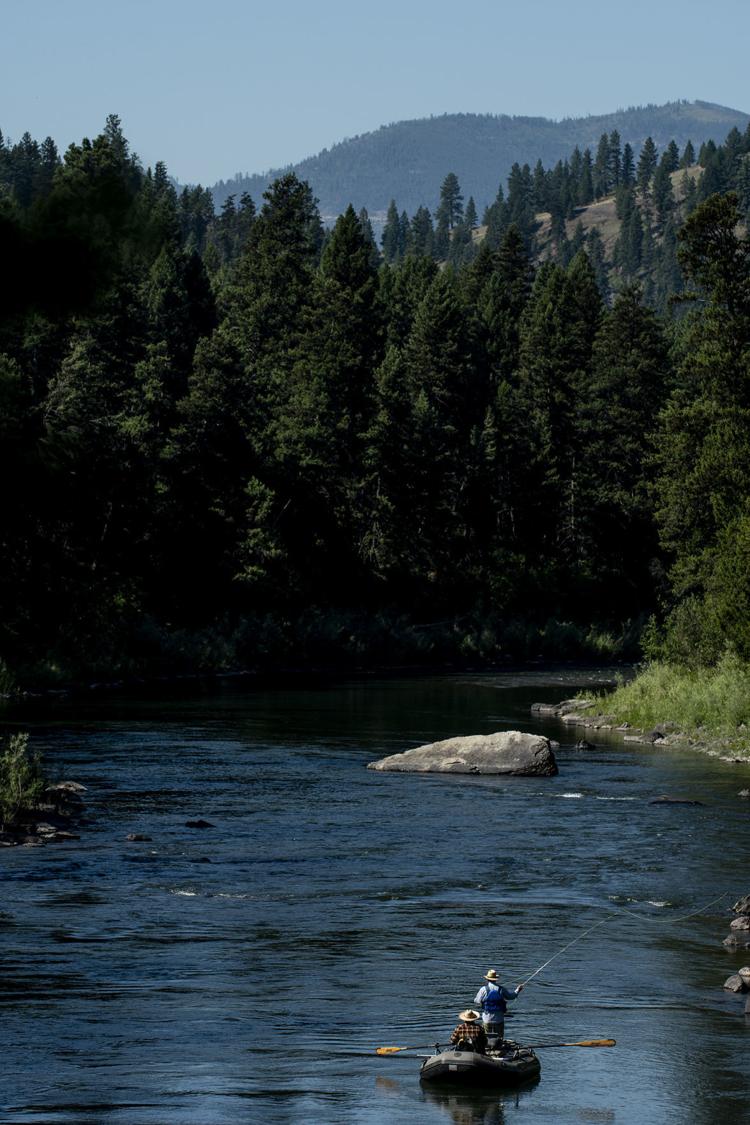 Erik married Hope Henry Hansen a year ago, and a few weeks ago, the couple left their home in Orange County, California, to blaze a trail through the Northwest. Their path took them far away from Disneyland, away from the surfers on Laguna Beach.
Before reaching the Blackfoot River, they crossed the Going-to-the-Sun Road in Glacier National Parks, saw the ice fields outside of Canada's Banff and Jasper National Park, and managed to get a picture of a black bear and yearling "no more than 10 feet from the car."
"I was brought up in kind of a country environment, but I would say I'm a city girl," Hope said. "But this trip kind of brought me back to my roots. And next month, we're going on a similar trip where I grew up in Pennsylvania."
The trip was a homecoming as well as honeymoon for Erik.
He graduated from Sentinel High School, then Missoula County High School, and served as a smokejumper for four years in the 1960s. While he and Hope passed through Missoula, 25 of his former classmates held a reunion.
"I don't think they really wanted to say hello to me. I think they just wanted to meet my new wife," Erik said.
You have free articles remaining.
Despite growing up in Missoula, Erik managed to put off fly-fishing for most of his life. With the help of Chase Robeson of Blackfoot River Outfitters, he and Hope will get a lesson in "fly-fishing 101."
For the past 11 years, Robeson has guided couples like Hope and Erik on the Blackfoot River.
"The river's my office. You can't beat that," he said.
While Erik and Hope got their bearings in the raft, Joel Isaacs and Bill Goslin waited their turn to launch. Gosling busied himself by trying to get a hook threaded onto his line. It didn't want to cooperate.
"I'm going to give it one more try, then you can take it," Gosling said to Isaacs.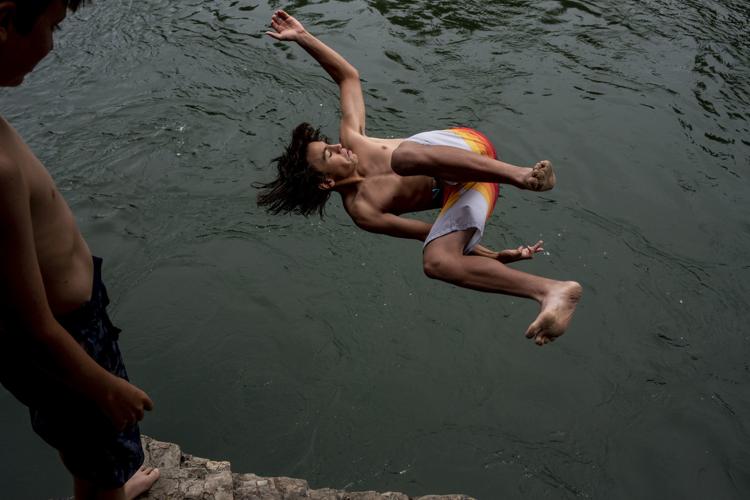 Isaacs, who has come to the Blackfoot for more than three years, helped his father with the clinch knot before loading up the fly rod.
"I haven't fished much in 20 years. I'm out here to get back into it. I can't even thread a hook anymore," said Goslin.
"And that's what he's got me for," said Isaacs.
While Gosling works for the U.S. Forest Service, Isaacs makes his living working with metal. From his shop in Milltown, he takes a plasma torch to 55-gallon drums to create artwork featured in galleries and for local businesses. His customers include Big Sky Brewing Co., El Diablo and Market on Front.
"I have to wear a respirator all day, but out here I get to breathe the fresh air," he said.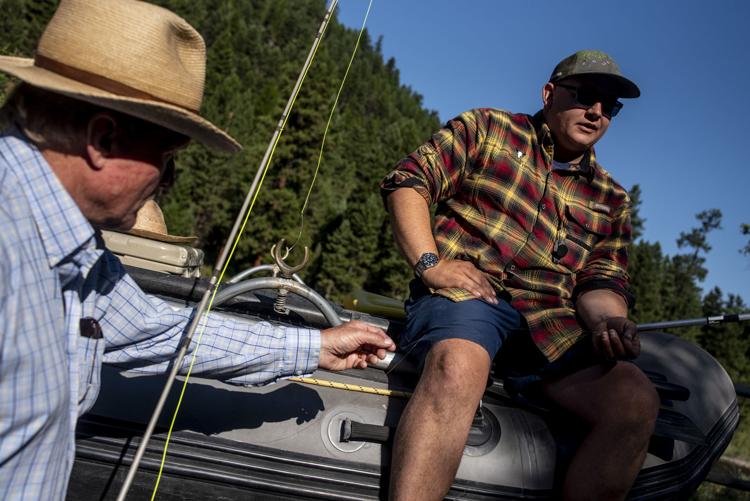 From the Whitaker Bridge, the path forks off onto Ninemile Prairie Road, a rough ride that takes travelers back to Route 200. Ken Mahar, minding the branches of a Saskatoon serviceberry, waded a few feet into the river in the shadow of the highway's overpass.
"I'm going to try a roll cast, since I don't have a lot of room," he said.
Mahar, traveling with his family, said he cast his first line when he was 12. His son, 7-year-old Max, was on his second day of fly-fishing and "already addicted." Casting a few yards downriver from his father, he had a little trouble keeping his line out of the rapids.
Near the launch, Molly Mahar thumbed through "50 Things Wacky Animals Do" with Juliet. Juliet, 5, occasionally wandered off to climb rocks nearby or cross the wooden studs of the launch.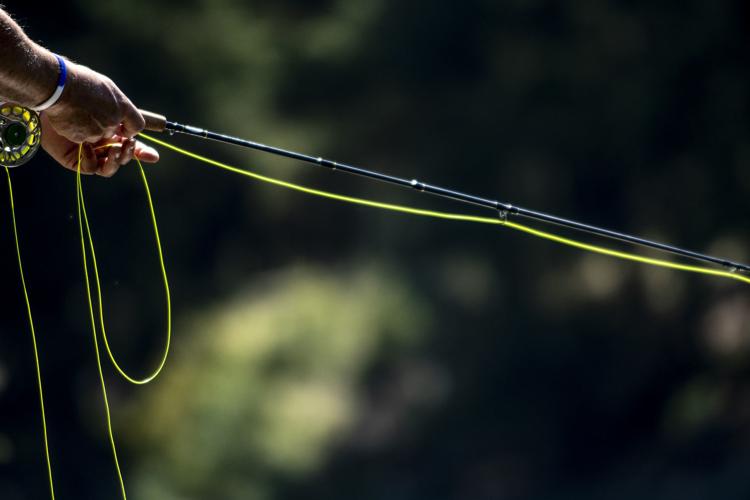 For their summer vacation, the Mahars went on a road trip from their cabin in Washington state, to Helena, and back for Molly's high school reunion.
Wherever the river looked ideal, they stopped and unpacked the fly rods. 
"We haven't stopped nearly as often as I'd like," Ken said. 
While Ken and Max prefer fishing, Molly said she and Juliet are the adventurers. Despite learning how to ford a river and scaling several boulders during their trip, neither made it onto Juliet's list of her favorite things about Montana.
When asked, she said she liked the pizza she ate at Seeley Lake, and the Symphony Under the Stars fireworks show in Helena.
"We've been driving and fishing, and driving and fishing, then hiking and then finding a camp the whole way," Molly said.
So progress had been slow, with not nearly as many stops as Ken would like.
"The lure of the Blackfoot was too much," she said.