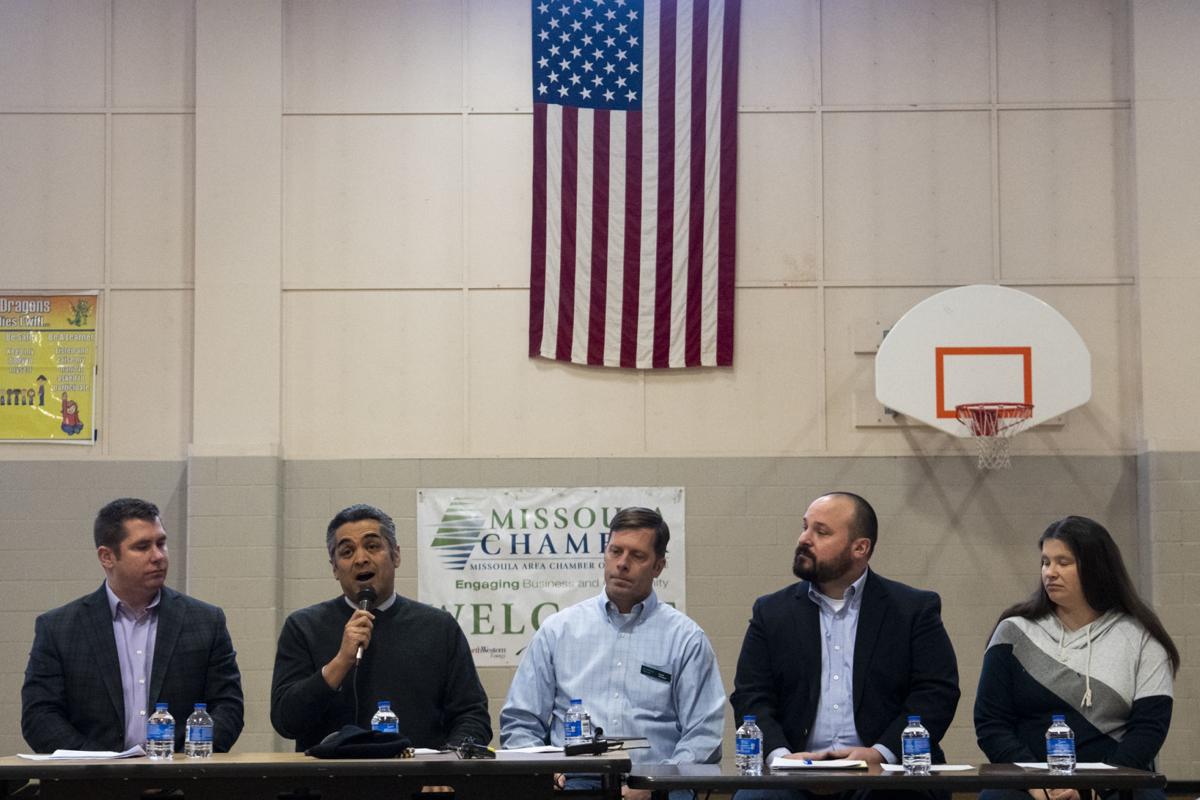 The Missoula Area Chamber of Commerce, Missoula Early Learning Center, Missoula County Public Schools and other partners announced Wednesday that the facility will open in late 2020.
Missoula Early Learning Center already has a child care facility in town, but it has signed an agreement to lease 35,000 square feet in the currently vacant Cold Springs Elementary school. Co-owner Mark Roberts said they'll renovate 14 classrooms along with the cafeteria and library. They plan to have a staff of 55 employees, and will accept kids ages 6 weeks to preschool and may include an after-school program.
The announcement is the culmination of a years-long process by many community members trying to solve a vexing issue in town.
A year and a half ago, the Missoula Area Chamber of Commerce polled its business members to find out what their "pain points" were, and the overwhelming issues cited concerned a workforce shortage. A lack of affordable child care was one of the big reasons why many parents, especially women, were leaving or not entering the workforce.
That's according to Will Johnson, a past chamber board president.
"A fair number of workers are not returning to the workforce due to the scarcity and quality of affordable child care in Missoula," he explained. "As a parent I can attest to how that can weigh on your mind."
The Chamber's survey found that at $637 per month, child care is the fourth-highest expense for a family behind housing, transportation and food, and it's even more expensive during the infant years.
Rob Watson, the superintendent of MCPS, said the construction of a new Jeannette Rankin Elementary School paid for by the Smart Schools 2020 voter-approved bond gave the district the option of finding a new use for Cold Springs.
"The school board is always looking for ways to repurpose facilities with a compatible use for neighborhoods," he said.
He also stressed the importance of pre-kindergarten education.
"It warms my heart to know this facility will be reused for kids," he said. "And community partnerships are important to us."
Todd Schaper from architecture firm Cushing Terrell and his team have been working closely on the issue alongside the Chamber.
"It's exciting for me from a different perspective, the adaptive reuse for a building my kids went to," he said
Roberts said his three business partners, Dana Lozier, Tess Reese and Kate Graham, have been instrumental in the planning process. Their business has been open for three years, and he said the new facility will create 120 new openings for child care in Missoula that don't exist now.
He said the cost of child care at the new facility will be roughly $850 per month for five-days-a-week of care.
"Our goal is to drastically change the rate of increase that happens typically over the course of the years," he said. "We want to expand on infant and toddler space as well because we know that is financially burdensome."
The new facility will have between 48 and 60 infants, he explained. They also hope to have 40 kids enrolled in an after-school program. Each of the 12 classrooms will be brought up to code and will have tiny toddler toilets installed, he said. They hope to begin serving clients in September or October of this year.
Kim Latrielle, the CEO of the Missoula Area Chamber of Commerce, recently attended a White House summit on child care that was attended by Ivanka Trump and President Donald Trump. The Chamber's work has been recognized by many different government agencies, including the Federal Reserve.
"This would not have happened without the spirit of collaboration, relationships and trust," she said. "We've accomplished some great things."
Get local news delivered to your inbox!
Subscribe to our Daily Headlines newsletter.