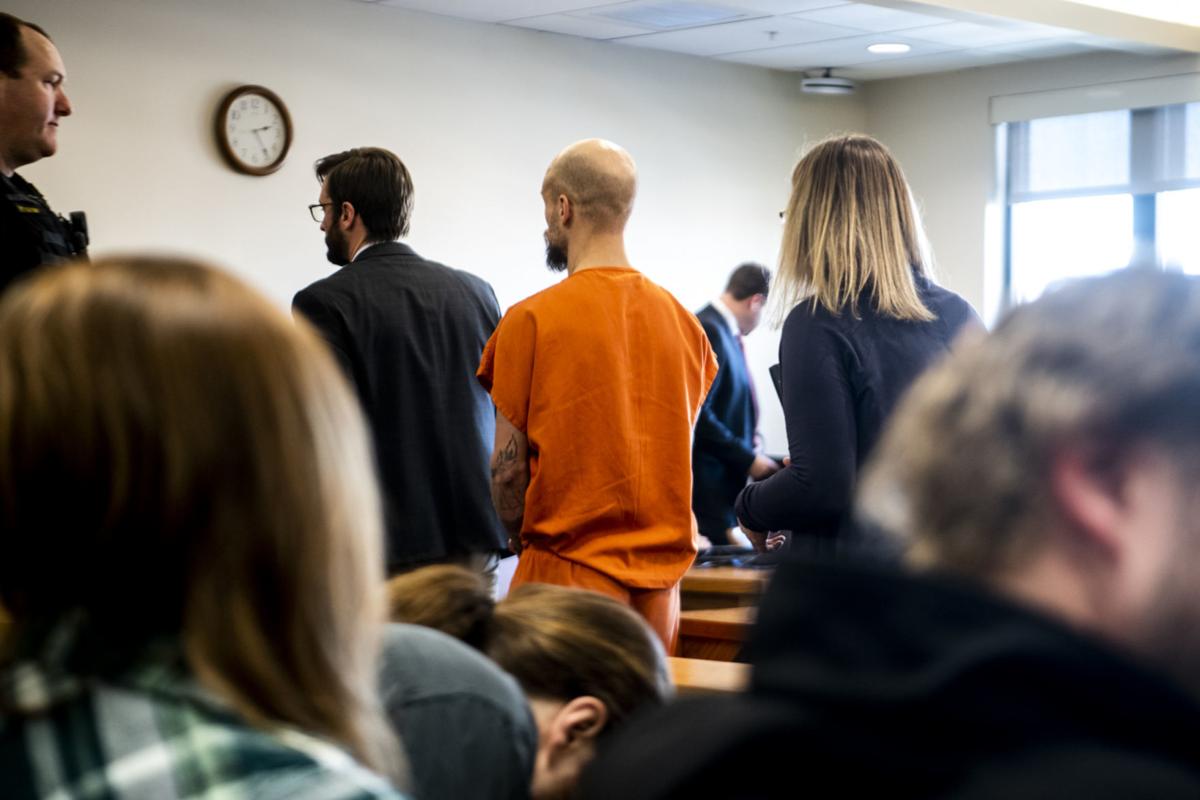 Attorneys for a 34-year-old Missoula man are building up a First Amendment defense for their client accused of threatening Missoula City Council members, arguing the charges are meant to stifle public discourse. 
The courtroom gallery was packed with Bryant's supporters, including his mother, for Thursday's hearing, while pairs of deputies from the Missoula County Sheriff's Office stood watch near each courtroom doorway. Bryant, standing between two public defenders, said little during the hearing — a contrast from his last hearing, in which he spoke at length against his attorney's advice — but smiled as a few supporters called out to him when he was led out of the courtroom.
Earlier on Thursday, Robin Hammond, Bryant's lead public defense attorney, filed a 16-page motion to dismiss the case, arguing prosecutors had not secured enough evidence to charge Bryant with threatening officials. In part, she argued prosecutors have not proven the YouTube account carrying the video in question belongs to Bryant. Since his initial appearance, Bryant claimed to be the victim of a stalker who posted his videos to an account titled Pick Your Battles.
During the hearing, Hammond lobbied District Court Judge Shane Vannatta to lower Bryant's bail, set last week at $100,000, arguing Bryant has no criminal history. She also spoke about much of the material included in the motion to dismiss the case. Hammond argued Bryant had indeed taken up a dissent against local officials for the city's use of Tax Increment Financing.
She also spoke about Bryant's "international celebrity" stemming from his acts as a whistleblower and said such activism had drawn acclaim from around the world.
"Since we were appointed to this case we have fielded phone calls, international phone calls, asking about his well-being," Hammond told Vannatta. 
"We're looking at a charge that really implicates First Amendment rights," she added. "A charge like this has a detrimental impact on every Missoulian who is in the position of wanting to show up at the Missoula City Council and wants to speak out against what is going on."
Missoula County's chief criminal prosecutor Matt Jennings requested Vannatta hold Bryant's bail at $100,000 for concern of public safety. In the YouTube video mentioned in charging documents, Bryant speaks about the City Council, adding "those people who have wronged others … will be eliminated."
"This isn't the time or place to argue the merits of the case," Jennings said. 
Jake Coolidge, another public defender on Bryant's case, said he had been in contact with Veterans Affairs staff to help handle Bryant's disabilities if released from jail ahead of trial. Additionally, Coolidge said Bryant would abide by previously set conditions, which prohibits him from contacting City Council members in any way.
Vannatta declined to lower Bryant's bail on Thursday, so Hammond asked for the earliest possible trial date, April 27. The move essentially limits the amount of time for prosecutors to gather more witnesses and evidence tying Bryant to the video, rather than waiving Bryant's right to a speedy trial, which would allow the defense more time to bolster its defense. 
Jennings, during the hearing, said he was happy to set an early trial date.
Vannatta tentatively set Bryant's trial for April 27; three others are in line for trial ahead of Bryant, he added. The parties agreed to a backup trial date of May 18. 
Prosecutors have until Feb. 28 to respond to Bryant's motion to dismiss.