Mapping the future: Fire progression files help forecast tactics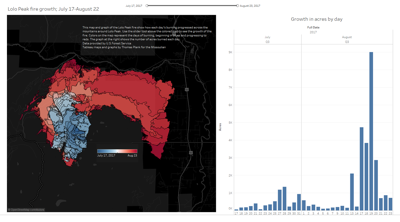 Many Missoulians will never forget watching the Lolo Peak fire race along its namesake mountain last week.
From a computer's perspective, the outbreaks on Aug. 17 and 18 look no less impressive, if somewhat detached from the drama of after-dark evacuations and homes burning to the foundations. And thanks to the expanded real-time capabilities of modern mapping, fire behavior specialists have magnified their ability to turn yesterday's progression into tomorrow's prediction.
"I used to do manual calculations — that's how old I am," said Tobin Kelley, who started fighting fires in 1979. He switched to fire behavior analysis for the U.S. Forest Service in 2008, and has been enduring annual equipment obsolescence and upgrades ever since. This week, he's finishing up a rotation on the 25,540-acre Sunrise fire near Superior.
"Fire progression mapping has been around for decades," Kelley acknowledged. "We used to do it with hand mapping, where you drive around and draw lines on a map. We've had infrared capability on planes for about 15 or 20 years. Now what happens is we get an IR flight, it automatically draws lines in GIS (geographic information system), which gets downloaded to an FTP (file transfer protocol) site, and we have it ready for the morning briefing."
Such predictions justified assigning a Type I incident command crew (one of the most experienced in the nation) to the Lolo Peak fire when it was just 200 acres in a roadless fringe of the Lolo National Forest. At the time, the Sunrise fire was several times larger but managed by a smaller Type II incident command.
Lolo Peak fire spokesman Mike Cole said the projections made at the time came out "right on the money" as far as risk to the Highway 12 corridor, Lolo, Traveler's Rest and Florence areas.
On the Sunrise fire, much of the early growth followed wind events after the initial lightning strike. But after those first weeks, expansion came from burn-out operations triggered by drops of plastic sphere dispensers — like ping-pong balls filled with napalm that can be spread by helicopter. The PSD fires scorched hillsides under semi-controlled conditions so that an uncontrolled fire won't have fuel to burn when it arrives there.
"They light those late in the evening, let them burn all night and let it back down into a creek bottom," Kelley said. "That's a little different from how some fires spread. A lot of the times the wind pitches around the ridges, runs along the ridgeline, and then drops off and backs down into the creek bottoms. But you don't often see that progression unless you're mapping every six hours."
As forest fires hopscotch around, they often leave islands of unburned trees deep inside the perimeter. Given certain wind conditions, those islands can ignite. The fire mappers have spotting distance models that predict how far a burning ember might drift from its flaming tree. That might reveal a threat inside the fire line that could endanger firefighters outside the line and downwind from the island of trees.
While larger fires like Lolo Peak and Sunrise have a crew of fire behavior specialists in camp, they also rely on a central Decision Support Center for heavier analysis. Like an air traffic control tower, the Decision Support Center in Missoula's Lolo National Forest headquarters crunches weather reports, topographical images and historic fire patterns. That gives incident commanders blocks of facts to build into strategies.
"A fire gets a signature when it's burning in similar fuels and weather as previous fires," Kelley said. "One part of the Sunrise fire in Quartz Creek is not growing real fast. Maybe one- or two-tenths of a mile per day. That's consistent, which helps persistence probability forecasting."
In other words, as long as the kinds of trees and slopes of hillsides don't change, the fire will predictably move at that same daily rate. Change those factors, like Kelley saw on a fire in Oregon recently, and the fire might accelerate to a mile a day or more.
"Then we adjust our models," Kelley said. "When you start burning more in four days than the model was saying, you have to recalibrate. You really have to ramp things up in your model."