Nearly 300 people showed up at an open house on Monday to learn about the $29 million project to replace the Russell Street Bridge and reconstruct a portion of that road south of the Clark Fork River.
That's according to Katie Klietz of Big Sky Public Relations, the firm hired to manage public communications for the huge undertaking, which will disrupt traffic for the next 18 months as the high-traffic road gets a thorough makeover.
By the time the whole thing's finished in December 2019, there will be a new five-lane bridge instead of the current two lanes, crossings along the riverbank under both the south and north ends of the bridge, a new pedestrian/bike tunnel under Russell at the Milwaukee Trail crossing, a new traffic signal at the intersection of Wyoming and Russell, and a new five-lane road from the bridge to South First Street that will include a tree-lined median, sidewalks and bike lanes. 
The project will also incorporate utility upgrades, enhanced traffic control, lighting, trail connections, pedestrian "refuge islands" and landscaping that's been designed with consideration of the area's high traffic volumes, crash history and increasing bicycle and pedestrian usage. No longer will cars be able to turn left from River Road onto the Russell Street Bridge, for example.
"When we're all done we're going to have two lanes in either direction, a dedicated left turn lane, and we're going to have a new signal at Wyoming that's going to be a huge improvement," said Bob Vosen, the Missoula District Construction Engineer for MDOT. "We're going to have a wider, safer bridge and shared-use paths throughout.
"We're going to be putting in the underpass for the Milwaukee Trail, which is a huge conflict point. Overall we're upgrading the bike lanes so they'll be raised bike lanes for commuters. Everything's going to be a safer road, it's going to be a nice clean-looking road when we're done, and it's going to be much more efficient for traffic."
The first half of the new bridge will be built upstream of the existing bridge, so the current one will remain open to traffic. When the first half is finished, it will be opened to traffic while the old one is demolished and the second half is put in. Traffic will continue to flow on Russell, and Vosen said his team is doing everything possible to mitigate disruption for travelers. There will be a detour for bikes and pedestrians on the Milwaukee Trail while the tunnel is being constructed.
"We're going to be pushing people to the west," Vosen said. "Other than that, undoubtedly there's going to be delays. It's a tight, confined space with a lot of traffic.
"We've got a lot of work to do, so if there's an alternate route people can take, we encourage them to do that. It will help the process. But if they have to get through or live in the area … we'll be maintaining it for traffic. But they should expect delays."
You have free articles remaining.
Vosen said there is a major relocation of power infrastructure, as well.
"NorthWestern Energy's got another route where they're putting in some supplemental power over on Reserve Street to give them another way to feed the neighborhoods," Vosen said. "While we're working on the bridge out here, the proximity of the power lines here are pretty close to where we need to work, so for OSHA regulations we have to deactivate those lines. So a key component is having that back feed method so people won't be without power."
Right now, utility work and irrigation work are taking place. The new five-lane Russell Street will taper back into a three-lane road as motorists are traveling southbound toward the intersection with Third Street when the project is completed.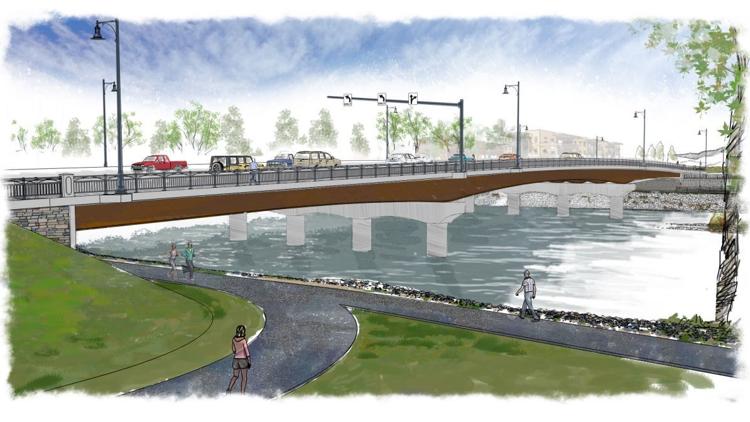 "We don't go all the way to Third like a lot of people have been asking about," Vosen said. "We're stopping short of Third. That'll be future projects."
Shane Stack, a Missoula project engineer with MDOT, said the Milwaukee Undercrossing will include paved trails, updated signal devices and a 106-foot arched and lit tunnel. Renderings show it looking quite a bit nicer than the undercrossing at the Orange Street Bridge.
Stack said he's gotten a variety of questions about the project.
"People are very interested in what's going on," he said.