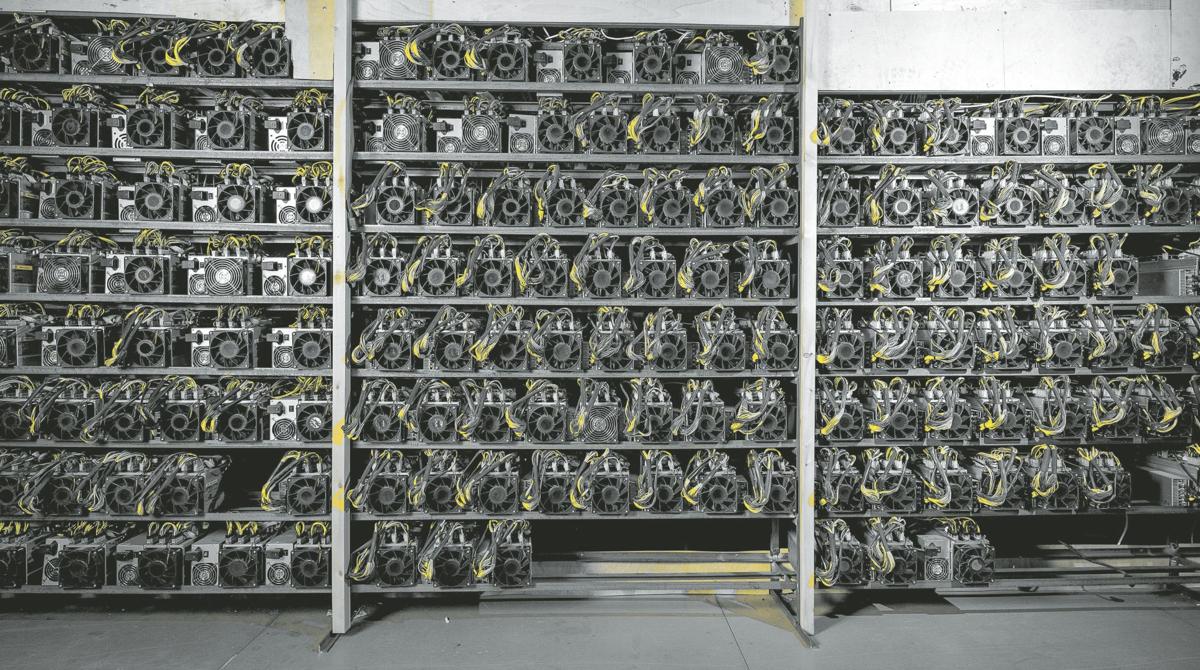 Those mysterious bitcoin crypto mining centers are up and running in Bonner and Butte, and Montana is being deluged with pitches for more.
"We've had at least 20 different proposals since about the first of the year," NorthWestern Energy spokesman Butch Larcombe said last week. "I talked to our economic development guy and this is the No. 1 thing that's got them hopping these days."
Project Spokane's operation at Bonner was the state's first and one of the largest, if not the largest, in North America. It has 12,000 toaster-sized computer servers inside the immense old planer building alongside Highway 200, and 450 fans to keep them from overheating.
CryptoWatt Mining LLC of Montana started operations on March 14 with 2,000 servers at a site south of Butte that was formally known as the Mike Mansfield Advanced Technology Center.
Both operations have submitted plans to expand as, and if, the volatile cryptocurrency market allows.
The electricity required to power all those servers and to keep them cool is mind-boggling, and Montana energy providers and regulators are holding their collective breath as the scene unfolds.
Two men identifying themselves only as Mark Thomas and Blain Thomas emailed the Missoulian late last month to complain about what they called NorthWestern Energy's unwillingness to work with them.
"We have put together containers that are the size of shipping containers and house anywhere from 250-500 miners (servers) that can be hooked up ready to go," wrote the men. "The problem is NorthWestern Energy is running any potential operations out of the state with high costs."
The Thomases left no phone number, and multiple attempts to reach them via email went unanswered.
While Larcombe said he couldn't comment on specific potential customers, he acknowledged NorthWestern had been dealing with a proposal for server containers.
"It's not the typical sort of bitcoin operation. Most are for larger server capacities," he said. "But they still have to hook up, and there's an expense for that. That's why we ask for a deposit."
It's standard to ask new customers with no previous credit history with NorthWestern for a deposit of two times what their estimated monthly electric bill will be.
"That's for a customer building a new house or for somebody who's going to use 5 or 10 or 15 megawatts in a year," Larcombe said.
Larcombe said NorthWestern hasn't heard back from the proposers of the container idea.
Almost by happenstance, Montana turns out to be a gold mine for bitcoin miners.
Larcombe said some of the proposals to NorthWestern have been in the Frenchtown-Missoula area, some around Butte and Anaconda.
"We've even had one in south-central Montana, in the Broadview area," he said.
They're attracted first by the heady spike of bitcoin in December, when the value of one digital token reached nearly $20,000. Since then it has plummeted below $6,000, rebounded to around $10,000 and appears to be settling — to the extent it ever settles — at between $8,000 and $9,000.
There's money to be made in digital mining, which is best done in a cool, dry climate like Montana's, with access to high-speed internet. Steve Nelson said he and Mike Boehme, co-owners of the Bonner mill development site, didn't fully realize the value of having fiber optic lines that run past the mill until Project Spokane came around.
Most attractive in Big Sky country is cheap power. In a sense, all those servers that work nonstop to solve complex math equations and produce digital coins for investors are mining the commodity of electricity.
The computer power it takes to create one token consumes "at least as much electricity as the average American household burns through in two years," the New York Times reported in January, under the headline "There Is Nothing Virtual About Bitcoin's Energy Appetite."
Each day it takes as much power to run the worldwide bitcoin network as some medium-size countries, the Times said, citing Morgan Stanley and economist Alex de Vries, who tracks energy use in the industry.
"And the network supporting Ethereum, the second-most valuable virtual currency, gobbles up another country's worth of electricity each day."
NorthWestern Energy doesn't sell power to Project Spokane or to CryptoWatt. Most of the regulations that were stripped from the energy industry by the Montana Legislature in the 1990s have been reinstated, Larcombe said, with one notable exception: Users of more than 5 megawatts of power in a year can and do find their electricity from wholesalers on the open market.
That's a lot of electricity, more than any other business in the Bonner complex uses, Nelson said.
The reported capacity of electricity at CryptoWatt's Butte operation is 3 megawatts, enough to enable the 2,000 servers to mine crypto coins around the clock, seven days a week. According to the Montana Standard, the company is putting $62 million into its Butte project this year. That includes upgrading the substation to provide 64 megawatts, up from the current 20.
The brunt of those costs will be borne by CryptoWatt, not NorthWestern consumers.
NorthWestern has a line extension policy that allows the company to absorb the costs of adding transmission lines and substation upgrades by passing it on to consumers, said Christopher Puyear, spokesman for the Montana Public Service Commission. "But if the cost exceeds what basically is the allowance that NorthWestern has, then that customer is responsible for paying the excess."
Puyear said energy rates are broken into customer classes such as residential, commercial or small business, and industrial. Crypto mines belong in the heavy industrial class.  
"Upgrades related to additional commercial loads are spread among customers of that class," Puyear said. "What's absolutely not happening is Grandma is not paying for the bitcoin mine down the street."
A request Friday for information from Project Spokane on its energy needs received no response. Nelson said the costs are enormous.
"It wouldn't surprise me if they had to put up a couple hundred thousand dollars" as a deposit to use and enhance NorthWestern's substation and an extra transmission line across the Blackfoot River, he said.
"I don't know the number, but it was substantial," said Nelson. "I know sometimes those bills in the very beginning are sometimes $50,000 or $100,000 a month. NorthWestern Energy needs that deposit to make sure they've got enough up front to be covered if they don't stick around."