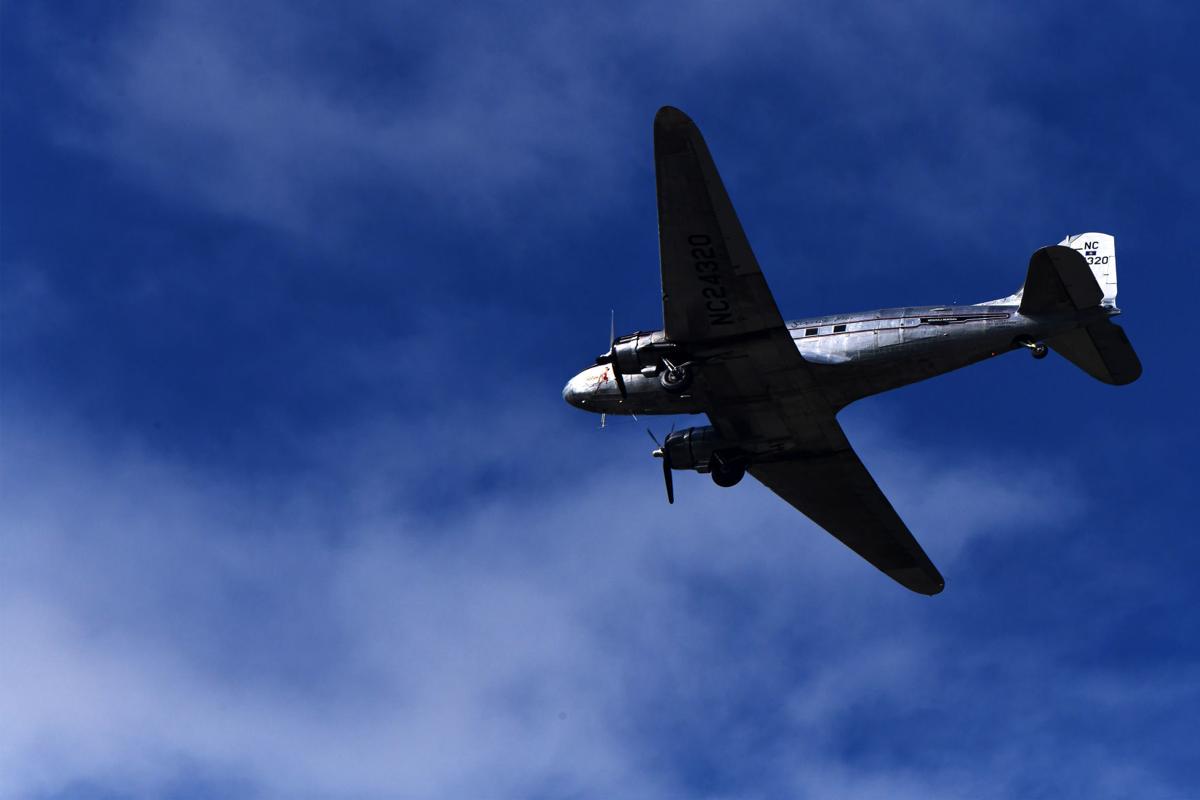 Eyes were on the skies for an approaching storm Wednesday as the Miss Montana airplane crew prepared for a Thursday departure from Missoula International Airport.
"Everybody's working their butts off trying to get out of here tomorrow morning. I guess it's going to be weather-dependent," said Eric Komberec, president of the Museum of Mountain Flying and chairman of the Miss Montana to Normandy project.
Komberec said as of shortly after 6 p.m. Wednesday, liftoff was planned for around noon.
"With weather and whatnot it will be a quick dash," he said.
The DC-3/C-47, once a cargo, smokejumper and charter carrier airplane, flew for the first time in 18 years on Sunday. The tentative first destination is Rapid City, South Dakota, for a refueling stop. If all goes well, the crew of 6 to 8 will overnight in Wichita, Kansas, then make two more stops en route to the final U.S. destination of Oxford, Connecticut, on Friday.
There, Miss Montana is scheduled to join up with more than a dozen other "Dakota" warbirds comprising the D-Day Squadron for a Saturday flyover of the Statue of Liberty. They leave Sunday, weather permitting, for a week-long trip to Duxford Airfield north of London. They'll join the entire international C-47 fleet for the final leg to Caen-Carpiquet Airport in Normandy, France, to commemorate the 75th anniversary of D-Day in World War II.
The cross-country flight roster includes chief pilot Jeff Whitesell and Komberec; fellow pilots Bryan Douglass and Art Dykstra, as well as mechanics Randy and Crystal Schonemann. 
An early departure would be best, said meteorologist Bob Nester at the National Weather Service on the other end of the airport.
"The earlier the better as far as avoiding thunderstorms tomorrow," Nester said Wednesday afternoon. "They're not getting here until maybe 1 or 2 o'clock. Then everything gets pretty crazy." 
The storm line to the east will follow a line to the south of the Musselshell River through Central Montana. Bozeman, Billings, southeast Montana, northeast Wyoming and the Rapid City area in western South Dakota are all expecting potential thunder showers of varying severity.
"Farther to the north would probably be the safest route, at least tomorrow," Nester said.
Miss Montana has gotten in several hours of air time over the past three days. On Tuesday, it dropped seven skydivers onto an open field in Plains to allow the jumpers to update their certification. Fifteen jumpers are certified to jump from Miss Montana in England and France, according to jumpmaster Al Charters of Missoula.
Video of the jumps, photos and other information are on the Miss Montana to Normandy Facebook page.