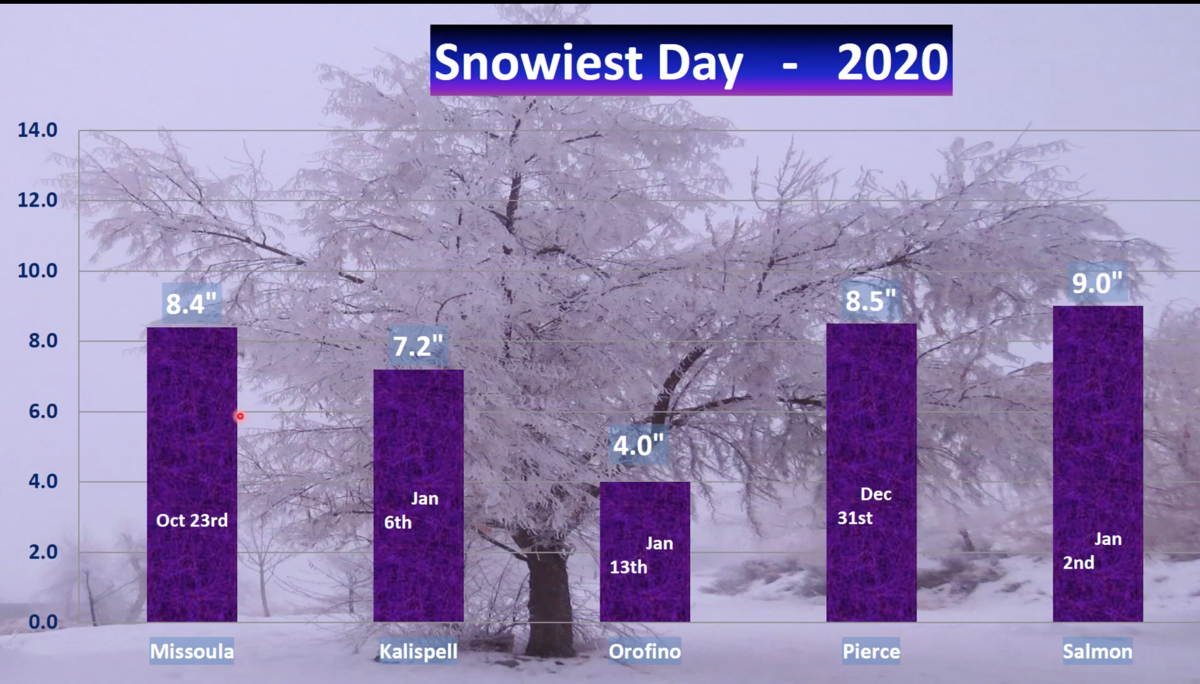 November isn't usually time to plant flowers, but then 2020 wasn't a usual weather year in western Montana.
Data from the National Weather Service shows that Missoula's weather was both a bit warmer and snowier than usual. That paid off for Tracy Potter-Fins, owner of County Rail Farm in Huson just west of Missoula.
Potter-Fins said the warm winter allowed her to plant about 300 peonies in November, which usually is out of the question because the ground is typically frozen by then. Potter-Fins said she closed up shop for the winter following 2020's October snowstorms, but added that wasn't much of an issue because there was not the usual September cold snap she has come to expect.
Those October blizzards did highlight the year's statistics. October 23 was the snowiest day of 2020 in Missoula with 8.4 inches of snow, which came amid record-breaking heavy snowfall across western Montana. Widespread dumps of nearly a foot were reported on Oct. 23 and 24. Potomac reported a snowfall of 18 inches on Oct. 23, which is the highest 24-hour deposit for snowfall since records began in 1964, according to a video posted by NWS. In the following days, nearby areas reported their all-time coldest temperatures for the month of October, including 29 below zero in Potomac, 10 below at Seeley Lake and 7 below at Lindbergh Lake. Missoula experienced its coldest day of the year, at negative 7 degrees, on Oct. 25.
"We had a very unusual storm hit us and a lot of snowfall records were broken," NWS meteorologist Dave Noble said. "And then that cleared out and we had some cold records as well."
In October, Missoula's snowfall totaled 14.2 inches, which is 13.6 inches above average for that month. Despite less snow than normal in November and December, Noble said the average snowfall for 2020 is on par with an ordinary winter because of the extraordinary October snowstorm.
"If we didn't have that snow event, our snowfall amounts probably would be below normal," Noble said. "We've been pretty mild (with temperatures) so far. November was slightly above normal. December was almost four degrees above normal. It was a warm month. I mean, people were talking about how sunny it was."
Missoula experienced an average temperature of 46.4 degrees during 2020, which is 0.5 degrees warmer than the average of previous years, according to Noble. The month of December was also warmer than usual, with an average temperature of 27.8 degrees. That's 3.9 degrees above normal.
Noble said snowpack in the mountains is also near normal for this time of year. After October, much less snow followed in November and December. The 4.7-inch average snowfall for the month of November was 0.7 inches below normal and the average snowfall for December of 4.8 inches was 0.63 inches below normal, Noble said.
Missoula experienced near-normal precipitation this year, with a total of 14.13 inches from January through December, which is 0.16 inches above average.
Noble said the La Niña winter forecast earlier this winter that was expected to bring more snow and colder temperatures to the Northern Rockies could still be coming in 2021. But he also said it's possible that the seasonal outlook won't pan out. Noble said other factors can impact the winter conditions such as water temperatures in the Atlantic or the number of typhoons that occur in the Pacific.