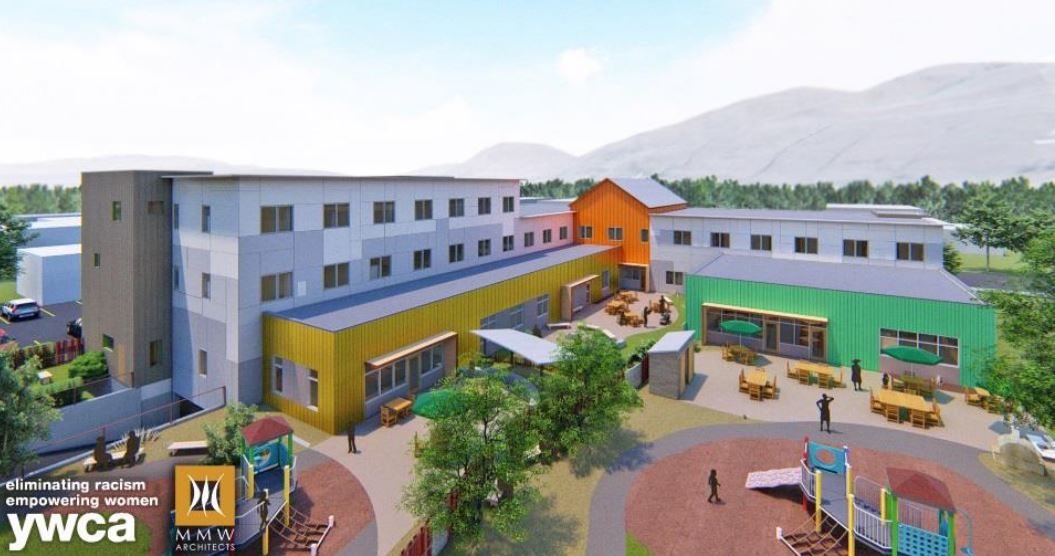 Missoula nonprofits and taxpayers are stepping up to help house those seeking respite from domestic violence and homelessness.
At its January meeting, the Missoula Redevelopment Agency's board approved up to $144,404 in Tax Increment Financing to assist the YWCA Missoula in building a new, $10.9 million emergency shelter in the central part of town.
The nonprofit organization is planning to construct a 36,000-square-foot facility at 1800 South Third Street West.
It will include a domestic violence shelter capable of securely housing up to 13 individual families with children. And it will have a central facility jointly operated by YWCA and Family Promise that will be able to provide shelter for up to 31 homeless families each night.
The project also will include a service center made up of offices, meeting rooms and program space for counseling, support groups and a walk-in crisis center.
There will also be a common kitchen and dining area along with recreation and living space on the ground floor. Two play areas for children will be installed in a large, landscaped courtyard and it will include 75 parking spaces.
"This project directly impacts the unmet need in Missoula to shelter and feed the most vulnerable of the community's homeless population," said MRA assistant director Chris Behan in a memo to the MRA board. "It will not erase the problem, as there is an average of 50 homeless families each night in Missoula and this project can shelter 31 of them. However, it is a major step to protecting families with children and both individuals and families who are the victims of domestic violence."
Because YWCA is a nonprofit and is exempt from Montana property taxes, the project won't generate additional property tax for the Urban Renewal District II in which it sits.
Behan told the board the project will create approximately 10.5 new jobs and the redevelopment of formerly blighted industrial land could draw investment attention to the area. The main reason he believes the MRA should commit money to the project, however, is not financial.
"The project allows services, training and resources to be more efficient and focused on solutions to the underlying causes of homelessness for some families and rebuilding lives shattered by violence," he said. "Although the project will not generate tax increment, (MRA) staff believes the benefits it generates for the public are well deserving of MRA support. The amount of TIF funds requested are small relative to the total project cost, but are key to making the project become a reality."
Michelle Cares, a Missoula city council member and a YWCA board member (although she's currently on sabbatical) said the funding from the MRA is critical to make the project happen.
"It was absolutely essential," she said. "In a multi-million dollar project like this, every large chunk that can move the project forward is critical to the success of the project."
Cares said that although the new shelter won't "solve" Missoula's homeless problem, it will be a big help.
"It will address the challenges," she said. "Folks will still be experiencing homelessness and domestic violence, but this is anticipated to meet the need for the next 30 years. It will have a flexible space to dedicate to different programs should needs change in an unanticipated way. It should absolutely provide for our community's domestic violence and homeless needs for the next few decades."
Construction is expected to begin in the summer of 2020, Behan said. The property is located near Sussex School, about two blocks west of the Good Food Store.
Behan noted that the YWCA has completed several projects in Missoula and has a history of success.
"For decades the YWCA has been the primary provider of services in Missoula for victims of domestic violence," he explained. "Its innovative security and job training programs are a model for other cities in Montana and the region. It is highly likely that the new shelter facility will continue to be at the forefront of confronting domestic violence and assisting the victims in rebuilding their lives."
Melanie Brock, a member of the MRA board, said the five-member board unanimously agreed to approve the money because it addresses a critical community need.
"City-wide, there's very strategic work being done right now to help with the homelessness problem in Missoula," she said. "So having this family shelter and domestic violence shelter is going to take real actual steps and bring us a long way to bringing resources to the people who need it most. It fits perfectly with what everyone is trying to do right now."
Brock called the designs for the new building "beautiful" and said the area west of Russell Street is quickly turning into an "exciting" part of Missoula because of new development taking place. The MRA funding will partially be used to construct new sidewalks and curbs at the site.
"A facility of this caliber and with the partnerships involved is absolutely everything we want to see as a city," she said. "What we're hearing from residents and public servants is everyone wants to see more resources to help with housing and domestic violence, and this fits perfectly. That area of town is going to benefit so much. We're putting a lot of investment in to reinvigorate an exciting part of town."
Get local news delivered to your inbox!
Subscribe to our Daily Headlines newsletter.