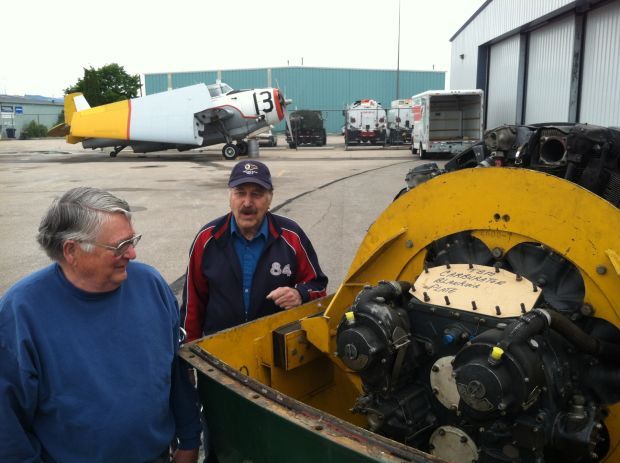 Bernie Wryn and Mel Guerrera spent a week and drove 3,000 miles to haul a worn-out airplane engine to Missoula.
It's going to replace an engine in a World War II plane that flew here under its own power.
"When we bought the TBM Avenger, they also threw in an extra engine and an extra tank," Museum of Mountain Flying director Stan Cohen said on Thursday. "Obviously, we couldn't put them in the airplane when they flew it here. And then I forgot all about it."
But last fall, the folks at the Miramichi airport in New Brunswick, Canada, decided to clean house. They called Cohen and asked him to pick up his leftovers. Cohen did some antique math.
Antique in the sense of what makes sense for a museum display. It's likely the fold-wing torpedo bomber will never need to fly again – not even in its second career as a Johnson Flying Service slurry bomber for forest firefighting. So it doesn't really need an operating engine.
The dead spare engine was already paid for. And the live one might be worth around $40,000 in the antique warbird market.
"It's an option for the future," Cohen said. "We're not going to be around forever running this museum. Maybe we'll sell it if we want, but we don't have to."
The Missoula-based Johnson Flying Service sold the Avenger to New Brunswick's Forest Protection Ltd. in 1974. The Canadian company used nearly 100 of the planes for retardant bombing as well as insect spraying for the next four decades.
In 2011, Forest Protection put its remaining six Avengers up for auction. The Museum of Mountain Flying successfully bid on plane A-13, and took delivery that October. More than 60 former Johnson employees and Army Air Force veterans came to welcome it back to Missoula. Guerrera and Wryn were in the crowd.
Guerrera used to fly helicopters for the Johnson Flying Service. Wryn was a mechanic for the company. His name is painted on the side of a Johnson DC-3 smokejumper plane now sitting in the museum. The duo volunteered to complete the delivery last week.
That involved flying to Bangor, Maine, where they rented a heavy-duty U-Haul truck. They drove 300 miles to Miramichi, on the northeast corner of the province looking out at the Gulf of St. Lawrence.
"Going out, when we got to the Canadian border they had some pretty serious questions," Wryn said. "They were wondering why we were coming in with an empty truck."
Meanwhile, Cohen was completing stacks of paperwork necessary to get a run-down plane engine through U.S. customs. The first thing he needed was a letter from the manufacturer explaining the engine's purpose.
"Curtiss-Wright (the World War II manufacturer) is still in business," Cohen said. "I called their P.R. department and explained the situation, and never heard from them again. So I just told customs that wasn't happening."
He also had to assure the Environmental Protection Agency the engine wasn't a hazardous substance, and fill out North American Free Trade Act forms stating the engine wasn't part of some aircraft business deal. He had to register the truck's vehicle identification number and insure Guerrera and Wryn for the drive.
It took a day of jury-rigging to load the 4,000-pound engine into the U-Haul and then secure it so it wouldn't shift or crash through the panel walls. It came stored in a custom-made steel container, which they left unsealed so inspectors could confirm they weren't hauling drugs.
Coming back was almost as sticky, until a supervising customs officer got involved.
"The guy turned out to be an aircraft nut," Wryn said. "He didn't inspect it – he wanted to see what it did."