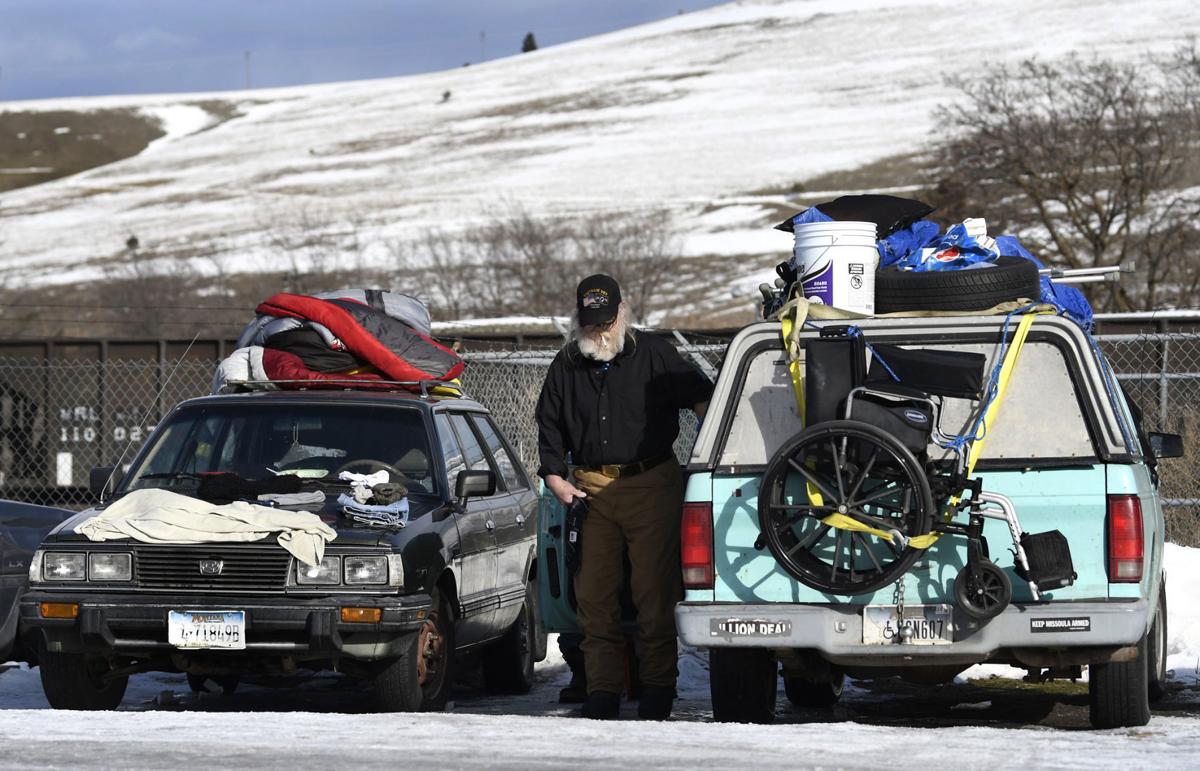 A city-owned parking lot in the Westside neighborhood predominantly used by homeless people sleeping in their vehicles has been barricaded while the city determines another use for the area. 
At the end of March, Missoula police closed off the parking lot at the base of the Westside end of the raised pedestrian bridge over the railroad tracks that connects it to the Northside. 
Sgt. Travis Welsh said the decision came after complaints from nearby homeowners and businesses about garbage piling up, and other sanitary issues. 
"The parking lot was being used for the purpose of parking vehicles for use in camping, which is in violation of city ordinance," he said. 
Earlier in March police went to the people staying in their cars, notifying them of the violation of ordinance and telling them they would need to move and could not sleep in the vehicles on the streets of Missoula. 
At the end of that month they returned to close off the lot and tell the people remaining it was time to go. Welsh said officers even helped to move a vehicle that was inoperable. 
"We had 100 percent compliance. We didn't need to issue any citations," he said. 
Don Evans, executive director of the Union Gospel Mission shelter next to the parking lot, said many of the people weren't necessarily sleeping in their cars, and that many used the mission. 
The shelter would routinely warn people about the ordinances about sleeping on the street, and Evans said many would move their vehicles frequently to stay in compliance. 
Now he's wondering where the group that was moved out will end up next. Without options, most are likely to end up living in the vehicles some other place in town.
It's an issue, especially for a city that frequently cites homelessness among its top priorities and is six years into a 10-year plan to whose stated goal is to "end homelessness."
"Where are people going to go? It's something I've told people in meetings throughout my time here," Evans said. 
He said Union Gospel would like to play a bigger role in the solution. Evans ticked off a list of empty lots and vacant property in and around the outskirts of Missoula. 
He'd like to be allowed to run a safe, secure place where people without options could park their vehicles without creating a problem with neighbors or running afoul of city ordinance. 
"I know that sleeping in cars is an epidemic," Evans said. "I know we can get a whole lot of people off the street and staying in a lot like that." 
Union Gospel is a part of Coordinated Entry, a system rolled out last year that provides a single database for all service agencies helping to find housing for the homeless. Evans sees his organization's calling as being that first step to getting someone off the street and into transitional housing, but right now there just aren't enough places to put people.