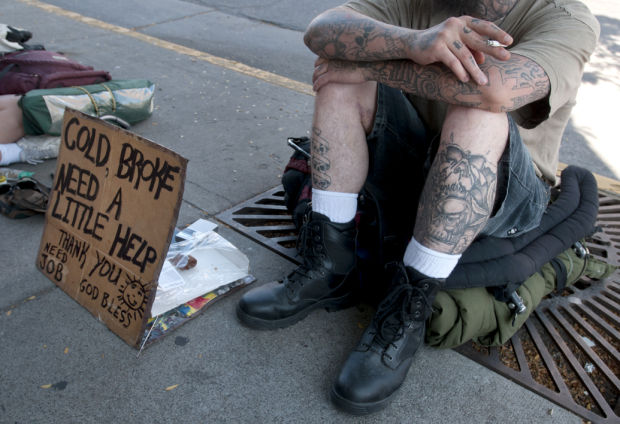 Downtown will be a safer place for shoppers, workers and walkers – that's one point of view on a new regulation.
"I don't like drunks and rowdies harassing people as they try to go downtown," said Missoula City Councilman Ed Childers.
Another take? The ordinance will trample on people's civil rights, including free speech.
"This is an overbroad statute, which prohibits a bunch of very constitutionally protected behaviors," said Anna Conley, staff lawyer for the ACLU Montana.
After impassioned comments from community members, the Missoula City Council voted 7-3 early Tuesday morning to approve the following changes to its public peace, morals and welfare code:
• A ban on sitting, lying or sleeping in the Downtown Business Improvement District from 6 a.m. to 11 p.m.;
• A prohibition on sitting, sleeping or lying on the sidewalk within 20 feet of a building entrance in the city;
• A prohibition on panhandling or soliciting within 20 feet of a building entrance in the city; and
• A ban against sitting, sleeping, lying or soliciting within 20 feet of the entrance to any footbridge or pedestrian tunnel.
Councilors Jason Wiener, Bob Jaffe and Alex Taft opposed the changes; councilors Cynthia Wolken and Mike O'Herron were absent.
Councilwoman Caitlin Copple sponsored the amendments to the ordinance the council approved in 2009, and she said she is harassed every day as she walks Higgins Avenue.
The debate pit people who fear the new rules are too broad and discriminate against people who can't afford a home against those who want to feel safe downtown and walk around without being hassled; supporters of the change said women in particular fear being in the city center.
"When we hear from opponents that we're just a bunch of privileged white people, those of us who do not have penises may have a little bit of a different experience," said Copple, who works downtown.
Copple also said Councilwoman Wolken, who went home before the vote to care for her newborn, wanted to let people know she had been chased by a drunk person outside the Oxford when she was seven months pregnant. Wolken worried about what might have happened if her partner hadn't been waiting nearby with his car.
"I just am not OK with having our downtown be a scary place for a lot of the people who are working down there, who want to use it, who are visiting our town," Copple said.
Opponents, though, said the ordinance amendments were written to push homeless and poor people out of downtown; as such, the regulations infringed on their right to panhandle or beg, which is protected free speech, and also inflicted "cruel and unusual punishment" upon them because people need places to sit and rest.
"These amendments will not make Missoula a safer place. They will simply infringe on the constitutional rights of all Missoulians," said Conley.
The ACLU opposed the changes, and Conley said the rules make every form of solicitation illegal, including a little girl playing a violin for cash if she's standing in the wrong place. Conley also said a complete ban on sitting and lying in a city is unconstitutional, and Missoula's ordinance gets "very close to total prohibition."
Plus, she said, the behaviors that people complain about, such as aggressive and violent behavior or using profane or abusive language, are already criminal.
In order for the ordinance to work, police will need to profile people and apply the law in a way that discriminates, said Councilman Jason Wiener. In fact, he said speakers at previous meetings already said law enforcement would have to use their judgment in applying the law and, say, give a pass to a car wash that's raising money for a club.
He also questioned the behavior addressed in the ordinance: "If this is about bad behavior, is sitting on the curb bad behavior? If not, this is not narrowly tailored."
Said Wiener: "I think you are deluding yourself if you claim this is not about homelessness."
But Laurie Johnson, ambassador with the Business Improvement District, said a survey shows most of the people who hang out on the sidewalks downtown do have homes. In a survey, an estimated 60 percent said they had homes; 30 percent would not answer the question; and 10 percent, or two out of 20, said they did not have a home, Johnson said.
People aren't loitering downtown because they have no place else to go, she said; rather, they're downtown because people give them money, and they can easily buy booze.
Then, they create problems for businesses, said Chad Strickland, a Liquid Planet manager who tried to help people outside the coffee shop until they took advantage of him. He has had people doing drugs in the restroom, urinating in the store while waiting for a bathroom, and drugged out on the couches or even going through a drug-induced seizure.
"Missoula as a whole has become tolerant to this type of behavior," Strickland said.
Before the vote, Councilman Childers said he didn't like the ordinance, but he was going to vote for it because the council had to do something, and he didn't like people being harassed. A couple of councilors said the decision was difficult.
Councilwoman Marilyn Marler was one, and while she voted for the ordinance, she had one question for herself and the rest of the public: "Where are those folks going to go?"
Get local news delivered to your inbox!
Subscribe to our Daily Headlines newsletter.