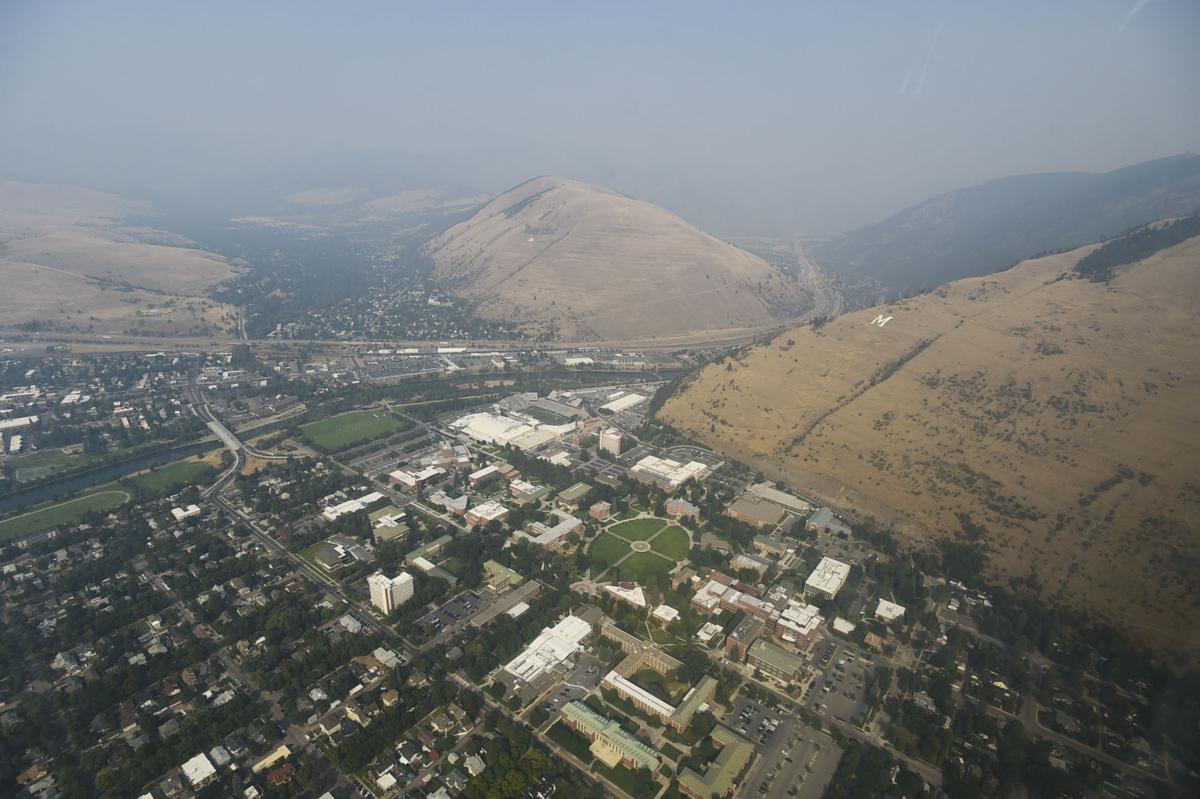 Earth's climate is heating up — and a new plan aims to get the Missoula area ready.
"In Missoula County, climate change is likely to mean hotter, drier summers, warmer and wetter winters and springs … more summer drought, a longer wildfire season and more wildfire smoke," said Diana Maneta, energy conservation and sustainability coordinator for Missoula County Community and Planning Services on Monday.
For the last 18 months, Maneta has been bracing for this shift, working with other local leaders to draft the Climate Ready Missoula Plan. She led the effort along with Chase Jones, energy conservation coordinator for the City of Missoula, and Amy Cilimburg and Caroline Lauer, respectively the executive director and program director of Climate Smart Missoula. They worked with a 14-member steering committee and three scientific advisers from the University of Montana.
On Monday, about 200 people attended the monthly City Club Missoula meeting for the unveiling of the plan's first draft. Much of the discussion around climate policy focuses on adopting renewable energy. But the 88-page Climate Ready Missoula Plan combines this goal with adapting to the changes that human burning of fossil fuels have already unleashed.
By the year 2050, Missoula County can expect an average annual temperature increase of between 4 and 5 degrees Fahrenheit, and a drop in summer precipitation, with increases during other times of the year. This shift will make itself felt on local ecosystems and its human residents.
"Let's take a look at downtown Missoula, specifically that house, and that family that lives in the house," said Maneta, displaying a photo of a house on the projector screen. "What is climate change likely to mean for them?"
Plenty of bad news, she continued: unhealthy indoor air from wildfire smoke, increased cooling costs, harm to physical and mental health from smoke and heat, and damage to nearby urban trees. All of this led her to pose another question: "So what should we do as a community to address these risks?"
She suggested increasing access to portable air filters, working with health care providers to create a smoke exposure checklist, improving efficiency of local buildings and planting the right species of urban trees.
In all, the plan lists 29 goals for adapting to climate change's many impacts, and 67 strategies to reach those goals. The draft plan is open for public comment through Feb. 3, and its drafters hope the city and county governments will adopt it — ideally as an amendment to their growth policies — soon afterward.
From there, the plan's drafters aim to form an implementation task force — one that, Cilimburg said afterward, will work to determine costs for some of the plan's components and report annually to local governments and revise and update the plan every five years.
She acknowledged during the question-and-answer session that Missoula won't be able to do it alone. "Missoula will be needing to look for support, whether it's from the state government, federal government (or) philanthropic opportunities to help build that capacity, but we do need extra support to make that happen."
But Cilimburg considered Monday's meeting a strong start. "This was a packed house," she said afterward, "which shows to me that Missoulians care."
Retired physician Tom Roberts, a member of the county's Air Quality Advisory Council, was already considering his role in implementing the plan. "I think the air pollution in terms of smoke is probably the biggest single impact on health that I see," he said. "I look forward to … reading (the plan) and thinking about how I can participate in it."