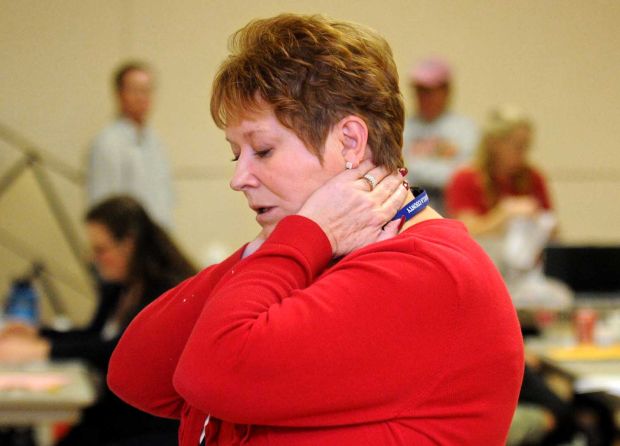 If you oversee voting – the most basic right in a democracy – you should be directly accountable to voters.
So said many members of the public who spoke Wednesday at a Missoula Board of County Commissioners hearing on the creation of an appointed elections administrator. Currently, election administration is among the responsibilities of the clerk and recorder – who is elected by voters – and the proposal to create a position beholden to county officials instead wasn't popular among audience members.
"It's really vital that the person who safeguards our voting process is directly responsible to the voters," said Daniel Viehland of the Montana Public Interest Research Group, or MontPIRG.
Currently, the clerk and recorder is elected and oversees elections, treasurer duties, motor vehicles and document recording. The proposal under consideration would move election duties into the job of a full-time administrator who would be appointed rather than elected and would report to the chief administrative officer; the clerk and recorder would remain elected and continue to oversee the other functions.
At the meeting, a couple people spoke in favor of the proposal as a way to ensure professional expertise. Vondene Kopetski agreed with the rationale that "core competencies" of election administration have changed over the years, and she said as Missoula grows, it becomes more important to hire a person who has knowledge of the field.
Plus, Kopetski said, Clerk and Recorder Vickie Zeier recommended the change, and commissioners should heed the advice of the longtime county official: "If she's recommending that you hire someone for this position, and you respect her, I would think that you would take her word for it."
Many others, though, favored an elected position for a variety of reasons. Some members of the public argued it increases voter turnout – important in Missoula for both local and statewide races – and it means the elections administrator has an interest in testifying in Helena when the Montana Legislature considers bills that would suppress voters' rights.
Some suggestions, such as the one to establish a formal elections advisory committee, still can be implemented under the current configuration, said Pam Walzer, speaking on behalf of herself. As the communications director for the Missoula County Democrats, she said the central committee opposes removing election duties from the clerk and recorder.
"Doing so would disenfranchise Missoula County voters from their right to select their elections administrator," Walzer said.
An appointment by the current commission wouldn't be problematic as far as Todd Mowbray is concerned, himself a recent appointment to represent House District 97. Future commissioners, though, might "take on a totally different tone," as he said is the case in Ravalli County.
"I hope that you were sincere when you said you were just exploring it, and you hadn't made up your mind," Mowbray said.
Forward Montana's Kayje Booker, though, said she wished commissioners had brought the concerns about the job to the public earlier in the process. She said the issues are valid, but the proposal under consideration is far along in its creation, and it also brings other challenges.
"To me, it's not obvious that this is the solution to the problems Vickie has posed," Booker said.
Chairwoman Jean Curtiss, though, said commissioners wanted to present a well-thought-out proposal to the public. She said commissioners are likely to decide the matter at their June 11 meeting, and they are considering the change to address several challenges.
First, the clerk and recorder runs an election while her name is on the ballot, she said. Also, she said elections work should be budgeted as a full-time position, but it's rolled into several responsibilities of the clerk and recorder, and the treasurer duties ramp up around the same time elections work is busiest.
Zeier has served as the clerk and recorder since 1993, but in June, she takes on the job of chief administrative officer for Missoula County. She has previously recommended the job be a full-time appointment because she has witnessed the role of elections administration grow and become more complicated over time.
For instance, in the early years of absentee voting, 500 absentees "was a lot," but in 2012, Missoula County processed 42,000 absentee ballots, she said. Also, she said in 2006, 650 people registered to vote on Election Day, and in 2012, 1,800 did, and more will do so in the future.
Zeier argued the changes merit a full-time professional on the job, and a federal commission also recommended elections administrators have formal career training. The only qualifications to be a clerk and recorder, though, are being a registered voter in the county and being at least 18 years old.
"I have made this recommendation in the past on numerous occasions, and I continue to recommend this change because I value every single voter in Missoula County," Zeier said.